A sampling of great eats in and around Buckhead.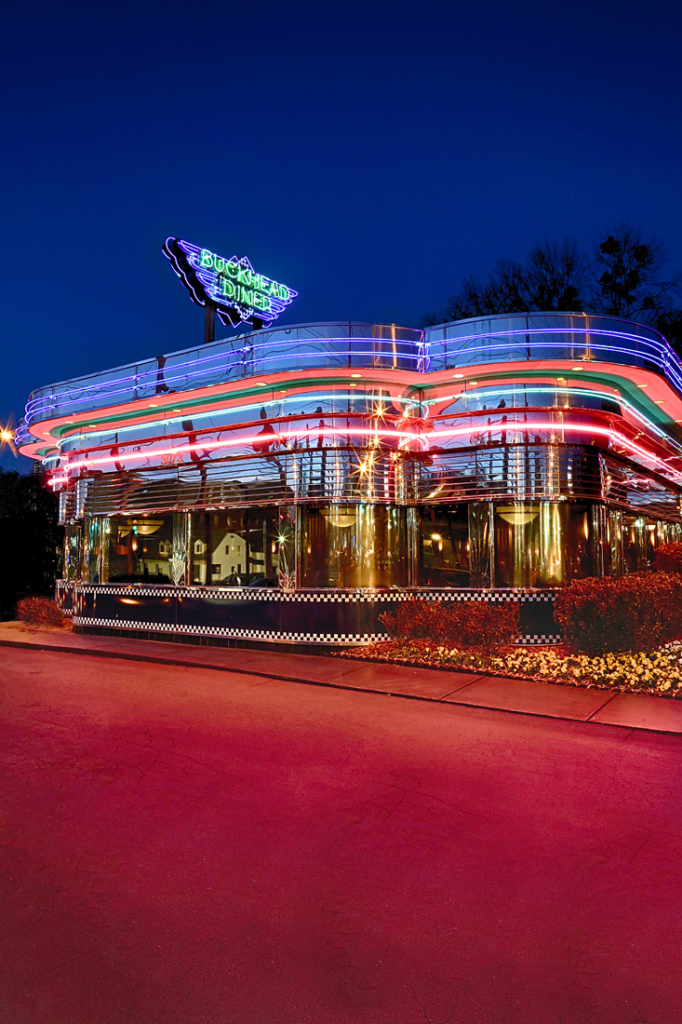 10 DEGREES SOUTH
After 15 years on the scene, this Roswell Road establishment is a highly original destination where food and wine from the tip of the Southern Hemisphere are celebrated with flair. Before we could pose the server with a query on the peri-peri, we got the hard sell on South African reds—particularly the Rupert & Rothschild 2009 "Classique." The big, full-bodied R&R was the perfect match for the luscious, spicy food that followed. I may not be an expert on South African cuisine, but I'll wager that nobody makes bobotie (the national dish) like 10 Degrees South. The dish consists of tantalizingly sweet curried ground beef topped with a custardy crust. It's time to get your head out of the sand and indulge in the kind of stuff our parents enjoyed when "Continental" cuisine was in vogue.
Appetizers: $10-$16
Entrées: $21-$38
10degreessouth.com
BUCKHEAD DINER
This indispensable, neon-splashed diner is a jewel in the crown of the Buckhead Life Restaurant Group, which includes the Greek temple-like Kyma next door and the Atlanta Fish Market down the street. For 30 years, fans have flocked here for the housemade chips with Maytag blue, the "sweet heat" Thai-chili calamari, juicy burgers and the decadent white chocolate banana cream pie—all classics. Simply by virtue of the way it lights up Piedmont Road, this diner has always been, and will always be, a star.
Appetizers: $6-$12
Sandwiches and burgers: $13-$16
Entrées: $17-$30
buckheadrestaurants.com/buckhead-diner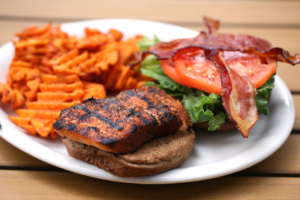 BUCKET SHOP CAFÉ
Atlanta's answer to TV's "Cheers," this casual, family-owned spot across from Lenox Square is a game-day institution with seriously good pub grub, friendly prices and spirited, efficient service. Burgers, wings and sandwiches of all kinds dominate the menu. But one dish on the starting lineup deserves a special trophy: the chicken rolls. Perhaps they sound like a fusion experiment, but in fact, these crispy, deep-fried egg roll wrappers stuffed with chicken, cheese, sour cream, chives and Tex- Mex sauce (salsa mixed with ranch) are downright addictive. The Bucket Shop team gets extra points for its solid, ever-changing list of local craft brews.
Starters: $6-$13
Sandwiches and burgers: $9- $13
Entrées: $12-$18
bucketshopcafe.com
DEL FRISCO'S GRILLE
While the Texas-based chain is known for superb steaks, fusion appetizers and flatbreads, we think the burgers are sensational. In particular, the Pimento Cheese Burger, an uptown riff on the Big Mac, is a tower of juicy deliciousness: two patties with lettuce, tomato and pickle; plus housemade "sloppy sauce" (it's like a smooth Thousand Island); plus two generous smears of pimento cheese, which slides down the stack and seals in all that juicy goodness. Del Frisco's gets special points for packaging: The burger sits coyly in a partly open paper wrapper, while the fries are in a little paper cone on the side. A cold frothy draft beer is the clincher.
Appetizers: $7-$16.50
Sandwiches & flatbreads: $12.50-$18
Steaks: $29.50-$39.50
delfriscosgrille.com/atlanta
HOUSTON'S
Houston's probably won't make the list of any highfalutin, big-city critic. And yet the Beverly Hills-based chain, which has had an Atlanta presence since 1978,has a devoted following, thanks to its consistently good, all-American food; its commitment to customer comforts; and its flagrant disregard for culinary razzle-dazzle. While the gooey spinach-and-artichoke dip and the Famous French Dip are the stuff of legend, we are crazy about the Thai steak and noodle salad, the crispy-skinned rotisserie chicken and the warm, five-nut brownie with vanilla ice cream. At Houston's, every table is bolted to the floor so it won't wobble, servers bring chilled glasses so your drink never gets tired and napkins have buttonholes so the white-shirt crowd can save its ties. We can only hope this classic sticks around for a few more decades.
Starters: $4-$15.
Salads, $13-$20
Burgers and sandwiches: $18-$20
Entrees: $25-$45
hillstone.com/houstons
KR STEAKBAR
Atlanta chef Kevin Rathbun's only Buckhead restaurant feels custom tailored for the community. A contemporary nocturnal cubbyhole where small plates rule, wine flows and the air bristles with excitement, the fashionable "steakbar" concept finds Rathbun and chef de cuisine Jessica Gamble fusing two venerable concepts: meat and Italian. Here, nearly everything speaks with a perky Mediterranean lilt: amari-kissed cocktails; steak doused with espresso sauce; heavenly olive-oil cake with almond brittle and citrus cream. (Pastry chef Kylie Akiyama is terrific.) Hidden touches, like the speakeasy-style bar behind the kitchen and a patio that feels like a sunken garden, make us want to continue to explore this romantic spot.
Antipasti: $6-$19
Pasta: $12-$16
Entrées: $18-$68
krsteakbar.com
KYMA
The name means "wave," and that's exactly what executive chef Pano I. Karatassos has been doing at his family's stellar Greek seafood restaurant since 2002. From marides (tiny, "French fry"-size white fish) to Greek specimens grilled whole (try the barbounia or bronzino), Kyma excels at delivering the kind of simple, unadorned flavors you'll encounter on a patio by the Aegean. Order a glass of Greek wine (there are many options) and a few classic meze for sharing (we like the dolmades, spanakopita, cuttlefish stuffed with lamb stew, and the fetazucchini fritters), and your meal will go just swimmingly.
Meze: $8-$14.
Mains: $26-$46. (Whole fish: $30 or $36 per pound)
buckheadrestaurants.com/kyma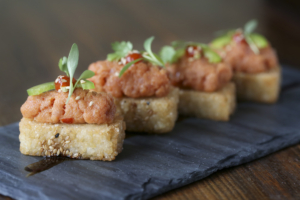 ONE SUSHI PLUS
This glam space wedged in the back corner of Brookhaven's Town Village is a neighborhood hotspot for Japanese small plates. The freshest fish flown in from Japan's Tsukiji Market will impress the discerning sushi eater, while colorful rolls with clever names please the occasional dabbler. Sharable offerings and inspired snacks of zesty, yellowtail jalapeno shots and crispy fried bang bang rock shrimp are as fun as they are tasty. The drinking experience is worth celebrating as well, with a large selection of sake, shochu and whisky. We recommend the smoked toro, tender slices of tuna served under a dome of hickory smoke and the bulgogi-like Gangnam style roll.
Dinner: $6-$37
theonesushiplus.com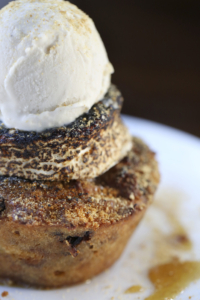 SALTYARD
At Saltyard, Chef Nick Leahy offers a menu of small plates with reverence for local farmers and the current growing season. Employing global imagination, he heightens these dishes with international seasonings and flavors to create worldly comfort food. With an ever changing menu, Saltyard is never the same place twice. Rustic dishes such as crispy duck confit and super tender grilled octopus are masterful in their simplicity and depth of flavor. Raw and cured items such as the deconstructed salmon pastrami, while lighter, offer an equal flavor punch. This is not the place to skip the dessert course. Leahy puts forth the same amount of effort in his decadent chocolate nemesis with Brandy cream as he does entrees.
Tapas: $5-$16 Large Plates: $18-$25
saltyardatlanta.com
SMOKEBELLY
Smokebelly offers a traditional Southern inspired barbeque experience within Buckhead's posh surroundings. The rustic yet upscale interior is a comfortable place to kick back with a local beer or craft cocktail. The hearty barbecue platters offer generous portions of smoked meats and sides that harken to roadside dives. In addition, salads and healthful sides are tasty alternatives. At lunch, choose from a dozen sandwiches or from the long list of small plates. We recommend the quinoa super food salad, tangy and bright with colorful veggies and fresh greens, or the smoked brisket and sofrito empanadas with tender and richly flavored meat wrapped in a flaky crust.
Tapas: $4.50-$11.50
Sandwiches and salads: $6.50-$13
BBQ Plates: $14-$27
smokebellybbq.com
WATERSHED ON PEACHTREE
Co-owned by Indigo Girl Emily Saliers and restaurateur Ross Jones, Watershed is a restaurant with a storied, personality-driven past. It started as a walk-up sandwich shop in Decatur, won a James Beard Award for chef Scott Peacock and moved to Buckhead in 2012. Recently, chef Zeb Stevenson took over the kitchen, and his Southern and sometimes French-accented food is a decided improvement over predecessor Joe Truex. We are crazy about the dreamy chicken-liver mousse, smoked trout brandade and Appalachian cider beans, a cassoulet-like play on pork and beans. A self-taught cook who brings soul, excitement and the occasional spark of genius, Stevenson is less interested in replicating the greatest hits of the past than cooking straight from the heart. We should all respect that.
Appetizers: $8-$16
Entrees: $9-$18 at lunch, $20-$35 at dinner
watershedrestaurant.com
BY: Wendell Brock and Angela Hansberger
PHOTOS: Sara Hanna
Angela Hansberger
Drinks columnist at Simply Buckhead. Food, spirits, and culture writer.