Saltyard offers a lesson in worldly comfort food.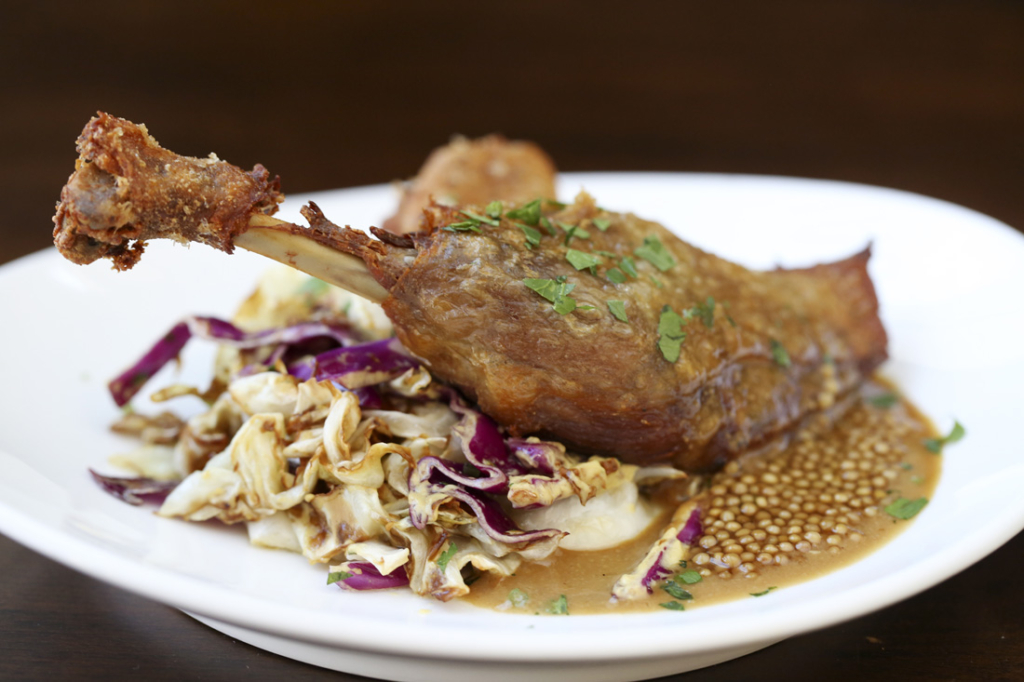 The bone white plate held a burnished bronze portion of duck. A tawny pool of jus gathered around, while a bundle of pan-fried shavings of maroon and green-white local cabbage huddled beside it. The rustic dish sums up the philosophy of Saltyard: global comfort food made from local ingredients.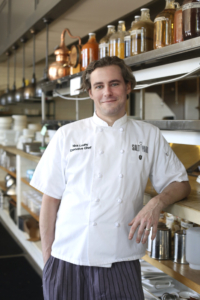 The restaurant has survived the culinary winds since 2013 on a Brookwood Hills block that has seen the comings and goings of a few beloved spots (Lusca, Café Intermezzo, Moulin Rouge). Owners Christian Favalli and Kristi Jones-Favalli, whose family also owns La Grotta, named it after the rich history of the salt trade. Chef/partner Nick Leahy, born in Bermuda, raised in England, has traveled the world much like those sailing ships and camel caravans of the salt trade.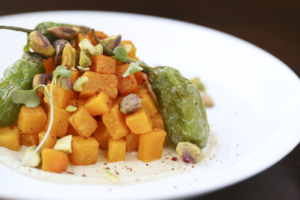 Upon my arrival, the front door opened to an eight-seat chef's table in front of the open kitchen. Exposed architectural beams loomed above the narrow dining area of grays and browns. Candles flickered on the white oak tabletops. In the distance, my dining partner and I saw strings of twinkling lights above the outdoor patio. Most tables were filled on a Thursday evening, and the 10-seat concrete bar was buzzing with young professionals. Lights were dimmed as the night progressed.
Once we were settled in the large, leather, tufted banquettes that are as comfy as they are elegant, we explored the seasonally changing menu that is split among snacks, raw items, pastas, hot smalls, bruschettas and veggies. Comfort food means different things to different people, and Leahy's menu embraces nostalgic dishes from all corners of the globe without creating sloppy fusion. It stays culturally consistent. Small plates— ranging from $5 to $16, but most hovering around $12—provide as much food as a traditional appetizer and main dish.
Chef Leahy's menu is also inspired by local farms. My friend and I noticed farmer Bobby Britt from Besmaid Garden talking with the kitchen staff during our meal.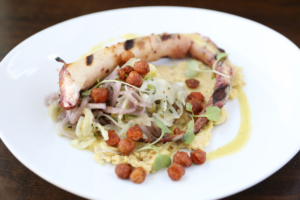 We opted to start our meal with salmon pastrami—slivers of smoked salmon on a wooden board with almost-enough triangles (we asked for more) of Ratio Bakeshop pumpernickel, pickled onion slices, tangy rounds of cornichons and a sharp Dijon fromage blanc. It tasted like a light version of a Jewish deli sandwich. Three thick, everso- tender octopus tendrils over hummus with strings of fennel, preserved lemon, a sprinkle of baby herbs and toasted chickpeas transported us to the Mediterranean coast. Chef Leahy's farm-sourced ingredients make nightly specials an easy choice and the braised rabbit from The Little Farm was a generous portion of a saddle and a loin over mashed squash and a heap of cubes of root veggies topped with fronds of zingy purslane from local Farm and Forage. It was sweet and earthy like an English countryside.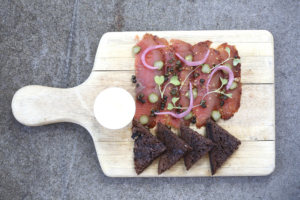 The aforementioned duck confit is another winner, one Leahy learned to cook from his French mother. The soulful peasant dish was created centuries ago with a salt preservation method, and Leahy's was impossibly juicy and subtly sweet with a meaty richness. It also had skin that was paper thin yet perfectly crispy—so simple, yet so intense. I closed my eyes and drifted away for a moment.
While the menu is international, many of the dishes play well together. Spice roasted squash was an unexpected shazam of a dish with smoked chile labneh and toasted pistachios. The three skewers of tender and flavorful lamb loin atop a puree of rosemary and white beans were a classic and earthy combination. The harissa kicked the meaty flavor up a bit, and the yogurt tang of the labneh and the velvety white beans tempered the bites of heat.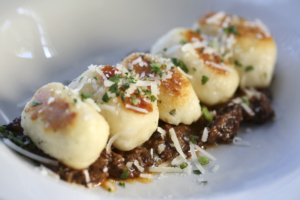 The tuna tartare with layers of vertically arranged tuna chunks piled high on kimchi was tied together with a miso aioli. Chile spiced peanuts added crunch, but a bit too many flavors were going on for me. We cleansed our palates with an order of ricotta gnocchi, a misnomer because the addition of ricotta technically makes it a gnudi. It instantly tamed the spices on our tongues. The little dumplings were a bit bland (yet helpful in this moment), but the sugo of lamb and beef below was a comfort mélange, a sort of meaty gravy with hints of cinnamon. It was a belly warmer that paired well with the earthy, bold Clarendelle, Château Haut-Brion from Bordeaux, France our server recommended.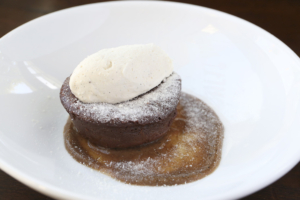 While Saltyard's food globe trots, the wine list is mostly domestic with a couple of dozen by the glass. Chef Leahy's appreciation for local extends to the beer list with mostly local/regional brews (six on draft). As for cocktails, we liked the Whiskey Tango Foxtrot, a bitter mix of whiskey, Meletti, Lillet blanc and vermouth. Dessert fans rejoice. If your server brings you the sweets menu (one did on our first visit, one did not on the second), the choices are very thoughtful. S'mores bread pudding with banana ice cream was only missing a nearby campfire. The Chocolate Nemesis with clouds of whipped cream arising from a shell of British fudgy cake in a sea of malt powder crumbles drizzled with a citrus coulis recalled to me Botticelli's The Venus Rising masterpiece. Our server expertly suggested a Sarsitano Lambrusco to pair with it.
Saltyard's menu is a lesson in international culinary favorites with small plates that allow you to try many dishes in one evening. The cozy spot lifts your mood with solid, photogenic cuisine and a warm ambiance.
1820 Peachtree Road. N.W.
Atlanta 30309
404.382.8088
saltyardatlanta.com
Prices: Tapas $5-$16. Desserts $7. Cocktails $10. Large Plates $18-$25.
Recommended Dishes: Salmon pastrami. Crispy duck confit. Grilled octopus. Spice roasted squash. Grilled lamb loin. Chocolate Nemesis.
Bottom Line: Worldly comfort food with a reverence for local ingredients.
STORY: Angela Hansberger
PHOTOS: Sara Hanna
Angela Hansberger
Drinks columnist at Simply Buckhead. Food, spirits, and culture writer.