In southern Utah, Amangiri offers adventure and respite set against an age-old landscape.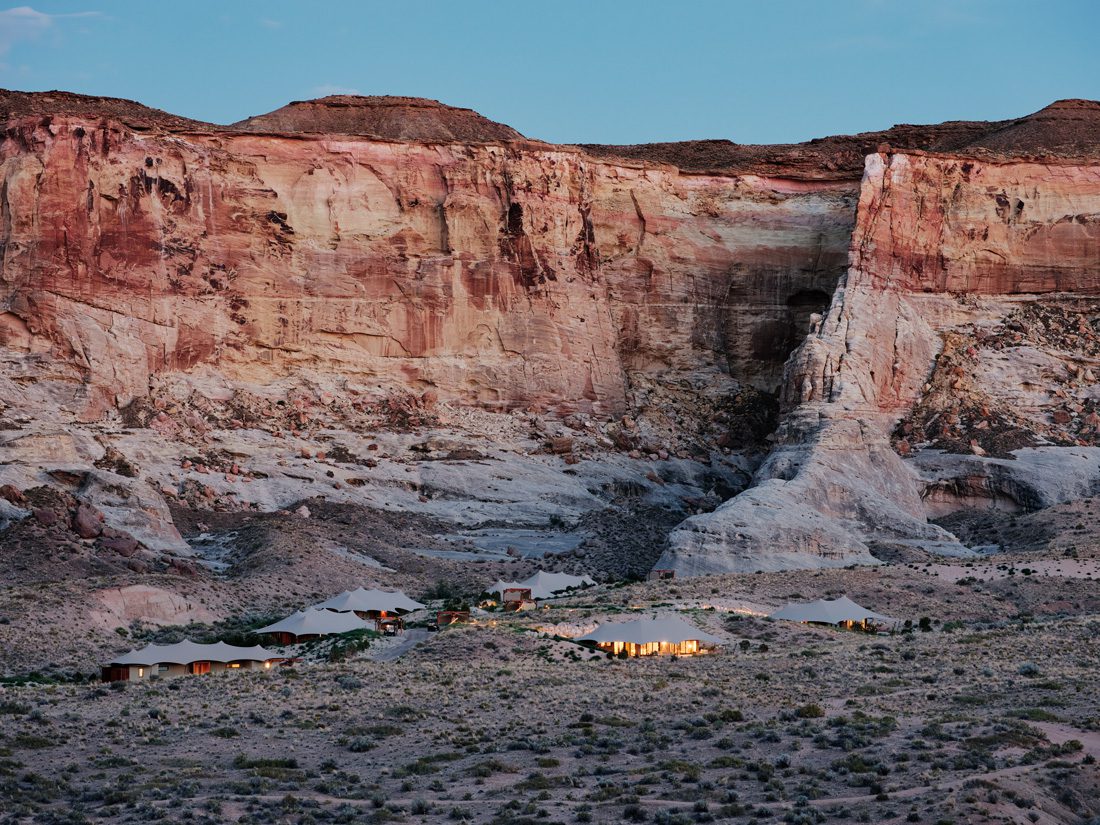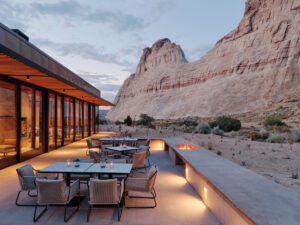 "Nothing lasts forever but the earth and sky," an acoustic guitarist sang on our first night at Amangiri, his rendition of "Dust in the Wind" particularly haunting and powerful. We sat on an outdoor terrace, with the towering Stud Horse Mesa a striking backdrop, enjoying a chef's tasting menu at Camp Sarika. There in the bone-dry desert air, gazing at striated rocks I would later learn were once beneath a vast ocean more than 90 million years ago, I felt an overwhelming sense of gratitude.
Amangiri has been at the top of domestic travel wish lists for in-the-know connoisseurs since it opened in 2009. The original 34-room resort, designed in a stark, Brutalist style, is known for its world-class spa, a pool built around a dramatic rock formation and creative, Native American-inspired cuisine. I knew less about Camp Sarika, a name derived from the Sanskrit word for "open space" and "sky," the newest addition to the resort's 600 acres. Opened in 2020, the 55-acre "camp" consists of 10 one- and two-bedroom luxury tents skillfully positioned in the canyon for the utmost privacy.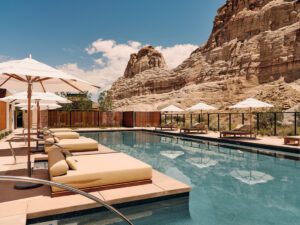 When we arrived, my husband and I were whisked directly to our suite—no fussy check-in process here—where we discovered a living and dining area, a spacious room with a kingsize bed, a bathroom with indoor and outdoor showers, and a soaking tub big enough for two. Best of all, one whole side of the structure featured floor-to-ceiling windows that folded back onto an outdoor living space, generous plunge pool and fire pit. The visual effect is safari-chic, but the experience stands tall against any high-end accommodations. Guests have access to a dedicated electric golf cart for exploring, so everything is an easy ride or hike away.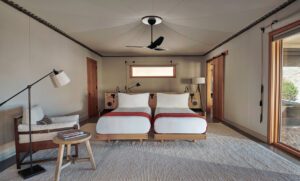 On our first full day, guide Raymond Chee, a member of the Navajo Nation, took us to see a natural wonder just over the Arizona border: slot canyons. Carved by wind and water over millennia, the vermillion-hued Upper Antelope and Rattlesnake (so named for its tightly wound curves) canyons feel like walking through natural cathedrals. Back at camp, I met therapist Cori Halterman for an "aqua shiatsu" massage in our plunge pool. Over an hour, I floated, supported either by her or floats cradling my neck and knees, as she stretched, massaged and swirled me in the water. It was a surreal, almost meditative, form of relaxation.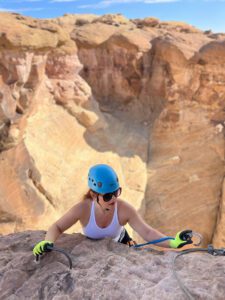 The next day, we rose early to meet our guide, Okie Jones, for the Hoodoo Via Ferrata (or "iron road"). It's one of several guided climbing routes around the property that uses a system of cables and ladder rungs originally developed in the Italian Alps, allowing even novice climbers to scale sheer rock formations. My husband, Will, is adventurous but hates heights, so his decision to join me was last-minute. Over the next few hours, we clipped our equipment onto the strategically placed cables, crossed a suspension bridge stretched over a 600-foot-deep gorge (my favorite part) and enjoyed near-aerial views of the dramatic landscape. I loved the thrill, but more than that, I loved watching my husband do something he swore he never would.
We finished mid-morning and decided to take it easy for the rest of the day. An alfresco lunch followed by lounging at Amangiri's expansive pool built around a sculptural rock formation was just the right contrast to our adrenaline-filled morning. The service, views and facilities are top-notch, so it's easy to see why this property draws celebrities from Lady Gaga and Justin Bieber to Scarlett Johansson and Kylie Jenner. In fact, we spotted a celebrity strolling around the pool (naming names is gauche, so I'm keeping it to myself).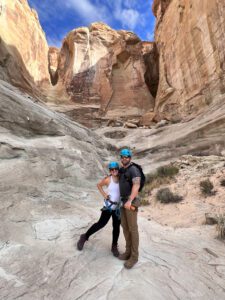 On our last evening, we watched the sky turn painterly shades of pink, violet, orange and red before heading to Amangiri's restaurant. Though tempting a la carte options abound, we opted for the nightly four-course tasting menu with each option inspired by a different Native American tribe. Navajo fry bread, Maricopa-inspired glazed duck and elk tenderloin based on the Apache tribe's famous hunting skills were exquisite and nuanced in both flavor and presentation. Back at our luxe pavilion, we lit the fire pit and witnessed a meteor shower light up the pitch-black night sky punctuated by glittering stars. I wished the night could go on and on, but it reminded me of how fleeting our time is anywhere, and yet this landscape endures. Dust in the wind, indeed.
AMANGIRI
aman.com/resorts/amangiri
@amangiri
GETTING THERE
Some guests arrive by helicopter, using the on-property helipad. You can enjoy a picturesque four-plus hour drive from either Phoenix or Las Vegas. By far the most convenient and economical option is to fly to Page, Arizona's small airport via regional carrier Contour Airlines. The hotel will send a private vehicle for the 25-minute drive to the resort.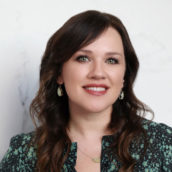 Jennifer Bradley Franklin
Senior Contributing Editor and Beauty Columnist at Simply Buckhead. Travel, Food and Design Writer and Author.