A journey to Italy's verdant countryside!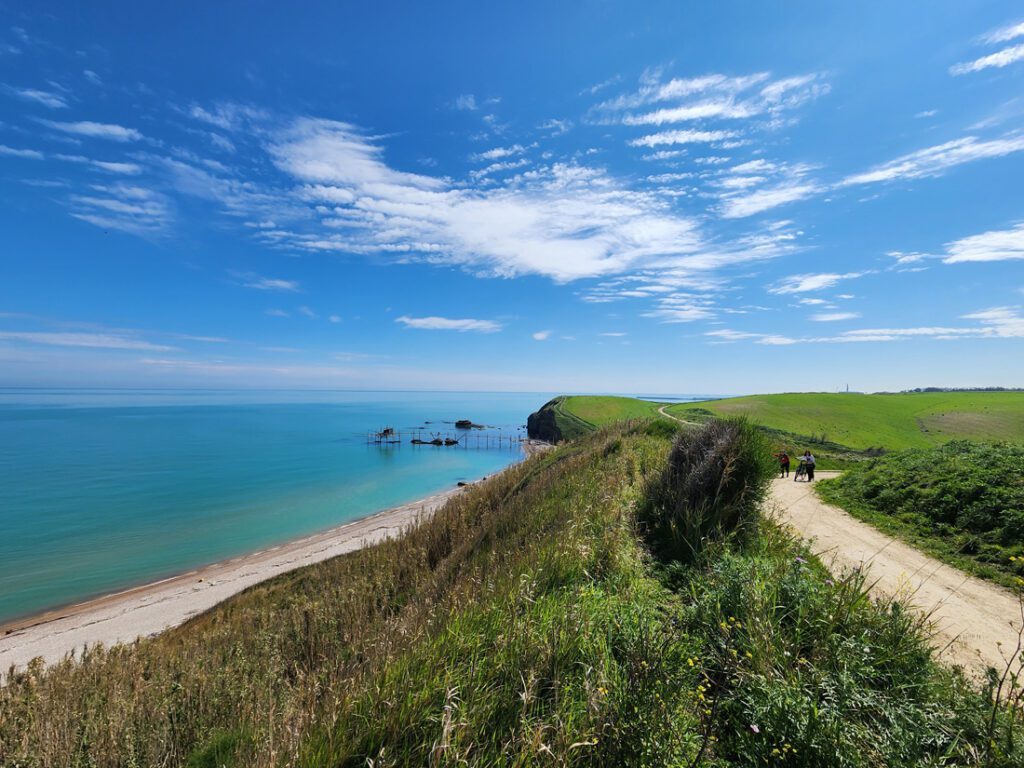 I've been to many of the wellknown Italian cities and marveled at historic ruins, churches and world-class art. On my fourth trip to Italy, I discovered a more under-the-radar region where I admired some of the same things, but fell in love with the mountains, unspoiled Adriatic coast and views of the countryside. Maybe that's why Abruzzo, about three hours east of Rome, is often called "The Green Lung of Italy," with half of its territory designated as national parks and nature reserves.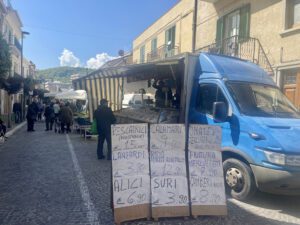 My home base was Casoli, a medieval town known for olive oil production where cobblestone streets, a ninth-century castle and friendly locals made me feel at home in the storybook-like setting. I roamed the Friday market, picking up fresh produce grown by local farmers, accepting samples of salty porchetta and creamy mozzarella. I lunched at Fiore Ristorante, a small, elegant eatery that stocks local wine, serves coursed meals made with local bounty and offers an incredibly decadent crème brûlée.
Along with lots of delicious eats, Casoli's surroundings offer an array of active pursuits, from hiking and biking to skiing the Apennine Mountains (Roccaraso resort is about an hour away). A 20-minute drive from Casoli, Roccascalegna castle is worth the curvy ride and heart-pumping steps up to its high perch. Originally built in the ninth century by Benedictine monks, it offers stunning views and a prison tower with torture apparatuses that are not for the faint of heart. For more pinchme views, head to Pennapiedimonte. Stop in at La Macina, a restaurant housed inside a 19th century oil mill dug out of the rock.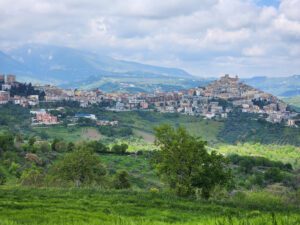 My favorite activity was an electric bike tour with Green Road Bike on the Costa dei Trabocchi along the Adriatic Sea. I did a 12-mile portion of the 40-plus mile path that leads from the city of Ortono to San Salvo. I pedaled past coastal hills, coves, reefs and numerous picturesque trabocchi, over-water structures on wood piles used for fishing, and some eateries that serve fresh catch. I made a stop at Trabocco Sasso della Cajana where the multicourse meal of fresh seafood began with salted anchovies and crawfish, and continued with shrimp, mussels, fried calamari, frutti de mare pasta and a fish filet.
For more eating and drinking—this is Italy after all—visit Azienda Tilli where the Tilli family produces Montepulciano, Trebbiano, Merlot, Rosato and more from its organic grapes. The modern tasting room offers stunning views of the Apennine Mountains as well as experiences pairing wines with bites such as pizza, bruschetta, cold cuts and cheese.
Other worthwhile Abruzzo adventures include exploring the towns of Pescara, Lanciano and Ortona, the latter the site of a famous WWII battle and the resting place of Thomas the Apostle. While there is lots to do, my suggestion is to prioritize a few laid-back days of strolling, eating (of course) and taking in the beautiful surroundings. Only then will you feel the true magic of Abruzzo.
HOME AWAY FROM HOME
Own your personal slice of unspoiled Abruzzo with a new project taking shape in Casoli. Palazzo Ricci Private Residence Club by Viaggio Resorts is set to open in summer 2024, offering 14 upscale residences, five-star amenities and personalized concierge services.
Created from the transformation of a 220-plus-year-old palace that once belonged to the noble Italian Ricci family, the project features a swimming pool, Roman spa, library, billiards room, fitness center and more in the heart of the charming medieval town. Each individually designed residence boasts balconies and views of the mountain, garden or village.
Palazzo Ricci operates under a fractional real estate ownership concept, which means that for an initial fee (starting at $100,000) owners have a minimum of 5.5 weeks annual palace usage rights with all the amenities and services, including local transportation, pre-arrival grocery delivery, chef access and more, making you feel like Italian royalty.
palazzoricci.club
@palazzoricciclub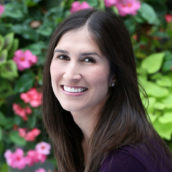 Giannina Bedford
Giannina S. Bedford is multi-faceted writer and editor. Her work covers design, travel, food and business. She's penned Simply Buckhead's home feature since inception and held a variety of editorial roles at the magazine. Her freelance work has appeared in Condé Nast Traveler, USA Today, Virtuoso Life, Hemispheres and TravelandLeisure.com. She also contributes regularly Atlanta Business Chronicle. Fluent in Spanish, Giannina was born in Miami and grew up in Brazil, Chile, Hawaii and Australia. She currently lives in Dunwoody with her two kids and husband.