It may be a chain, but consistency never wavers.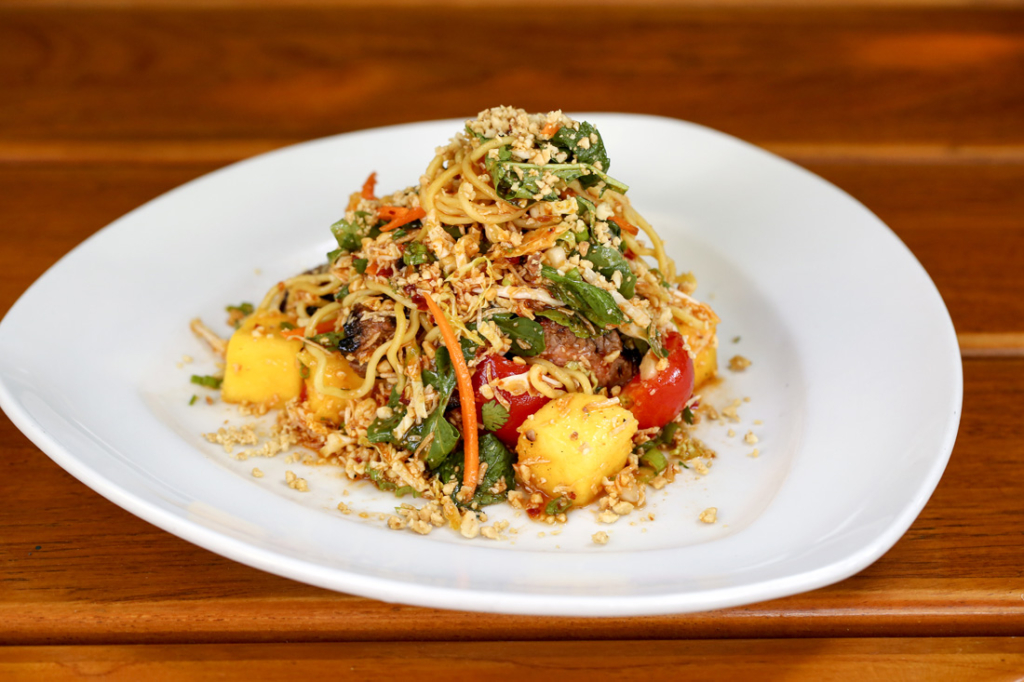 Did you know that one of America's best-loved restaurants has been quietly minding its business in Atlanta since 1978?
Named for a dynamic city in the founders' home state of Texas, part of a national chain that now includes nearly 50 restaurants in 15 states, home of the Famous French Dip sandwich and the legendary spinach-and-artichoke spread, beloved by grandmothers who clutch pearls and celebrity chefs who covet James Beard medals: It's Houston's we speak of.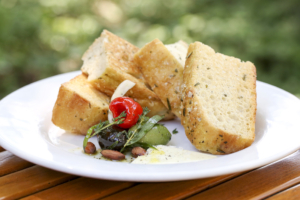 Sure, Houston's probably won't make the list of any highfalutin, big-city restaurant critic. Most assuredly, it's not where you go for fancy foams, smoking cocktails, powdered this or deconstructed that. And yet Houston's—part of the Beverly Hills-based Hillstone Restaurant Group—has earned a devoted following, thanks to its consistently good, all-American food; its commitment to customer comforts; and its flagrant disregard for culinary razzle-dazzle.
I enjoyed visiting Atlanta's first Houston's (the second restaurant in the entire chain) on Lenox Road back in the '80s, when dining options in the city were scattered, and spinach salad with honey-mustard dressing was the latest thing. (Houston's West Paces branch appeared on Northside Parkway in 1982, followed by Peachtree Road in 1988.) A decade or so later, on a visit to Miami, I was puzzled to hear that the new Houston's was the "in" spot. "Really?" I thought. "So '80s."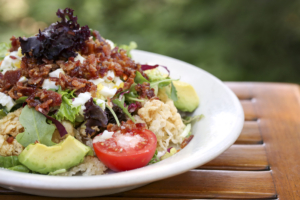 Then I forked into an exceptionally crisp, luxuriously dressed Cobb salad, admired the handsome room and the well-dressed crowd and wondered why I didn't eat at Houston's more often. But let's face it: Atlanta is the kind of town that has exciting new restaurants opening left and right, and though I stopped by Houston's on Peachtree occasionally, I wasn't exactly addicted. But when a couple of Buckhead dwelling cronies told me recently that it's their top neighborhood choice, I decided to give it a whirl.
Smart decision.
Sitting in the farthest corner booth of the clubby, Frank Lloyd Wright-inspired room, I ordered a springy Jackrabbit cocktail (tequila, Campari, fresh grapefruit and mint) and scooped a corn chip into the gooey spinach and artichoke dip, possibly the most genius recipe to emerge from the '80s. Waiter, bring me a bib. (Oh, wait. Every Houston's napkin has a buttonhole in one corner: It's the businessman's best friend, saver of thousands of white shirts and silk ties.) If that luscious dip makes you feel the earth move, no worries: The table won't budge. That's because every table in the Houston's kingdom is bolted to the floor to avoid the pesky bobbling-table sensation that's sunk many a promising dinner. By my second visit, when the server asked if she could replace my martini glass with a newly-chilled vessel, I understood how the Houston's mystique has oozed into the national psyche.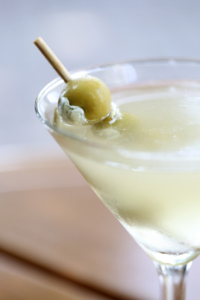 My Ketel One martini (dry, straight up, with blue-cheese-stuffed olives) was the perfect pick-me-up on a swelteringly hot day. I nibbled the focaccia bread appetizer (which comes with almonds, a big dab of butter and ginormous marinated olives scattered with fennel slices and thyme twigs); struck up a conversation with my server (a nice kid from Virginia who is studying for her nursing exam); and moved on to my entrée. That would be the Thai steak and noodle salad, a sweet-salty mélange of tender filet, avocado, mango, tomatoes, fragrant herbs and crunchy peanuts. For those who have the willpower to resist the famous French dip (paper-thin slivers of prime rib on a housemade roll with a ramekin of au jus for dipping) and the classic cheeseburger, Houston's makes exceptional salads.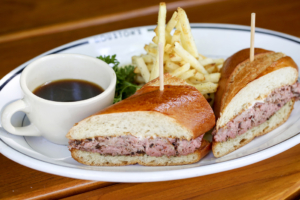 Sure, maybe some things are a little too sweet (the otherwise perfectly executed Hawaiian rib-eye, marinated with soy, ginger and pineapple). Or they may need a bit of salt (the otherwise dreamy loaded baked potato that comes with the steak). But other dishes are downright marvels. Consider the rotisserie chicken, with its crispy, herb-encrusted skin. I love the way the bird soaks up the juices of the bright, perky tabbouleh that comes on the side. It's a memorable marriage, at once warm and comforting, cool and tingly.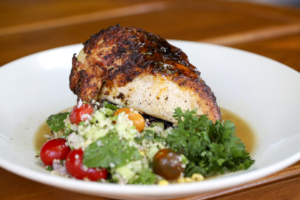 When it comes to desserts, Houston's sticks with the classics: hot-fudge sundaes, warm apple-walnut cobblers, key-lime pies. I've had rich brownies, but the five-nut version served here is a mighty powerful dose of chocolate. Fasten your napkin! You're in for sloppy ride of sinful chocolate and melting vanilla.
As I began to research this review, my dining companion sent me a link to Bon Appetit's recent ode to the Hillstone family of restaurants by Atlanta homeboy Andrew Knowlton. Seems Momofuku chef David Chang is a big fan of the French dip. Shake Shack's Danny Meyer loves the crispy chicken sandwich. Well, count me in, guys. It's taken a minute, but I'm happy to be back on the Houston's horse.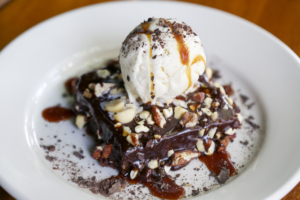 HOUSTON'S
2166 Peachtree Road N.W. 30309
404.351.2442
hillstone.com/houstons
Prices: Starters: $4-$15. Salads: $13-$20. Burgers and sandwiches: $18-$20. Entrees: $25-$45.
Recommended: Jackrabbit cocktail. Spinach and artichoke dip. Rotisserie chicken with tabbouleh. Thai beef and noodle salad. Warm five-nut brownie.
Bottom line: A chain, yes, but also a classic.
STORY: Wendell Brock
PHOTOS: Sara Hanna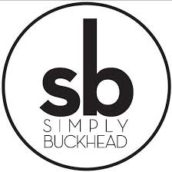 SimplyBuckhead
Simply Buckhead is an upscale lifestyle magazine focused on the best and brightest individuals, businesses and events in Buckhead, Brookhaven, Sandy Springs, Dunwoody and Chamblee. With a commitment to journalistic excellence, the magazine serves as the authority on who to know, what to do and where to go in the community, and its surroundings.