Renaissance man Jeff Dauler retreats to a townhome filled with meaningful mementos.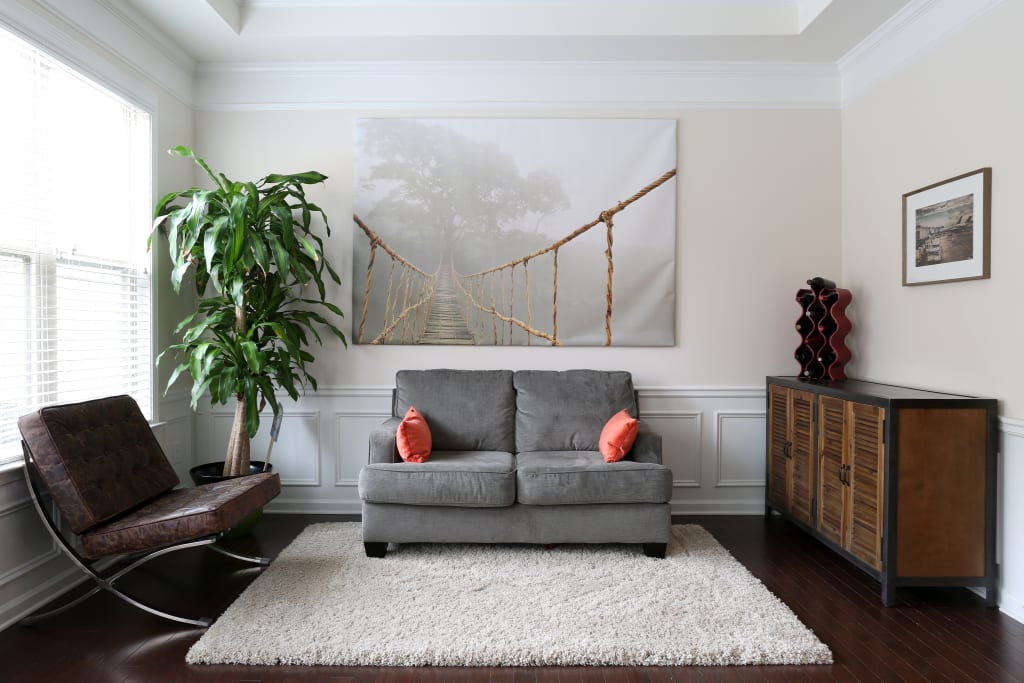 STORY: Giannina Smith Bedford
PHOTOS: Sara Hanna
Jeff Dauler's Sandy Springs residence pays homage to his love of life and music. The co-host and executive producer of the nationally syndicated "The Bert Show," which celebrates its 14th anniversary in March, is more than just a radio guy, however. He's also a stand-up comic, social media expert and former restaurant owner who, in 2013, developed a campaign to share his inspirational slogan "Keep Moving Forward" through products such as jewelry and stickers. And the décor items in his brick townhome tell his story—from a Paul McCartney concert he attended with his parents to encounters with big-name artists. Dauler began renting his three-bedroom, two and a half-bath residence 18 months ago, and while it may not be his forever home, it's the perfect place for his current stage of life.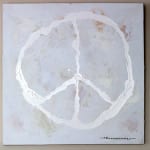 "I had a vision for how I wanted it to feel. I wanted it to look and feel like a man's home, but not a bachelor pad," Dauler says. As the hard-working guy that he is, it's no surprise his place is a stone's throw from his office (600 steps to be exact—he's counted). Dauler walks to work every day, but when he isn't on the airwaves, he's often lounging, with his beagle mix Sadie, in his sunlit living room outfitted in Intaglia furnishings or working in the adjoining office space. Here, he's surrounded by some of his favorite things, including a Paul McCartney signed guitar he won at a charity auction, three pieces of floral art from Atlanta artist Joseph Guay and a white-on-white peace symbol painting called "A Vague Showing of Peace" by Atlanta artist Mark Boomershine that Dauler purchased at a Captain Planet Foundation Benefit Gala. Another precious piece above the record player is a limited-edition Paul McCartney poster framed with a pair of tickets to his 2005 show at Philips Arena.
"I took my parents to that show, and seeing my dad sing 'Hey Jude' at the top of his lungs is a favorite life memory," Dauler says. "I had an identical poster and his tickets framed for him and my mom, and it's hanging in their house." Throughout the dark wood-floored, two-story home is also a display of Dauler's own photography—prints of weathered boats at Tybee Island, the Eiffel Tower, the tarmac at Atlanta Hartsfield-Jackson International Airport (taken on his iPhone from his plane seat) and a portrait of Sadie when she was about a year old. "Everyone makes fun of me because I have a framed photo of my dog Sadie, but she's so photogenic," Dauler says. One of Dauler's favorite pics is a Kodak moment he captured at Baz Bar in St. Barths when he saw Jimmy Buffet grab a guitar and sing "Cheeseburger in Paradise" with the house band. Oddly enough, with all of these storied decorations, one of the pieces Dauler's visitors notice most in his home is a large canvas photo print of a misty rope bridge called "Jungle Journey" he purchased from IKEA that hangs above the gray loveseat in the living room. Other standout pieces include a dining table from Savannah-based Southern Pine Company crafted from wood reclaimed from the Savannah River, and an industrial metal drawer sideboard in the entryway from Intaglia. The home's entrance also showcases two large, painted pieces of wood with the Beatles lyrics "All you need is love, love is all you need" that Dauler purchased from New York-based designer Diana Warner. "I love walking past those every day," says Dauler, who, like his dad, has always been an avid fan of the Beatles.
Dauler also loves living in Sandy Springs and being in close proximity to "everywhere." Of course, he can't beat his on-foot commute to work and the location proved especially ideal when many of "The Bert Show" staff members nearly moved in to his place during the 2014 Snowpocalypse.
"It was like ground zero for the radio station after the snowstorm," he says. "People were walking over to take showers, to sleep on the couch and crash wherever because they couldn't drive anywhere."
Dauler often opens his home to friends and family, including his parents, who visit regularly from his hometown of Syracuse, New York. He loves to cook and entertain, but when he needs some quiet time, he retreats to an incredibly spacious master bedroom furnished with a king bed and accents from Pier One, Buckhead's Nadeau and Target.
Dauler's townhome has proved an ideal haven over the last year and a half and it will remain his home for at least another year or two, but he says he'd like to build his next Atlanta home, either in Sandy Springs or Brookhaven. His future place, he says, will be something "bright, with a huge porch and big yard and outdoor fireplace."
No doubt it will have lots of room for Sadie to play and friends and family to congregate and, of course, walls and shelves to showcase those one-of-a-kind items that make it the home of Jeff Dauler.