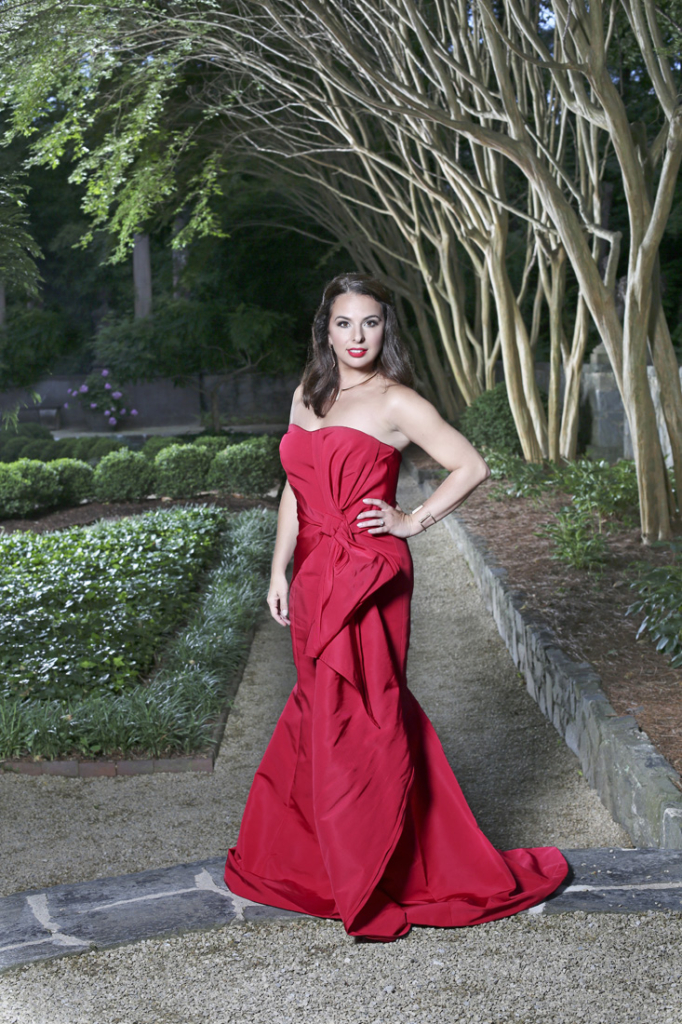 On the surface, Danielle Mason Hosker, the creative force behind Mason Hosker, has enjoyed the kind of seemingly fast success aspiring fashion designers love to hate. Here's the short version: Hosker began designing in late 2014, motivated by a void she saw in the market for garments that were both feminine and powerful. In 2015, she sourced luxurious fabrics and had patterns and dress samples made. She took the garments around the country, targeting a cadre of ultra-high-style boutiques. An influential buyer connected her with a star-making fashion mentor, and this year her designs are being picked up nationwide, including at Tootsies in Buckhead. It sounds easy, doesn't it? Dig just a little bit deeper, and it's clear the adage of "the harder I work, the luckier I get" rings true for this enterprising designer.
"I never aspired to be fashionable," the diminutive 37-year-old brunette explains over coffee in her Brookhaven neighborhood, though her chic black-and-white ensemble makes her look effortlessly pulled together. However, as a ballet dancer growing up, she was fascinated by the elegance of the female form in motion. She started her first business, the nonprofit Dancefx, in 2000 while still a senior at the University of Georgia. Hosker led the professional performance group and launched dance education classes at her Athens studio, cultivating it into one of the 100 fastest-growing companies by UGA graduates three years in a row. She also realized that her style of choreography highlighted women's beauty and strength, and it took the audience on an emotional journey. "Now, I create fashion that does the same thing," the entrepreneur and mom explains.
In 2014, after opening Dancefx outposts in Charleston (2008) and Atlanta (2011), and while scouting domestically produced fabric for a bedding company she was building, she found herself waking in the middle of the night to design dresses. "I thought, 'I have to do this, if just to get it out of my system,'" she recalls. She sketched dresses, then worked with a technical renderings designer, pattern maker and finally a sample maker to create her first "mini" 12- item line. It featured what would become her signature elements of exposed zippers, sumptuous fabrics (faille, duchess satin and jacquard), structured construction and flattering feminine detailing.
In March 2015, three days and three women changed her course forever. On a Friday, a buyer in Raleigh saw the collection and liked it enough to encourage Hosker to fly to Washington, D.C., which she did on that following Monday to show it to Lashea Green, a buyer at the legendary Saks Jandel. Green connected her with Jodi Sandman at Crescala Fashion Development in New York's Garment District, who asked her to fly up—with her samples in tow—on Tuesday. Sandman, who has shaped up-and-coming designers such as Nha Kahnh and Stephanie Waldrip (a line worn by Taylor Swift), signed the Mason Hosker line that very day. Since then, Hosker has maintained a grueling schedule of traveling to New York sometimes weekly to create her collection, which ranges in price from $500 to $1,500, and make it attractive to top-tier retailers. It's working. Pieces from her 20-item fall 2016 collection will be available starting in August at several retailers nationwide, including Rent the Runway.
While the boutiques are snapping up her designs, perhaps most gratifying is how women are responding. Sandy Springs-based doctor and entrepreneur Shivani Bhatia discovered Mason Hosker a year ago and is already a fan. "The esthetic is classic, but with a slight edge," she says. "There are few American designers who have achieved this level of refinement." It's high praise from someone who regularly wears designers such as Dior, Céline and Valentino (one of Hosker's favorites).
"If I can create garments that help a woman feel confident, empowered and beautiful, I'm happy," Hosker says. Armed with her trademark creativity, eye for details and do whatever- it-takes work ethic, it's clear that her star is on the rise.
STORY: Jennifer Bradley Franklin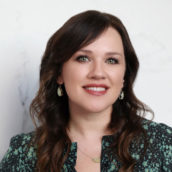 Jennifer Bradley Franklin
Senior Contributing Editor and Beauty Columnist at Simply Buckhead. Travel, Food and Design Writer and Author.