FROM LEASH TRAINING TO PET STROLLERS, DISCOVER SAFE WAYS TO GIVE YOUR INDOOR KITTY A TASTE OF THE GREAT OUTDOORS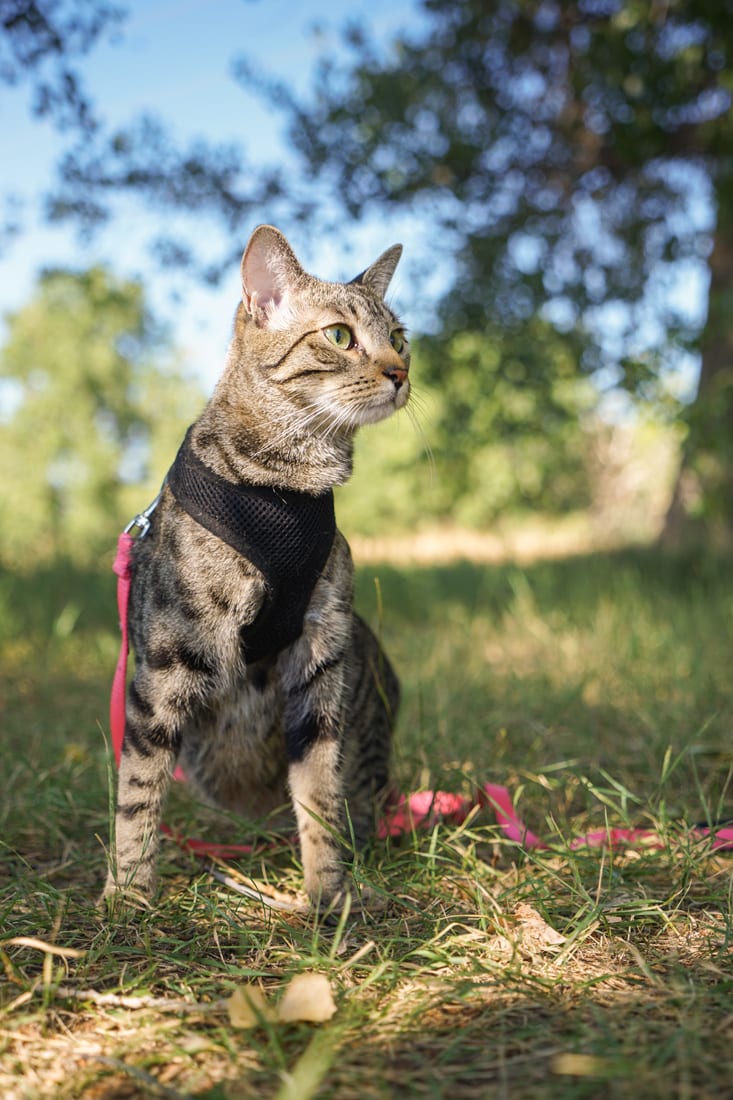 When Sandy Springs resident Charlotte Simons takes her pet, McKinley, for a walk, her furry companion often catches the eyes of passersby. After all, it's not every day you see someone walking a cat. And McKinley doesn't just explore the neighborhood; he also joins Simons for hikes and tags along on camping trips.
"Camping is McKinley's absolute favorite," says Simons. "This summer, I took him to Cloudland Canyon and he purred the entire time. Whenever I put his harness on, he immediately goes to the door and excitedly meows until we go outside. It boosts his morale for the day, and it gets a lot of his energy out."
Leash training is a growing trend among cat owners who want to provide their indoor kitties with physical activity and the opportunity to experience the sights, sounds and scents of nature without letting them roam free.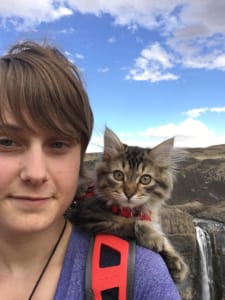 However, while some cats may enjoy exploring the world beyond the living room window, others may be content to simply watch the great outdoors from the comfort of the couch. And even cats that take to a harness and leash may never be interested in joining you on the trail. Plenty of leash-trained kitties keep their adventures to the backyard, where they may lounge in the sunshine or nibble on grass.
Think Fluffy is ready to join you outside? Talk to your veterinarian to ensure he's healthy, micro chipped and up-to-date on vaccinations and flea, tick and heartworm medications. Also, make sure Fluffy is equipped with a collar and tags before venturing outside.
Next, find a snug-fitting harness that your cat can comfortably walk in. Never attach a leash to a cat's collar, because if your cat pulls hard enough, the collar could slip off and the cat could run away. While some cats, especially kittens, may take to a harness easily, others will take time to get accustomed to it. Introduce the harness and leash slowly, being sure to provide plenty of yummy treats as positive reinforcement, and keep the training indoors until your cat is completely comfortable.
When you're ready to go outdoors, start somewhere quiet and close to home, such as a backyard or an apartment balcony. It's important to always carry your cat outside, too. Don't let him walk out on his own, or he may be tempted to bolt out the door when he's not leashed. Once outside, let your kitty explore as much or as little as he wants. Don't force him to venture farther than he's comfortable with, and if he gets spooked, bring him back inside.
It may take some cats several outings to get used to being outdoors, but some may never enjoy being in such an unpredictable environment. Others may not favor being on a leash due to age, health or personality.
If leash walking isn't for your kitty, there are other ways to give him a safe taste of the great outdoors. Pet strollers are growing in popularity, as are outdoor enclosures known as catios that can be purchased pre-built or designed to fit the available outdoor space.
HIT THE TRAIL
We asked local adventurous cat owners where they take their kitties for a taste of the great outdoors, and they suggested checking out less-trafficked parts of the area parks below.
CHATTAHOOCHEE RIVER NATIONAL RECREATION AREA
The Chattahoochee has miles of hiking trails, including many located near Buckhead, but avoid areas popular with dog walkers. The Sope Creek Trail, where you can walk among the ruins of a Civil War-era paper mill, is a feline favorite.
8806 Roberts Drive
Sandy Springs 30350
nps.gov/chat
LOST CORNER PRESERVE
Located on 24 acres of woodlands, this Sandy Springs preserve features several walking trails surrounded by all sorts of native plants and trees.
7300 Brandon Mill Road N.W.
Sandy Springs 30328
friendsoflostcorner.org
STORY: Laura J. Moss
Photo: Cody Wellons