Franchise favorite Flying Biscuit Café feels like one-of-a-kind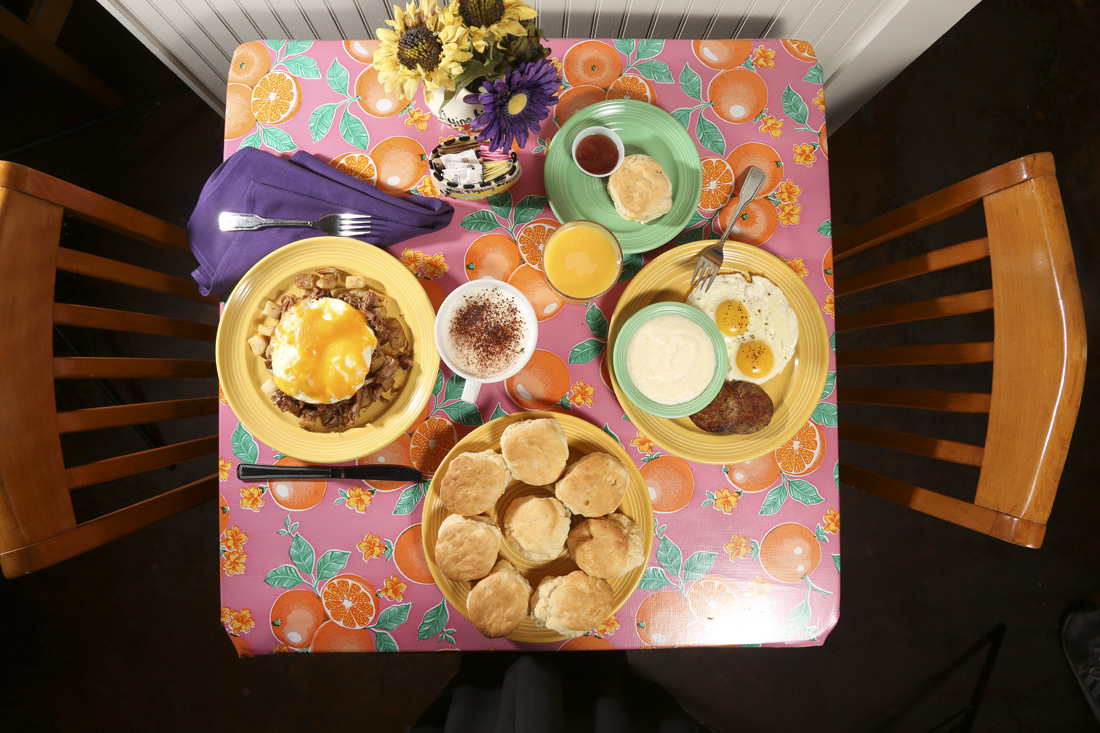 STORY: Rebecca Cha
PHOTOS: Sara Hanna
I like the Flying Biscuit Café. A lot. Sure, it's a chain—franchised, actually (at last count, there were 16 in the Southeast). What unites them is a commitment to a square meal, fairly priced, with all the comfort and quality you'd expect from a small-town diner (albeit one with a slightly healthier edge).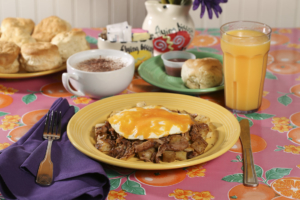 When I originally visited the Flying Biscuit years ago, I felt like Joe Pesci in My Cousin Vinny when he first encounters grits and all the simplicity, beauty and heft that is the classic Southern breakfast. Like Pesci's character, I was as green as a fried green tomato when it came to appreciating the region's traditional fare. But in my now six years here in Atlanta, I've become not just a fan, but a bit of a cognoscente. Even more, in a town where green and clean is all the rage (think kale and poke), it's heartening to know you can still find a stick-to-your-ribs meal just a stone's throw from home.
The Brookhaven outpost has a distinctly grandma's kitchen vibe with its green wainscoting, floral tablecloths and faux Fiestaware. The earnest, smiley staff completes the illusion. The 20-foot ceilings and walls painted with flying biscuits and superheroes make the room feel whimsical and funky, like a downtown artist's loft where both Keith Haring and Marvel Comics came to work.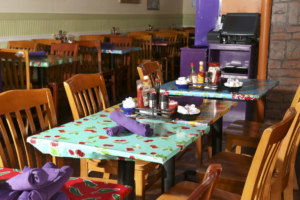 On my first visit, the signature biscuits were, to be sure, superb—flaky and golden brown on the outside, dense and moist on the inside—but the grits were the real highlight. I've tasted countless variations— stone-ground, hominy, instant, quick— and FB's grits have them all beat. "Creamy dreamy" is how the menu describes them, but that's being modest. Perfectly seasoned and al dente, they were the most gratifying forkfuls on my Famous Flying Biscuit Breakfast plate. The chicken sausage, not so much. The first round arrived too dry to cut through, but my server promptly returned with a fresh plate of the herb scented patties, and they complemented the famous biscuits and my farm-fresh scrambled eggs just perfectly. And nothing goes down with a hearty breakfast here like an organic cold-brew coffee.
Brookhaven's Flying Biscuit is a well-oiled machine of efficiency, civility and fun, and Sunday morning is the best time to witness this. Arrive early enough not to wait in the long line for a table but not so late as to miss the church/Sunday Costco/hangover crowd. Because that crowd is where it's at— your neighbors at their most colorful. A lone diner in the middle of several large parties, I overheard my server ask a family of 12— dazzling in suits, bowties and wide-brimmed hats—"Would you like separate checks or one check?"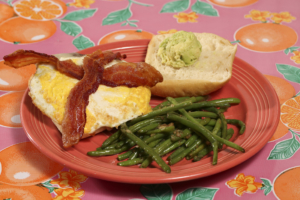 Having waitressed plenty in my lifetime, I feel justified in saying that separate checks are a pain on a slow day, much less a busy Sunday morning. Mercifully, the family asked for just one check, but I'm confident our server would have handled either response with a courteous smile.
Weekday brunch has a decidedly more relaxed feel. At 11 a.m. the day I popped in, the dining room was about half full, mostly with young families, and the cheerful staff bent over backwards to get orders right. My companion and I opted to share a plate of turkey hash with "moon-dusted" potatoes. More like pot roast than hash, it consisted of oozy, crisp-edged fried eggs draped over shredded turkey topped with melted cheese. The meat was rich and tender, just like pulled pork, but better because, seriously, who needs all that extra fat? The "moon dusting" was heavy on the rosemary, and there was no skimping on the skillet-fried spuds.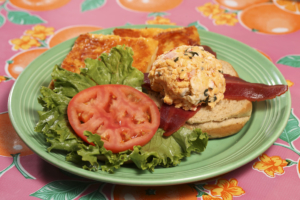 On a follow-up weekday lunch, we couldn't resist trying the cutely named Not Your Mama's Pimento Cheese sandwich. I'm not sure whose mama they're referring to, but there's no arguing with the winning flavors of this BLT knockoff. With its thick-cut turkey bacon, lettuce, tomato and generous herb-flecked scoop of cheesy goodness, it was everything a sandwich ought to be: light, filling and right at home between the bread. We were seriously looking forward to our baked mac and cheese, but this side order fell flat. Even its thick layer of gooey cheddar couldn't hide the chalky texture of the pasta.
All gastronomic gripes were tabled, though, when our decadent biscuit pot pie arrived. Huge chunks of chicken and potatoes and a sprinkling of colorful peas and carrots in a classic, creamy gravy were ladled between two piping hot biscuits. Even though it was a portion that could've fed four, I'm pretty sure the plate was clean when the two of us left.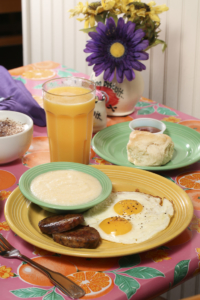 If you're looking for trendy eats such as avocado toast and watermelon-cucumber coolers, this isn't the place for you. But if nostalgia with a side of eggs, biscuits and grits holds a special place in your heart, then look no further than the Flying Biscuit.
FLYING BISCUIT CAFÉ
705 Town Boulevard, Atlanta 30319
404.963.7744
flyingbiscuit.com
Prices: Breakfast: $3.29-$12.99. Lunch: $4.99-$12.99. Featured favorites: $9.49-$12.99. Sides: $1.39-$4.59.
Recommended dishes: Famous Flying Biscuit Breakfast, turkey hash with over-medium eggs and moon-dusted potatoes, Not Your Mama's Pimento Cheese sandwich, biscuit pot pie.
Bottom line: Flying Biscuit's founders ("biscuiteers") say it best: "Our menu reflects dishes and ingredients that have helped define the South. We associate our food with happy family memories."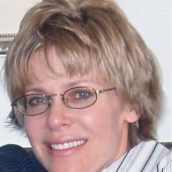 Rebecca Cha
Food, beauty and interiors writer at Simply Buckhead. Linguist, teacher, chef, parent.