Steven and Brie Prediletto add modern, global flair to a Craftsman-style home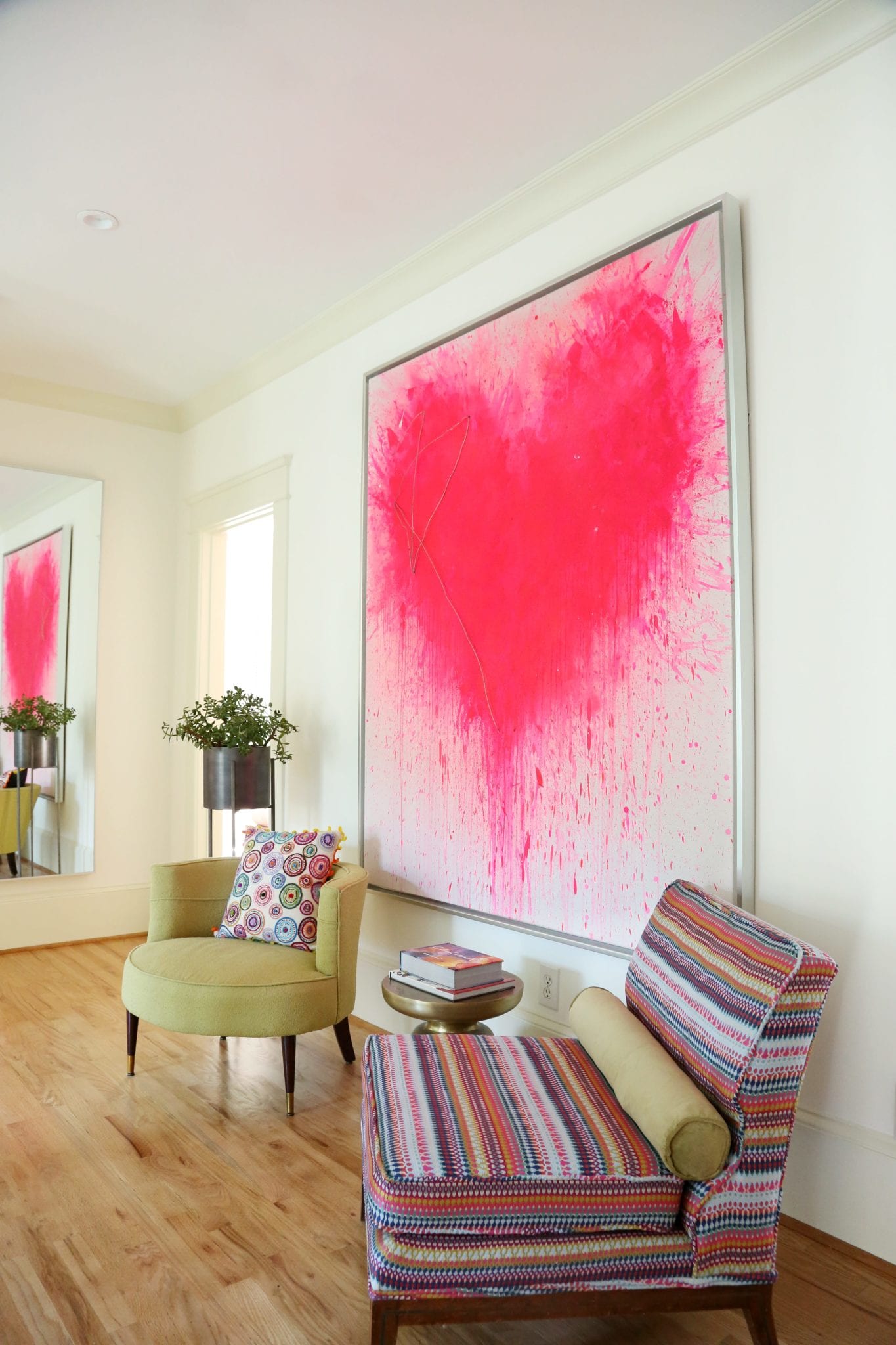 STORY: Giannina S. Bedford
PHOTOS: Sara Hanna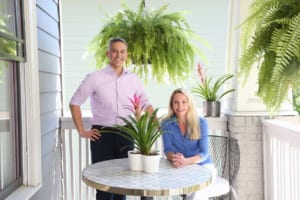 Steven Prediletto has lived in Brookhaven for almost two decades and has been witness to its transformation. When he purchased his current 4-bedroom, 3.5-bath Craftsman-style residence in 2006, it was one of the first new homes on Apple Valley Road, a thoroughfare now booming with new construction and hip eateries.
Even after meeting his Inman Park-dwelling wife, Brie, and marrying in 2010, the couple chose to settle in Brookhaven. "I've been here since the beginning," says Steven, a financial advisor at Merrill Lynch. "We are a seven-minute walk from everything Brookhaven has to offer, and MARTA is right here."
Although the Predilettos considered their location ideal, the style of the home was a little too traditional for their combined tastes. Over the past five years, they've given the home's interior a more contemporary twist and filled it with handpicked art and furnishings purchased during their many sojourns across the globe.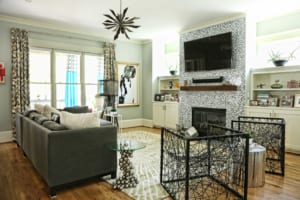 "We wanted to make it as contemporary as possible," says Brie. "It's been a very personal process because there's a lot of stuff we've chosen and carried halfway across the world through customs and pat-downs."
To help make the style transition, the Predilettos enlisted the help of interior designer Paisley Gamble of Paisley Gamble Interiors, who combined their modern preferences with a decor that includes masks from Peru, textiles from Mexico, art from New Zealand and mementos from South Africa (one of their favorite locales).
The eclectic items breathe life into each room of the 3,200-square-foot home. "Paisley is super creative and knows how to help us pull all of the things we love together," says Brie. "If we fall in love with a piece of art and buy it, she helps us figure out where it works in the house. It's a good, collaborative relationship."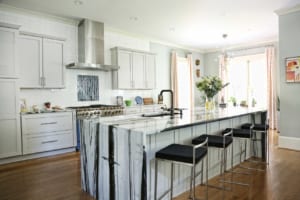 In the foyer, a custom 22-foot zebra runner sets an edgy tone that's further elevated by Brie's adjacent office boasting pink and teal walls and a green shag rug. The entry's animal print floor covering creates a pathway past the dining room and metallic painted powder room into the living room, an area furnished with black suspension chairs from Philips Collection, a Mitchell Gold + Bob Williams sofa and a futuristic light fixture from Arteriors.
Gamble redid the living room's fireplace with glass tile and a cedar mantel to give it a more modern look, and built-ins on each side display figurines, pottery and even a megalodon fossil shark tooth. The room also showcases one of Steven's favorite artworks—a mixed-media piece of a woman created from vinyl records by Jonathon Romain, which they purchased at the Brookhaven Arts Festival.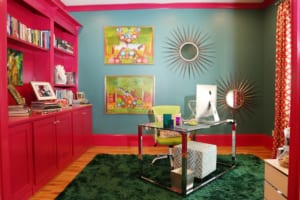 The living room flows seamlessly into the recently renovated open kitchen, where the couple selected Copacabana white marble with severe black veining for the countertops and white and blue glass tile for the backsplash behind the BlueStar range (in the same blue hue as the inside of the front door). They also painted the formerly cherrywood cabinets a grayish white created to match the color of an Apple charging cord.
Up the nearby stairs, which feature a blackstriped railing reminiscent of the dark streaks in the marble countertops, are more novel surprises. Rather than an oversized light fixture in the stairwell, the ascent to the second floor showcases art by Australian artist Greg Hyde, a suspended painting by Kara Nicole and metal cubes from Global Views that appear to be floating on the walls. A sitting area at the top of the stairs makes an impact with another Kara Nicole artwork, a painting of a large neon-pink heart that's Brie's favorite.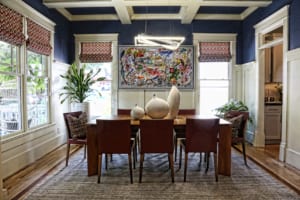 Off this sitting area are the bedrooms, including two guestrooms. One is dressed up with three hot-pink South African headdresses and a colorful Mexican throw atop a white bed. The other—a room designed for the Predilettos' nieces and nephews— features two twin beds with headboards upholstered in a colorful ikat fabric and octopus throw pillows.
In between the guestrooms, a recently updated Jack-and-Jill bathroom features woven pinstriped wallpaper, a dark navy vanity and quartz countertops. The last of the upstairs rooms is the master, which Brie and Steven worked with Gamble on to overhaul with gray walls, a Lucite bed from Bernhardt Design, a West Elm dresser and a dark blue rug.
Although the Predilettos love their interior, they spend a lot of time outside with their two Labrador-mix pooches, Stella and Max. Three years ago, they contracted Holly Brooks, co-owner of King Landscaping, to overhaul the backyard, which originally came with just "one tree and a heap of pine straw."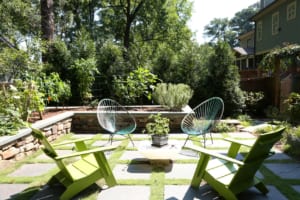 Today, the picturesque oasis features Pennsylvania bluestone pavers, a vegetable garden, dry creek beds and an under the deck potting bench. "The garden is my favorite. It gives me a sense of relaxation," says Steven.
In addition to focusing on the interior of their home, Brie and Steven are also on a mission to make their residence a net-zero carbon home that produces as much electricity as they use. Currently, the EarthCraft certified house is equipped with rain barrels, LED lightbulbs and a 10-kilowatt rooftop solar array that provides 70% of the home's electricity needs.
They have plans later this year to add two Tesla Powerwalls, batteries charged by the rooftop solar panels to provide electricity during the night when the sun isn't shining. "We make conscientious decisions to reduce our impact on the planet," says Steven. "Small modifications in our collective behavior—eating less meat, installing solar panels, reducing overall consumption of stuff we don't need—goes a long way toward mitigating the impact of climate change."
The Predilettos' actions in all aspects of their home are very intentional, as is their decision to stay in Brookhaven for the long haul. "In our perfect world, we'd be in a very modern house," says Brie. "But we also love our house and love where it's located."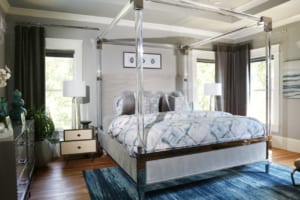 THE PREDILETTOS' TOP 5 TIPS FOR RENOVATING A KITCHEN
1. Hire a designer who has similar tastes. It's hard to take somebody who has his or her own taste and shove that in a box.
2. Use Rev-A-Shelf technology for organization and to maximize space. There are many different high-quality styles and options to help you streamline your kitchen.
3. Don't be afraid to paint cabinets. Paint can go a long way without you having to rip everything out.
4. Explore different stone options. The many beautiful choices can really separate your kitchen from your neighbor's.
5. Transform any leftover stone from the countertops into shelves, a stone cutting board or a tabletop.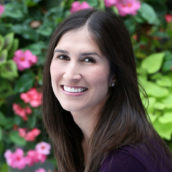 Giannina Bedford
Giannina S. Bedford is multi-faceted writer and editor. Her work covers design, travel, food and business. She's penned Simply Buckhead's home feature since inception and held a variety of editorial roles at the magazine. Her freelance work has appeared in Condé Nast Traveler, USA Today, Virtuoso Life, Hemispheres and TravelandLeisure.com. She also contributes regularly Atlanta Business Chronicle. Fluent in Spanish, Giannina was born in Miami and grew up in Brazil, Chile, Hawaii and Australia. She currently lives in Dunwoody with her two kids and husband.