Atomized CEO Chris Gomersall is used to working with creatives. His resume includes some of the biggest brands in marketing and advertising. He was a creative strategist at both Instagram and Facebook, and during his tenure as executive vice president of creative at Atlanta-based Moxie, he worked with global companies such as Verizon, Coca-Cola, L'Oréal and Disney, among others.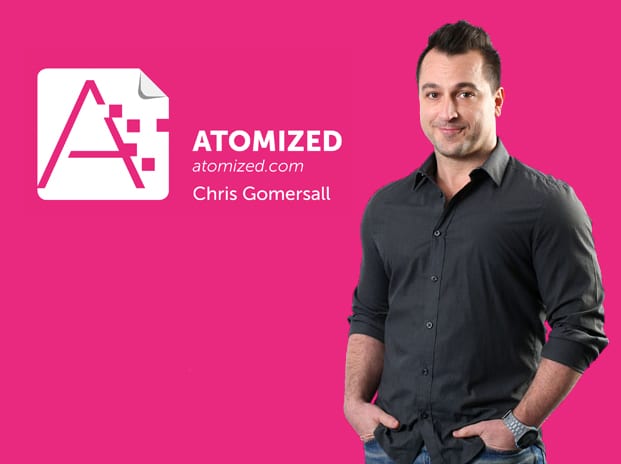 While at Facebook and Instagram in both Los Angeles and Atlanta, part of his job was teaching brand leaders how to best utilize the products so their advertising would look clean and slick. "I kept seeing the same problem over and over," he says. "None of them had a way to organize their creative for meetings. They had folders full of papers and art on walls and hard drives, even in emails." That's when he says a light bulb went off, and the idea for Buckhead-based Atomized was born.
Gomersall says he envisioned a calendar-like, digital application that would display a view of a company's creative across all media—social, print, TV and online. But more than that, the calendar view would be real time, with a live view of how their photos, videos and ads look, how long they run, and how they compare to others running at the same time, allowing the marketing and ad teams to make changes if necessary.
"Don Draper had it easy," Gomersall says. "Now we have all of these different distribution methods that can't be copies of each other. Facebook and Instagram might look similar, but just a slight tweak to an ad on those platforms can make a huge difference in its results."
Gomersall began working on Atomized while at Facebook and officially launched the company in January 2015 after two rounds of seed funding, one in February 2014 that raised $600,000 and a second in October that year raising another $855,000. A third round this past October raised an additional $2 million. Most investors are from the Atlanta area, and some include investors from Twitter and Facebook, Gomersall says.
Atomized charges companies a licensing fee for use of its cloud-based software that's compatible on everything from a tablet to a large screen. The company is currently partnering with CineMassive, an Atlanta-based company that developed a high-resolution, touchscreen video wall. "We loaded our software onto the video wall, and it was just larger than life," Gomersall says.
In the next six months, the Atomized team, which now includes 10 full-time and 20 part-time employees, will focus on growing its technology, sales and account management teams. "Once you get good clients, you have to keep them," he says. "Our clients have wish lists, so we have to continue building features they want."
And good clients Atomized has: Companies such as Arby's, Adult Swim, The Home Depot, Cartoon Network, Warner Brothers and more have jumped on board after realizing how it can transform their creative teams. "The cost of hardware is plummeting, but the cost of marketing is skyrocketing," Gomersall says. "Big companies can afford a war-room that includes all of their marketing in one place, and this essentially takes all of the creative paperwork and digitalizes it."
Visit atomized.com
STORY: Sarah Gleim
PHOTOS: Sara Hanna