Why Marriott's next-level property at Hartsfield- Jackson is attracting both visitors and locals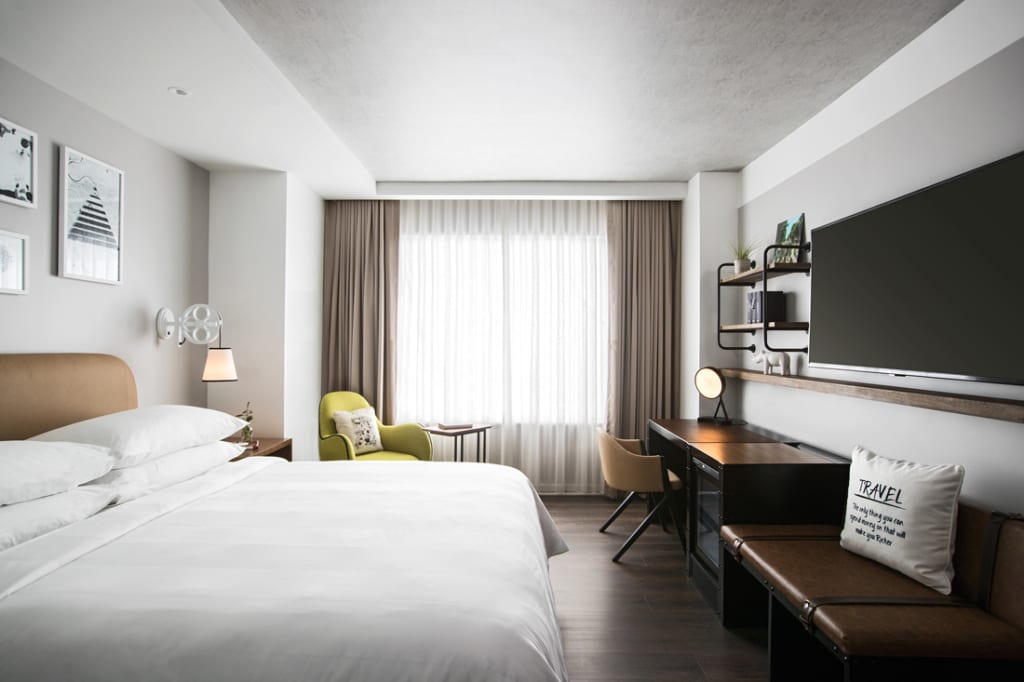 When Atlantans head to Hartsfield-Jackson International Airport, it's typically because they're going out of town. But we've found a good reason to head to the airport and stay in town. And that would be the recently opened Renaissance Atlanta Airport Gateway Hotel. This hip, full-service, Marriott-brand property debuted in May and immediately began attracting not just visitors looking for a cool, convenient place to stay, but locals eyeing a quick and easy getaway.
Given that the hotel is a two-minute trip from the airport via the SkyTrain (you don't even have to wait for a shuttle!), its clientele is primarily business travelers, but its look and feel are anything but corporate. Immediately upon entering, you're greeted by a whimsical, large-scale mural of a girl being whisked away by a flock of birds. The homey furniture in the lobby includes rocking chairs and swinging benches. Various sayings, such as "Treat every day like it's pay day" and "Live your life and forget your age," are painted on the hallway walls.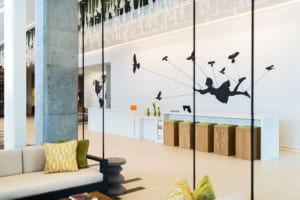 Each of the 204 rooms features fun and funky touches as well. The doors, for instance, are emblazoned with either an exclamation point or a question mark. The bedside lamp was in the shape of an old movie reel, and a vintage Beatles album cover sat on the shelf above the desk. The bathroom featured a sliding wooden barn door and a huge outline of a woman's face on the wall opposite the walk-in shower.
The hotel is all about unique discoveries and experiences, explains General Manager Donelle Zunker. For example, every weeknight at 5, the hotel hosts a bar ritual in which guests can sample that night's specialty drink. (In accordance with local liquor laws, they can't give the drinks away, but you can pay as little as a penny.) The hotel also hosts various events throughout the week, such as food and wine pairings, live music and painting lessons.
Other amenities include an outdoor area with two fire pits (an unusual feature at airport hotels), 6,000 square feet of meeting space and a fitness room equipped with all the latest gear. The on-site restaurant, Hickory & Hazel Southern Table + Bar, serves tasty regionally inspired cuisine (don't miss the yogurt parfait with housemade granola and local honey and the sweet-tea brined chicken and waffles), but there's also 24-hour room service if you feel like staying in. The hotel doesn't have a pool, but just ask and they'll arrange for you to use the saltwater pool at the Marriott property across the street.
Rates at the Renaissance Atlanta Airport Gateway start at around $150 a night, making it an ideal option the next time you're looking for a nice, close place for a quick staycation, or you have an early morning flight out and want the convenience of being less than five minutes from the terminal. As the throw pillows in each of the rooms attest, "Travel is the only thing you can spend money on that will make you richer." Even if you just travel to your local airport hotel.
RENAISSANCE ATLANTA AIRPORT GATEWAY HOTEL
2081 Convention Center Concourse
Atlanta 30337
470.306.0100
renaissanceatlantagateway.com

STORY: Jill Becker
Photos: Isaac Maiselman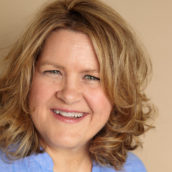 Jill Becker
Award-winning writer and editor who has penned stories for CNN, Woman's Day, Good Housekeeping, and dozens of other outlets.