AS THE GENERAL MANAGER OF LYFT'S ATLANTA OPERATIONS, SAM BOND IS RIDING HIGH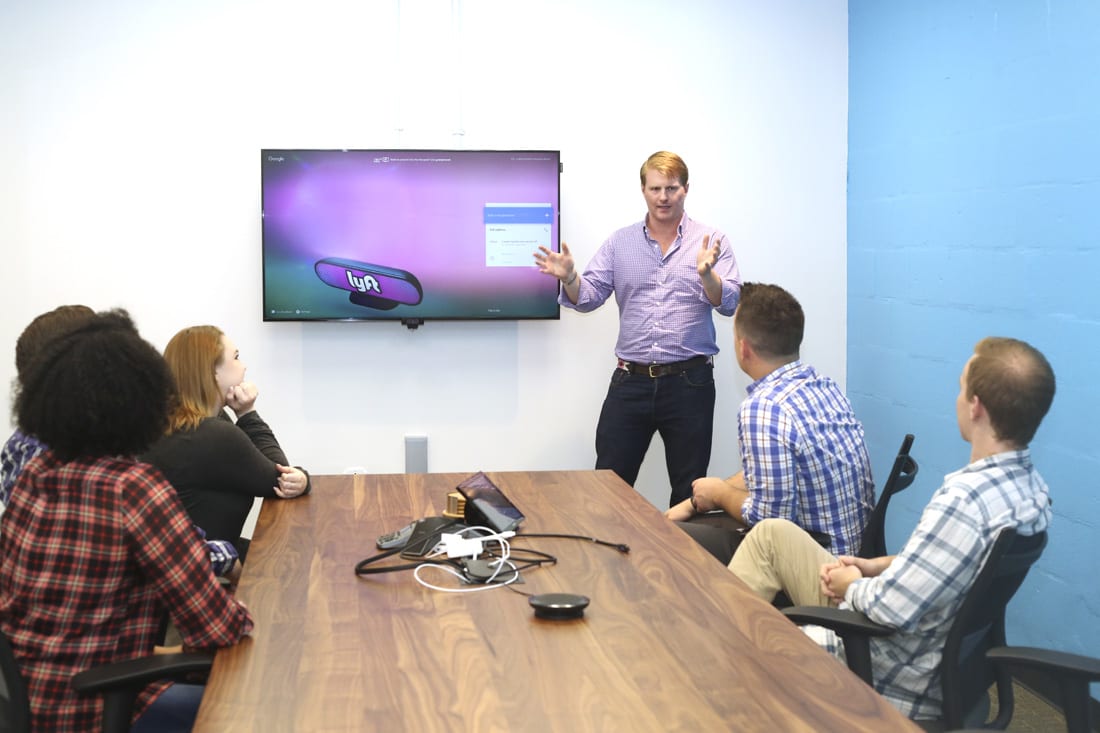 Sam Bond is a rarity in Atlanta. He decided a while back to give up his car and just take Lyft wherever he goes.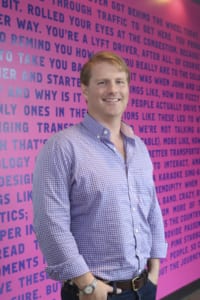 When you learn that Bond is the head of the car service's operations here in Atlanta, the idea doesn't sound so far-fetched, of course, but still, for many people, it's hard to fathom not being able to just hop in your vehicle and go.
"You get your time and your sanity back," says Bond of the experience. "I haven't looked for a parking space in almost a year. I get lots of work done in the backseat. It's been liberating. Plus, it's fun to meet people and talk to the drivers."
A part of Bond's duties as general manager, in fact, is to find ways to get more people to ditch their own wheels and use Lyft's services. Another part of his job is evaluating both the driver and rider experience. He even recently spent several days behind the wheel himself, tooling clients around town on both early morning and late-night shifts. He also makes frequent visits to Lyft's local Express Drive locations, where drivers who don't want to use their own cars can rent vehicles through their partnership with Hertz.
But the majority of Bond's time is spent in the company's new "Hub," located just off Howell Mill Road. His workday starts around 8 a.m., but he's usually up before 5. A former Marine who was deployed to Iraq as a scout sniper platoon commander and assistant regimental intelligence officer, Bond says getting up at the crack of dawn is "learned behavior." As is beginning his day with a workout. "My wife got me started on Orangetheory," he admits, noting that the monitored interval training aspect appeals to his competitive nature. "We often compare notes and achievements if we do the same workout the same day."
His healthful attitude is also evidenced by the stand-up desk in his office, which is painted Lyft's signature shade of pink. Even more colorful is the large open space downstairs that serves as sort of a way station for the company's drivers. It's where they go if they have a problem with the app, a question about incentives or other issues. Bond likens it to the Apple Genius Bar.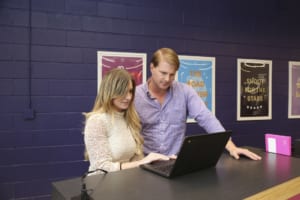 Since starting with Lyft in 2016, Bond says his biggest challenge has been dealing with the company's rapid growth. But the appeal of "doing something entrepreneurial" was what sold him on the job in the first place. Prior to joining Lyft, Bond was group director of supply chain strategy for Coca-Cola, and he's kept in touch with the beverage giant in regards to Lyft's efforts to get local companies to provide employee incentives to leave their cars behind. "Coca-Cola did it as a pilot," he says, adding that Coke has "bold plans" to take single-car vehicles off the campus. Bond works to create partnerships with area businesses in other ways, as well, such as teaming up with bars and restaurants to both alleviate parking issues and offer safe rides to patrons who might have had one too many.
After a day packed with business lunches, meetings and phone calls (he has frequent Google Hangouts with the folks at headquarters in California), Bond takes a Lyft to his home in south Buckhead. After enjoying a Paleo meal from Sun Basket, he may read to his 3-year-old son or help his 6-year-old daughter with her piano lessons. In case you're wondering, there is a Volvo wagon parked in the garage that the family uses when the need arises. But Bond insists that beyond a little extra planning, relying on a car service to get you around is quite doable. "The one-car family—it's a very real option."
STORY: Jill Becker
PHOTOS: Sara Hanna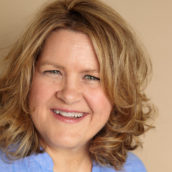 Jill Becker
Award-winning writer and editor who has penned stories for CNN, Woman's Day, Good Housekeeping, and dozens of other outlets.