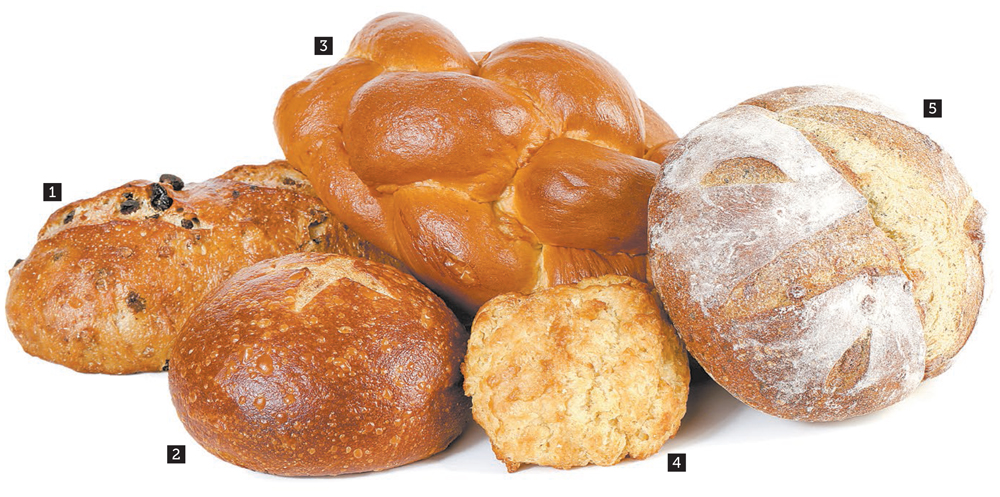 Get your hands on some of the freshest baked bread in town right here in Buckhead.
The following bakeries and restaurants are serving up delicious loaves near you.
1. Buckhead Bread Company: Walnut Raisin Loaf ($6.15)
Head baker Cristobal Miranda leads a team of 10 bakers at the Buckhead Bread Company who work in shifts around the clock. This European-style bakery, located next to Corner Café, not only supplies the bread for your favorite Buckhead Life Restaurants; it also produces breads and pastries on site, available to munch there, to-go or to use for your favorite in-house sandwich. Shelves are stocked with top sellers such as the rustic walnut raisin loaf, filled with the ingredients it's named for. A word to the wise: Get here early as most of the breads sell out before 3 p.m.
3070 Piedmont Road N.E.
Atlanta 30305
404.240.1978
buckheadrestaurants.com
2. Panera: Sourdough Bread ($2 to $4, depending on size)
The Panera Bread legacy began in 1981 and now consists of nearly 2,000 bakery-cafes in the U.S. Of course, the best sandwiches start with great bread, and to ensure that you get only the freshest slices, Panera bakers hand-shape the dough from scratch every day. The company recently implemented a "no no" list, which means its breads and foods are free of artificial ingredients and are all made with unbleached flour. One best seller is the artisan sourdough bread, made from Panera's original sourdough starter that doesn't contain oil, sugar or cholesterol. This hard, crusty bread with a tangy taste is available to go as a bread bowl, roll, or large or small loaf.
Lenox Square
3393 Peachtree Road
Atlanta 30326
404.848.9997
panerabread.com
3. Henri's Bakery: Challah ($3.99)
This Buckhead institution was founded by French chef Henri Fiscus and has served the community as a bakery and deli since 1969. It still uses original recipes to make its famous breads and pastries, and many loaves are the base of hearty sandwiches. Among the various types of made fresh daily breads is the challah, a beautiful braided loaf often used for Shabbat meals or for feasts during the Jewish holidays. But it's so versatile it also can be eaten with pretty much anything. The soft, pillowy bread can be sliced for sandwiches and makes a delicious grilled cheese or panini.
6289 Roswell Road N.E.
Sandy Springs 30328
404.256.7934
henrisbakery.com
4. Buttermilk Kitchen: Buttermilk Biscuit ($3.50 per biscuit )
This breakfast and lunch restaurant from "Chopped" champion chef Suzanne Vizethann serves traditional and non-traditional breakfast and lunch recipes in a charming old Southern-house atmosphere. One of the more popular menu items is the made-from-scratch buttermilk biscuit. It's on the crunchy side by most Southern standards, but highly addictive, with a crisp buttery exterior and dense, fluffy interior. It is equally delicious served plain, with butter, honey or pepper jelly, or as part of the signature fried chicken biscuit meal. Succulent sweet tea brined chicken is double-dredged for extra crunch, fried, then served on this flaky biscuit and smothered in red pepper jam. Both the biscuit and chicken biscuit are available to go.
4225 Roswell Road N.E.
Atlanta 30342
678.732.3274
buttermilkkitchen.com
5. Whole Foods: Jalapeno Cheddar Loaf ($2.99)
This artisanal bread has a lot of character with a south-of-the-border personality. Inside, you'll find a soft, fluffy blend of jalapenos and cheddar; outside is a crisp, golden crust speckled with baked cheese. The kick comes from the jalapenos, and the mild cheddar adds a nice balance to smooth out the flavor. Eat it alone or pair it with basic ingredients such as beans, olives, tomato and avocado. It also adds some spice to a variety of sandwich combinations, can be served toasted for breakfast with eggs and stands up to dark beer, hearty soups and stews.
77 West Paces Ferry Road N.W.
Atlanta 30305
404.324.4100
wholefoodsmarket.com
STORY: Jessica Dauler
PHOTO Sara Hanna