Experiencing concierge camping with Atlanta startup Scamper Van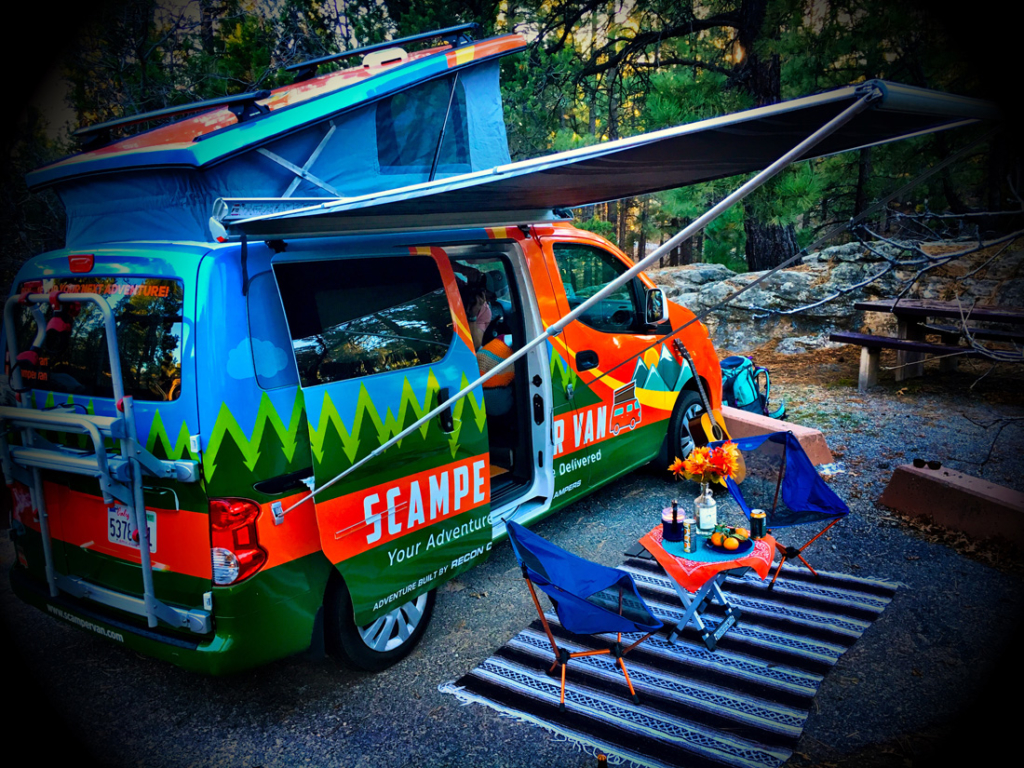 STORY: Jill Becker
When I was a kid growing up in Texas, once a year my family and I would cram into our truck-top camper and head to the beach in Galveston, along the Gulf Coast. The accommodations were cramped and somewhat primitive, we'd often get eaten alive by bugs, high winds and storms would occasionally disrupt out site and sand somehow managed to make its way into every nook and cranny, but those summertime camping adventures are still some of my fondest childhood memories.
I got to experience the nostalgia of those family trips recently when I took my two nephews camping at Red Top Mountain State Park on Lake Allatoona in Cartersville, an hour northwest of Buckhead. I don't have an RV, and the idea of sleeping on the ground in a tent didn't appeal, so I turned to a local startup called Scamper Van, the "Southeast's first and only campervan rental and concierge company." Started in 2016 by David Clapper and Eric Van de Steeg, Scamper Van rents out customized, fully equipped Nissan NV200 campers that sleep four and include a mini fridge, sink, pots and pans, a seven-foot awning, an outdoor shower, its own power source, lawn chairs and more. "Think of it as a tiny house on wheels," says Clapper.
On the Friday before we left, Clapper dropped off the camper at my house and demonstrated its many features. "There are videos on our website in case you forget all the steps," Clapper advised me during the tutorial. He outfitted us with a couple of mountain bikes for the trip as well in case we wanted to go for a spin. The company can also provide renters with kayaks, standup paddleboards and hammocks, and will even stock the fridge and cabinets with groceries and help you plan your trip, if you like. "The appeal is that you can just pack your clothes and go," says Clapper.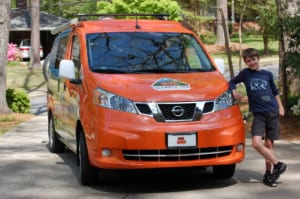 The idea has been so successful, they've already acquired new vans. "The concept is particularly popular with millennials," says Clapper. "They want to borrow, not buy, things."
My nephews, ages 13 and 10, thought it was cool as heck as well. Weston, the oldest, loved how the top popped up to create an upperbunk- bed-style sleeping area. ("Just don't drive with the top up!" he warns.) Pearce, the youngest, reveled in going through all the drawers and compartments, and exploring gadgets such as the butane-powered cook stove and sporks (an ingenious spoon-fork combo). And I think they both secretly enjoyed the attention we got driving around in this brightly colored, tricked-out vehicle with the words "Scamper Van" emblazoned across it.
During our weekend in the woods, the three of us went hiking, played football and cards, sang songs and roasted marshmallows over the campfire. (I only wish I had seen the recipe for S'mores Campfire Cones on Scamper Van's website before we left; they look delicious!) The experience took me back to those carefree summers of my youth and the lasting memories made exploring the joys of nature, bugs and all.
SCAMPER VAN
833.722.6737
scampervan.com
Rental fee $149 a night; extras such as bikes, hammocks, kayaks and groceries not included. First 100 miles a day free. The campers are often booked months in advance, so make reservations as early as possible.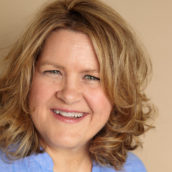 Jill Becker
Award-winning writer and editor who has penned stories for CNN, Woman's Day, Good Housekeeping, and dozens of other outlets.