EXPLORING CHATTANOOGA'S SOUTHSIDE NEIGHBORHOOD.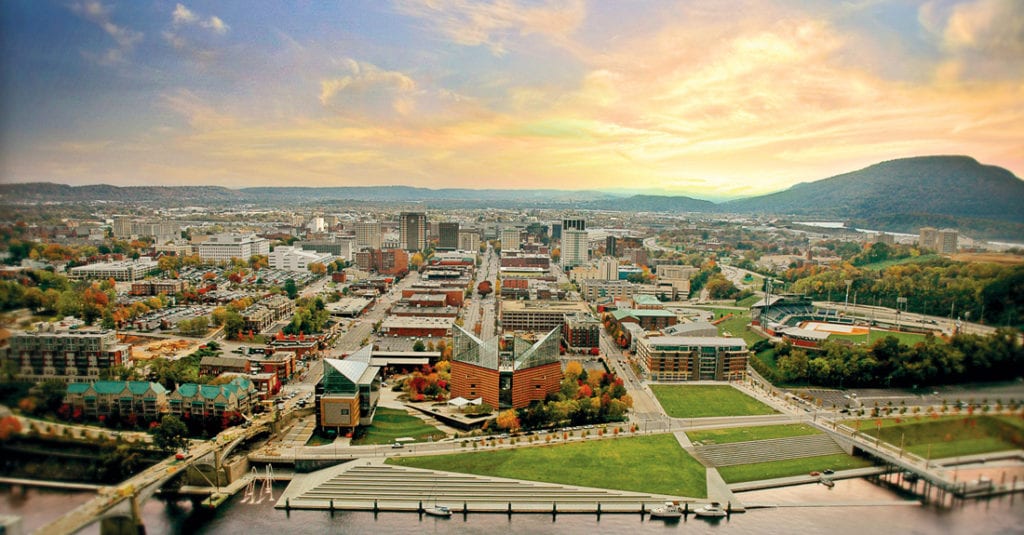 "Would you and Jon like to go away for the night?" That simple question, posed to me by my mother-in-law, set my heart aflutter. We love our 19-monthold daughter, but being cooped up with her since March with little childcare has left us in need of some grownup time. A one-night getaway sounded perfect, and I knew just the place: Chattanooga. Getting there is an easy 90-minute drive north of Buckhead on I-75, making it an ideal locale for a staycation.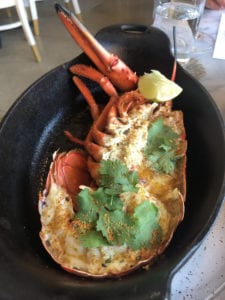 Chattanooga sits in the foothills of the Appalachian mountains, and the Tennessee River winds through it. This juxtaposition of nature against the urban landscape lends to the city's moniker "Scenic City." It's just as easy to appreciate the natural beauty from the pedestrian-only Walnut Street Bridge as it is from a trail on nearby Lookout Mountain.
In the spirit of an adult jaunt, the first stop we made upon arrival was Chattanooga Whiskey located in the city's Southside Historic District. Take a tour or get straight to the good stuff by booking a tasting-only option. This gets you seats at the bar and a flight of six samples of the staple distillates and a couple tastes of the experimental batches, such as a coffee-infused liqueur. Let the fun begin!
The great thing about the Southside neighborhood is its ample dining options and walkability. When the hunger pangs kicked in, we headed to Slick's Burgers, a five-minute walk from the distillery. Upon entering Slick's, the first thing that stands out is the quirky vibe complete with an Airstream that houses the kitchen. The big draw here, besides the burgers, is the presence of Rebecca Barron who formerly helmed the kitchen at Chattanooga's upscale and nationally lauded St. John's Restaurant. Here, she shifts gears in a casual setting but still makes her mark with indulgent yet clever offerings such as cheeseburger egg rolls and smoked brisket tacos.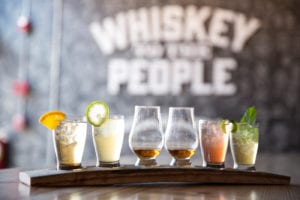 There's plenty to explore around Chattanooga, but we stuck to the Southside. After getting a caffeine fix at Velo Coffee Roasters and visiting the Chattanooga Choo Choo, a historic train depot turned hotel and entertainment complex, we headed to Hotel Indigo. The boutique hotel opened its doors in October and is situated downtown about a half mile from the Riverfront district.
Our evening's main event was dinner at Easy Bistro, which moved to its new location in Chattanooga's West Village district in September and is a quick walk from Hotel Indigo. The space is bright and welcoming with a blue and white color palette and warm brass accents. We sat by the window overlooking the street and took our time sipping wine and enjoying the menu's standouts of fresh Gulf oysters, wood-fired lobster with a chili-lime butter and the house-made cavatelli with tomato sauce and burrata.
With no baby to wake us up, we slept in before meandering over the river to the North Shore neighborhood where Milk & Honey is located. The all-day cafe offers comforting fare in a charming setting. On that chilly morning, I warmed up with a cup of coffee and the Farmhouse Biscuit loaded with sausage, bacon, tomato jam, caramelized onion and scrambled egg.
Feeling content, we said goodbye to Chattanooga and headed home where our bright-eyed, curly-haired toddler awaited. Grownup time was fun while it lasted.
DETAILS:
Hotel Indigo Chattanooga – Downtown
ihg.com
Easy Bistro
easybistro.com
Slick's Burgers
facebook.com/slicksburger
Chattanooga Whiskey
chattanoogawhiskey.com
Lia Picard
Freelance writer covering food, travel, and interior design.