A Brookhaven couple takes a chance and succeeds with their first family home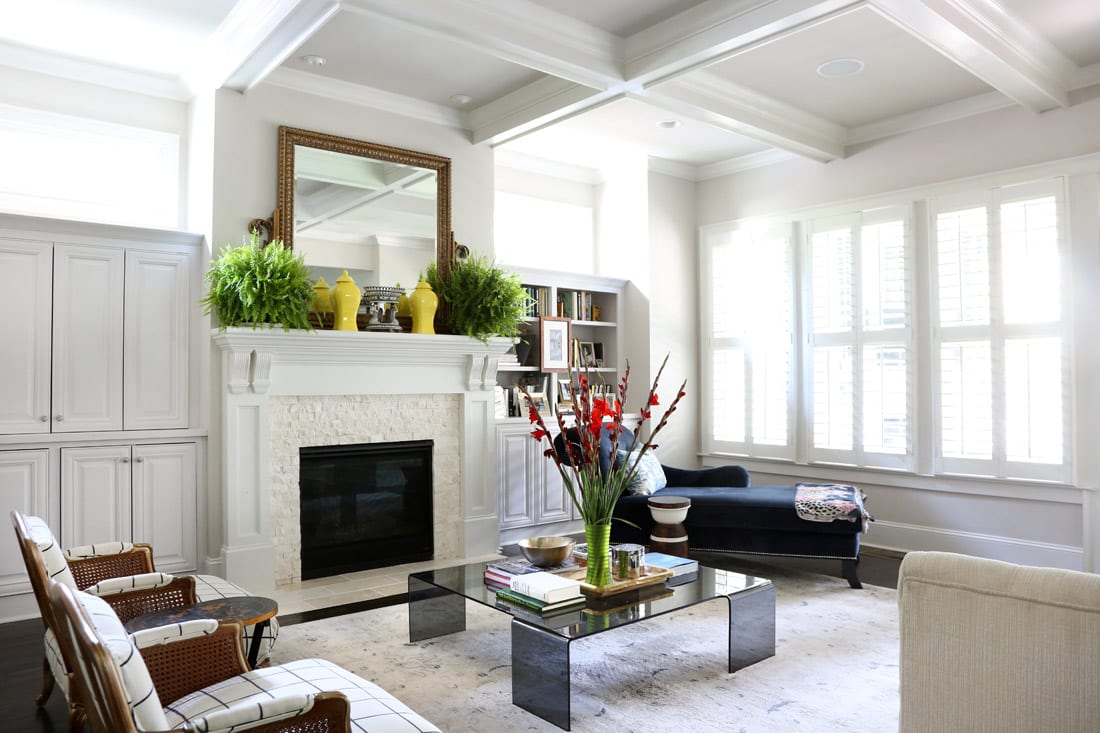 STORY: Giannina S. Bedford
PHOTOS: Sara Hanna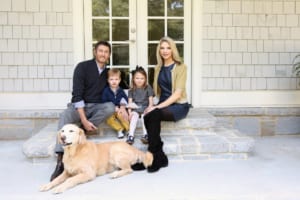 Sometimes you simply fall into a good thing. That's what happened to custom home builder Chris Davis and his wife, Elizabeth Saylor Davis, when they decided to make what was supposed to be a spec home in Brookhaven their permanent address. "The neighborhood was getting so much buzz, the schools kept getting better and we were getting married, so we thought maybe we should just move into the house," says Elizabeth, a business owner with Northwestern Mutual.
Since moving in seven years ago, they've fallen in love with their neighborhood and raising their two kids—5-year-old Kaki and 2-yearold Henry—in it. A few years ago, they considered selling the property to build another home, but the strong ties developed with the community changed their minds. "I come across buildable lots often, but we stayed because of our neighbors," says Chris, owner and founder of KBD Development. "This is a perfect neighborhood for raising kids."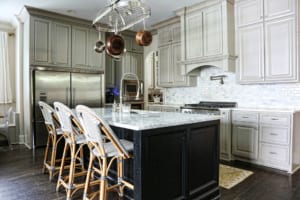 Although the design and finishes of the 4,700-square-foot home were initially selected to sell, the Davises have personalized the traditional interior with their own vibrant touch. Goodwill finds, antiques and midcentury pieces are at home among accents of black, brass and green to create a transitional meets Hollywood Regency style fitting with the homeowners' dynamic dispositions. "I like bold, fun things, like my personality, I suppose," says Elizabeth. "I like to have some fun pieces, but try to balance it out."
In the living room, gold chairs from One Kings Lane, a Lucite coffee table from Direct- Buy, an antique gold mirror from eBay and pottery from stores such as Roswell's Board of Trade speak to Elizabeth's love of shopping for a deal. "I'm a big bargain girl. I just love knowing that I got a deal," says Elizabeth.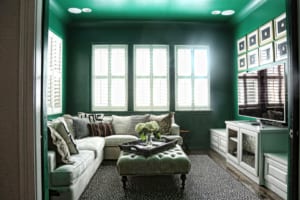 Every so often the Davises splurge. The porch off the living room, for example, is furnished in an oversized Arhaus sofa "that wasn't cheap." And the porch, the couple's favorite room, is equipped with Eze-Breeze windows that slide up and down to create a year-round indoor or outdoor environment. "We have picnics out there, we eat dinner out there, we'll even bundle up and watch movies out there in the fall or winter," says Elizabeth.
The keeping room off the kitchen is another popular hangout. Last October, they painted the walls and ceiling Sherwin-Williams Rainforest, a vivid emerald green, Elizabeth's favorite color. They adorned the room with a leopard rug, sectional and coffee table. Mounted on the wall around the television are 16 clay medallions the family crafted together and framed. "If you look closely, you can tell we made them, but they're fun because they have a story," says Chris.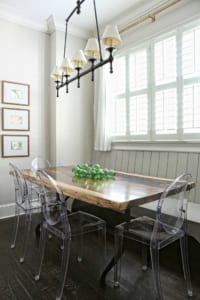 On a wall near the living room, a vignette of framed works showcases the Charleston church where the Davises got married, a San Francisco ink drawing the couple bought during their first adults trip after kids and an original photograph of the subway stop outside Elizabeth's first apartment in Chicago. It all surrounds a "scribble finger painting" by Henry that, inserted in a $9 frame from Goodwill, could easily pass for a gallery-purchased piece.
Family-made masterpieces also adorn the walls of the kitchen's informal yet chic eat-in area, where a custom poplar table is surrounded by Lucite chairs. Serena & Lily Riviera barstools offer another casual dining spot overlooking the kitchen's gray cabinets, Nova Blanca marble countertops, Carrara beveled subway tile and Fisher & Paykel appliances. For upscale affairs, the Davises entertain in the dining room, where a midcentury table from Antiques & Beyond is surrounded by mix-and-match chairs.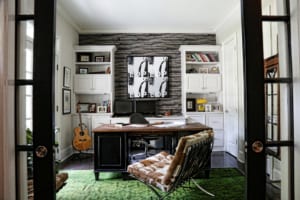 Across the foyer is Chris' office, which makes its own design statement with an Arhaus partner desk, antique cabinet for storing blueprints and chairs the Davises had recovered in cowhide at Southern Upholstery. Above Chris' workspace is a large black-and-white canvas print he designed from his company logo in an abstract-meets pop- art style. "I like the functionality of my office the most," says Chris.
When the work and school day is over, the family heads upstairs. Kaki's girly bedroom is adorned with Chicago street art depicting a pink-hued face and an abstract piece Elizabeth painted on her first Mother's Day. Henry's not-so-little-boy quarters includes a mishmash of street art from Cannes, a giraffe print from Simple Finds antique consignment and a beach photo print from Joss & Main. "This is one of my favorite rooms aesthetically," says Elizabeth. "I just love how the colors came together and that it works as a little boy's room but without the typical nursery feel."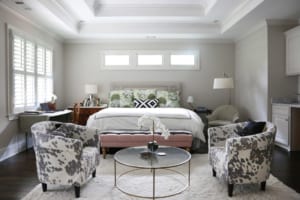 In the master, the Davises selected a gray twill bed and surrounded it with a dresser purchased from a consignment store in Canton, a Room & Board chair, Crate & Barrel floor lamp and various Wayfair finds in the sitting area. Their love for Nova Blanca marble continues in the master bath, where the shower is big enough for the whole family to enjoy. What the kids love most, however, is the basement-level playroom, which opens to a sprawling twotiered backyard complete with putting green. "The yard goes all the way out to the wooden fence, and there's a creek back there," says Chris. "That's why I bought the lot. Seven-tenths of an acre in town is hard to find."
The Davises also spend ample time in the front yard, where they enjoy impromptu socializing with neighbors who stroll by. Chris says their white picket fence makes the front yard a "de facto gathering place."
And that's the reason, despite opportunities to upgrade and expand to another home, the Davises have happily chosen to stay. "The community of friends we have here is irreplaceable," says Elizabeth. "The combination of those relationships with the walkability to the Dresden restaurants, the fabulous elementary school and the ease of jumping on I-85—it's the perfect location for us."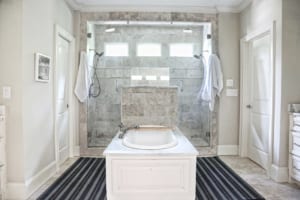 ELIZABETH SAYLOR DAVIS' 5 FAVORITE PLACES TO BARGAIN HUNT FOR HOME DECOR IN ATLANTA
1. Goodwill. "Because when you decide to redo your bookshelves with hardback books that must coordinate with your decor, you just can't beat $1.50 a book. Look for the color of the day to get 50% off!"
2. Simple Finds. "Bring your walking shoes and perhaps a map. This place goes on and on and has a great mix of items and price points."
3. Antiques & Beyond. "The staff here is just so nice. They even smile when I come through the door with my kids and massive stroller. And there are lots of beautiful and well-priced furniture pieces."
4. My Favorite Place. "Amidst the junk, there are treasures to be had. Not my go-to for furniture or larger pieces, but great for filler items."
5. HomeGoods. "For when you'd like something clean and fresh off a delivery truck. Everything is reasonably priced, and their customer service is great when you need to return things that weren't quite right."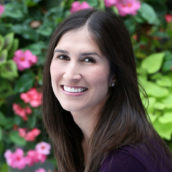 Giannina Bedford
Giannina S. Bedford is multi-faceted writer and editor. Her work covers design, travel, food and business. She's penned Simply Buckhead's home feature since inception and held a variety of editorial roles at the magazine. Her freelance work has appeared in Condé Nast Traveler, USA Today, Virtuoso Life, Hemispheres and TravelandLeisure.com. She also contributes regularly Atlanta Business Chronicle. Fluent in Spanish, Giannina was born in Miami and grew up in Brazil, Chile, Hawaii and Australia. She currently lives in Dunwoody with her two kids and husband.