2 countries, 13 cities and a newfound sense of adventure.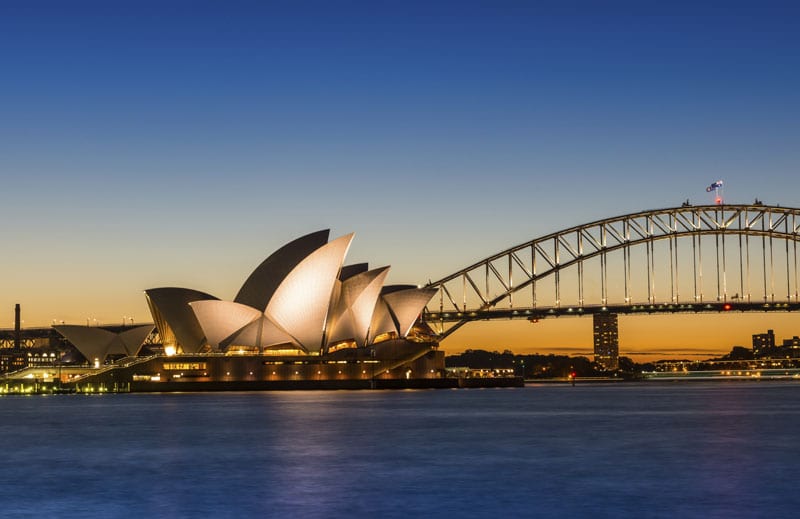 I'd dreamed about visiting Australia and New Zealand most of my life, but it wasn't until a few years ago that it became a reality. As a consultant with Buckhead-based Slalom, my husband is eligible for a month-long sabbatical after just three years at the company. The second he joined, we started planning. Fast-forward past the endless hours on TripAdvisor, Google Maps and Hotels.com, and the trip was better than we could have imagined. But now that we're back, I sometimes struggle to convey all the beauty and adventure I found in 13 diverse cities and towns over the course of a month. For the sake of time, I've learned to stick to the highlights.
LAKE TAUPO, NEW ZEALAND

Taupo is a small town centered around a beautiful lake so big it feels like an ocean. We visited Huka Falls, a Niagara-style waterfall with pure green-blue water and numerous viewing points, and wandered through Craters of the Moon, a geothermal field with gaseous activity and colorful mud pools. But one of my favorite activities was simply walking along the lakeside path embracing the fresh air, scenic views and overall serenity of the area.
Here, we had one of our favorite meals of the trip, at a convivial spot called Victoria's. Not only was the food superb (kale and quinoa salad for me, beef steak sammy for my husband), but Victoria herself offered recommendations on the area, including a late-night dip in the technically closed thermal pools—a favorite activity of the locals. I was nervous at first, but decided to go for it. The water started off cold, but the farther in we waded, the warmer it got, and we practically had the pools to ourselves. We only stayed an hour, but being out there, in the dark, immersed in nature felt completely exhilarating.
SYDNEY, AUSTRALIA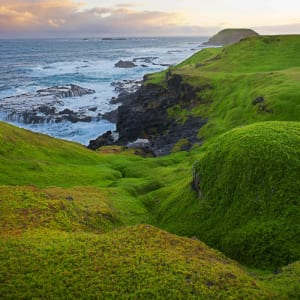 Wherever we travel, my husband asks, "Would you live here?" Up until now, I've always said no. But I fell in love with Sydney at first sight. It was a sunny 75 degrees, with water and mountains forming a perfect backdrop to the city. It's a bustling one, the largest in Australia, but it was easy to get around on foot and public transit. We spent a day exploring Circular Quay, the Royal Botanic Gardens and the market at the Rocks, a picturesque historic district. We took the ferry to Manly Beach to soak up the sun, and embarked on a gorgeous coastal cliff walk from Bondi to Bronte and Coogee beaches— each with its own personality. We ate authentic Thai food at Chat Thai, and vegetarian small plates at Yulli's in the trendy Surry Hills neighborhood. We read books in Hyde Park, and watched a performance of Madame Butterfly at the Sydney Opera House. Everywhere we went, we felt welcomed.
BRISBANE AND PHILLIP ISLAND, AUSTRALIA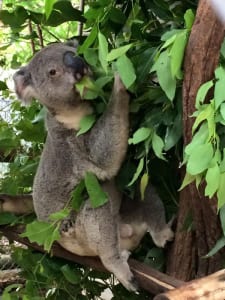 No trip to Oz is complete without seeing the animals unique to the region, and I think about our day at the Lone Pine Koala Sanctuary in Brisbane all the time. There are more than 130 koalas and the best part is they're all out in the open! For a fee, you can get your picture taken "cuddling" one—I stood in line three times. Then there are the kangaroos. Large and imposing, they may look scary, but they're actually very sweet. At one point, my husband went to watch a reptile show while I visited the restroom. An hour later, he found me in the 'roo field with kangas eating out of my hand. But the best part was the Penguin Parade at Phillip Island, just 90 minutes from Melbourne. Every night at sunset, hundreds of fairy penguins make their way up the beach to burrow in dunes. We arrived early and snagged front row seats, then watched in awe as the penguins made their appearance, marching up the sand in little lines. After a while, we raced up the boardwalk and stood about a foot from these fascinating creatures as they made their nests for the night. It was so idyllic it was hard to believe it was real.
FINAL THOUGHTS
Normally, by the time a trip is almost over, I'm ready to go home. But with so much to see and do, I could have stayed abroad for months. This was one trip that will be hard to top.
STORY: Carly Cooper
---
POST-TRIP WRAP-UP
THE AUSSIE GLOW

When I got back to the States after a month in Australia and New Zealand, everyone kept telling me I looked great. It was odd, because my hair was a mess, I wasn't wearing anything new, and I'd barely slept in 24 hours. Thanks, jet lag. At first I thought people were referring to my tan—a result of days of hiking, biking and beaching— but that wasn't it either. They were talking about something I can only think to call "the Aussie glow."
It's a reflection of the laid-back attitude locals have and the way they seem to truly embrace life, no matter what it throws at them. Invisible killer jellyfish? No problem. Crazy rip currents and sharks lurking? Just another day at the beach. Early day at work tomorrow? Down a long black coffee and move along.
It's a way of life that seeped into my pores. Me. The girl who makes the same five salads for the workweek every Sunday, lives by her planner and started making to-do lists within hours of getting engaged. Okay—so I didn't exactly go bungee jumping; it was a more subtle change, something I noticed after I got back.
The little things just didn't bother me as much. The post office I'm at doesn't sell stamps? So I'll drive to another one. My husband forgot to fold the laundry? The world won't end if it gets a little wrinkled.
But then other things I wouldn't have blinked twice at before really stood out. A grumpy clerk in the grocery store—would it kill her to smile, just a little? A super urgent assignment at work that has everyone frantic—we work in advertising, people. There are no true emergencies.
Two weeks back in the office and I felt the glow fading. The constant rush, the pressure to do—and be— it all. It's American. There are things I love about our country. Things we do well, great even. But overall attitude and prioritizing what's really important are not among them.
Don't get me wrong; I take pride in my career, but spending a full month with my husband in Oz made me realize that life is not about how many tasks you accomplish, but the way you live.
Aside from moving to Sydney, I haven't quite figured out how to integrate this new outlook into my everyday life. But I'm glad I got to see how those on the other side of the International Date Line live. And when I get overwhelmed, stressed or upset about something trivial, I'm going to look deep inside and try to channel that Aussie glow.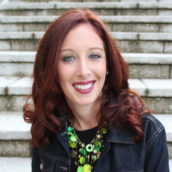 Carly Cooper
Foodie Tastemaker Columnist at Simply Buckhead. Contributing Editor at Atlanta Magazine. Restaurant Aficionado and Mother of Two.