As the father of a 5-year-old, Drew Panayiotou knows firsthand the power of play in a child's development.
BY: Giannina S. Bedford
So does the American Academy of Pediatrics, which in 2018 recommended that kids enjoy more unstructured playtime. This inspired Panayiotou's vision for Kefi, a technology and design-driven hangout for families that recently opened in Buckhead. "Kefi was intentionally designed to make it easy for parents to give kids their daily requirement of one hour of unstructured play," says Panayiotou. "Kids are free to roam the space and choose what they want to do or where they want to spend their time."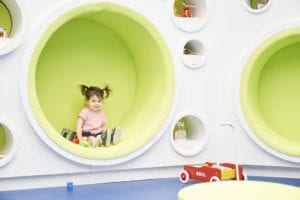 When conceiving Kefi, Panayiotou teamed up with creative partner Barry Williams, who spent more than 15 years leading technical teams at Lucas film for motion pictures such as the Star Wars and Harry Potter franchises. The duo enlisted the talent of designer Christian Carlson, formerly of global architecture firm NBBJ, and Atlanta design firm BLUR Workshop to create the 25,000-square-foot space, where an origami-inspired, minimalist design and immersive play spaces stimulate creativity. The Storycave, for example, features faux rock formations protruding from the floor and ceiling. ToyTropolis is reached via a kid-sized cave hallway. Airport-grade glass security gates guard Kefi's entrance and exit, and the white and gray walls offer a blank canvas for the always evolving digital experiences.
While Kefi's kid-focused spaces are colorful and lively, the adult-only lounges evoke a feeling of calm and sophistication with soothing tunes, modern furnishings, leather booths, original artwork and glass walls. Video feeds from the play areas are displayed on screens so mom and dad can keep an eye on the kiddos.
Kefi also boasts a high-end cafe called Xander Coffee, where an abstract painting by artist Greg Lynquist adds pops of color. Large garage style doors, kept open during optimal weather, welcome an abundance of light into the hip, whimsical hangout.
Kefi
3637 Peachtree Rd. N.E.
Atlanta 30319
404.937.3352
playkefi.com/atlanta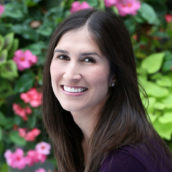 Giannina Bedford
Giannina S. Bedford is multi-faceted writer and editor. Her work covers design, travel, food and business. She's penned Simply Buckhead's home feature since inception and held a variety of editorial roles at the magazine. Her freelance work has appeared in Condé Nast Traveler, USA Today, Virtuoso Life, Hemispheres and TravelandLeisure.com. She also contributes regularly Atlanta Business Chronicle. Fluent in Spanish, Giannina was born in Miami and grew up in Brazil, Chile, Hawaii and Australia. She currently lives in Dunwoody with her two kids and husband.