MAKE FOOD YOUR FOREPLAY WHEN YOU DINE ON THESE APHRODISIAC DISHES
Valentine's Day is all about celebrating you and your honey. But how can you spice up your evening and set the mood? With the right dinner. These four flirty foods are steeped with the goods to get your libidos going. So forget the roses this year; just order a dozen oysters instead.
Steamy and Raw
The evidence behind what makes the oyster so erotic is the high zinc content. We love that we can enjoy oysters in every way possible, from fried to raw and on the half shell, like some of our favorites at St. Cecilia. They come served on ice with moscato mignonette, frozen Champagne grapes and house-made chile sauce.
Long and Lean
Asparagus is chock-full of vitamin E that helps get blood flowing. It also boosts hormones, including testosterone, estrogen and progesterone. And it tastes good, no matter how it's prepared. Try it grilled with truffle aioli and manchego cheese at Eclipse di Luna or shaved in a salad with biltong (a traditional dried meat from South Africa), heirloom tomatoes, radish and a poached egg at Yebo Ski Haus.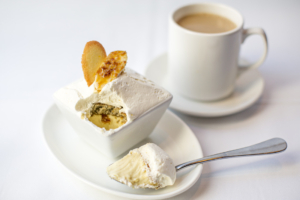 Banana Split
This velvety fruit is rich in potassium and B vitamins, which are thought to be essential for hormone production, and minerals and enzymes that enhance male libido. If those aren't reasons enough to share a few bites of banana with your better half, order the banana pudding desserts from Saltyard (banana pudding with chantilly cream, vanilla wafer and white chocolate) or South City Kitchen Buckhead (bruleed banana pudding with banana bread, sweet cream and lang du chat cookie), and you'll see the light.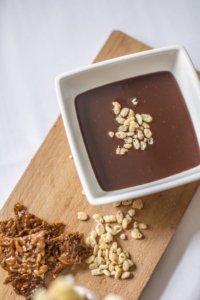 Food of the Gods
Chocolate has always been synonymous with love and romance. The Mayans who discovered the cacao tree referred to it as "food of the gods." Now we know chocolate contains feel-good chemicals that release dopamine in the pleasure centers of our brains. To reach that state of euphoria, go straight for a bowl of the Callebaut Belgian at Cape Dutch. It's a decadent chocolate soup served with almond brittle, raisin-walnut bread, hazelnut and crispy rice.
Cape Dutch
1782 Cheshire Bridge Road
Atlanta 30324
404.343.0313
capedutchrestaurant.com
Eclipse di Luna
764 Miami Circle
Atlanta 30324
404.846.0449
eclipsediluna.com
Saltyard
1820 Peachtree St.
Atlanta 30309
404.382.8088
saltyardatlanta.com
South City Kitchen Buckhead
3350 Peachtree Road
Atlanta 30326
404.815.6677
southcitykitchen.com
St. Cecilia
3455 Peachtree Road
Atlanta 30326
404.554.9995
stceciliaatl.com
Yebo Ski Haus
111 West Paces Ferry Road
Atlanta 30305
404.869.1992
yebobeachhaus.com
BY: Sarah Gleim
Photo: Heidi Geldhauser