Helping homeless couples overcome obstacles and become independent
BY: Mickey Goodman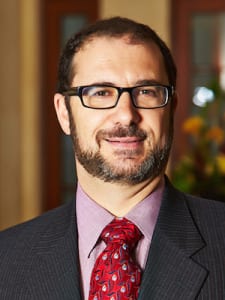 As chairman of the board, Brookhaven resident Scott Rafshoon oversees The Hebrew Benevolent Congregation's (aka The Temple) Zaban Couples Center, one of the few homeless shelters in Atlanta that allow couples to remain together.
"From Oct. 15 to April 30, we are a full service facility helping residents obtain a steady income and stable housing, and learn life skills," Rafshoon, an attorney at McKenna Long & Aldridge, says. "We began during the winter of 1984 when the media reported homeless people dying on the streets. When Rabbi Alvin Sugar- man was approached by a congregant who said, 'We need to do something,' he rapidly agreed."
That "something" was helping fulfill the Jewish mission of Tikkun Olam (a Hebrew phrase meaning "repairing the world") by creating a couples shelter. With support from congregation presi- dent Marvin Botnick and others, religious school classrooms were converted to accommodate seven homeless couples.
Within six days, it was up and running. Temple volunteers prepared dinner and breakfast and spent the night. Eventually, a full time director was hired to provide consistency and enforce the rules: no drugs or alcohol; no fighting or face eviction.
"Thanks to a generous donation by Temple member and Buck- head resident Erwin Zaban eight years ago, we upgraded the third floor of the Selig Building next door for 20 couples," Rafshoon says. Volunteers from all over Atlanta provide donations and prepare nightly meals for the 501(c)3 organization.
For more information, visit www.zabancouplescenter.org
Mickey Goodman
Award-winning Ghostwriter, Journalist, Content Creator.