A Sandy Springs couple trades their large residence for a homier, entertaining-friendly abode.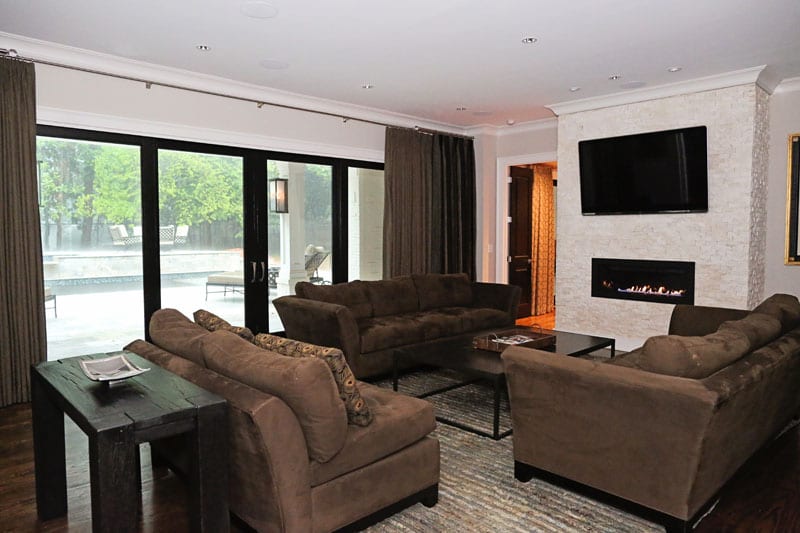 There is something to be said for using every square foot of your home. This is something creative marketing guru and choreographer Jamie Parrish and his partner realized after building a 13,200-square-foot home in Sandy Springs in 2009. They missed the convenience of a smaller home and after four years were ready for something cozier that would still allow them to entertain guests in style and comfort.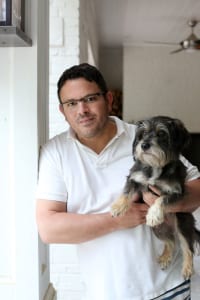 "We decided to build a smaller home that had the most efficient use of space— without losing all the features of our larger past home," Parrish says.
In 2013, they sold the large residence and worked with Buckhead-based LEFKO Design + Build on the construction of a new Sandy Springs dream home. They selected a lot with a large footprint that would accommodate a 3,382-squarefoot dwelling, but also leave lots of backyard space for their dogs Maxie and Mayo to play and for a pool, hot tub, outdoor grilling area and fireplace. Along with traveling the country designing and choreographing dance, cheer and gym routines, Parrish recently launched Bold & Dash, a firm which generates bold ideas to help clients reach their audiences, focusing on what he calls the "Mean Girls" and "Millennial Moms" markets (teenage girls and their moms). His outside-the-box initiatives have included everything from making it snow in the Georgia Dome to invading New York City with 100 dancing lizards on behalf of a national beverage launch. Tapping into the creative savvy he uses to serve clients, such as Delta Air Lines and Georgia Aquarium, Parrish knew exactly what he wanted inside his four-bedroom, two-and-a-half bath residence and he drew it on a cocktail napkin.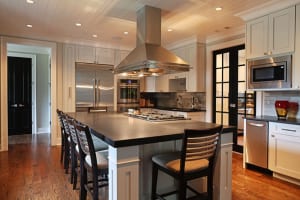 He wanted a black-and-white French industrial-style home with a large kitchen featuring an island with a cooktop so he could socialize while preparing gourmet meals for guests. In the master bedroom, he planned a steam shower and two walk-in closets, each with its own washer and dryer so he and his partner could do their own laundry. Today's finished product, which Jamie and his partner moved into in November 2014, checks all the boxes. The kitchen, which shares the main level with the living room and master bedroom, is the center of the action.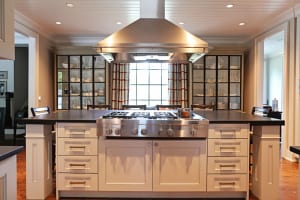 Under a tongue-and-groove ceiling, it's home to a Thermador wine cooler, Jenn-Air appliances and custom made china cabinets from CW Designs that utilize old windows from Parrish's dad's boyhood school. Leathered granite tops all the counters, including the large island that is both for cooking and eating (there is no breakfast table or dining room, but the island can seat eight to 10 people). Adjoining the kitchen is a separate prep area, with two dishwashers and a sink, that can be closed off to hide dirty dishes during a dinner party.
Step through the living room—done in Restoration Hardware furniture (along with the "pooch-friendly couch" Parrish already owned) and a volcanic rock-adorned gas fireplace—into the master bedroom that connects to the porch's exterior fireplace. While the bedroom is attractive, the honed white Carrara marble master bathroom and walk-in closets are showstoppers. Behind pocket doors are two separate vanity areas joined by a large steam shower equipped with speakers. Across from the quartz countertop sinks are floor-to-ceiling mirrored cabinets that Parrish designed with interior outlets to discreetly store bath products and appliances.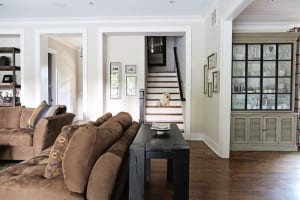 The bells and whistles continue throughout the home, which is also outfitted with surround sound and floor lights in the living room, on the stairs and in the bathrooms so guests don't trip in the middle of the night. Upstairs, there are three bedrooms and a full bathroom, but not many closets, since Parrish says guests rarely use them. Instead, he provides his visitors with a washer and dryer and tells them to pack light.
"This floor plan works for us because it's two guys, but this floor plan could not be any more perfect for people that are 50- plus empty nesters," Parrish says. "We don't need to go upstairs unless there is company, and that is what we wanted."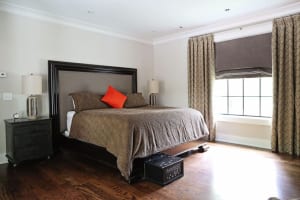 LEFKO's custom pre-construction process SIMPLY STYLISH HOME requires that the design and all material selection be complete before construction begins. After breaking ground, it took about nine months for the home to be built.
"[Our online project management system] is all automated. It allows us to run the project smoothly and effectively and it allows the homeowner to keep track of what is happening. They can keep track of it without even visiting the site," says David Lefkovits, president of LEFKO Design + Build.
Parrish says so far there isn't a thing he'd change about his new home, although there are still little projects they are working on, such as finishing up the outdoor cooking and pool area. The home may not be the most traditional design, but it's Parrish's vision turned into a reality and the perfect fit for this hard-working, fun-loving, creative couple.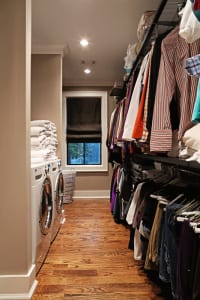 Jamie Parrish's top 5 tips for entertaining:
1. Dinner parties over eight people become impersonal.
2. Always have beer, wine and a light and dark liquor on hand for guests.
3. Handwritten invitations are far superior to Evite or Facebook invitations.
4. The best-surprise appetizer in Atlanta is to buy pre-cooked crab claws at Atlanta Fish Market, and serve them with Joe's Stone Crab Mustard Sauce. No work, and always a big hit.
5. Light music is nice to buffer awkward silences. Try the iHeartRadio app for great mixes.
David Lefkovits' top 5 tips for building or renovating a home:
1. Prioritize your wish list and define a target investment (budget). Consider how long you plan to live in the house and factor in existing needs versus future needs.
2. Develop a scrapbook of ideas and visuals of spaces—online resources, such as Houzz and Pinterest, as well as magazines, are great for this.
3. Find a design-and-build contractor who can compose such a space within your budget. Vet the builder not only on quality of work, but on their process and the homeowner experience.
4. Make sure to pre-wire your home and garage so you can incorporate future technology without requiring a large retrofit. Things like high-voltage garages and smart home systems are expensive to integrate later on.
5. Be mindful of the non-sexy stuff that has a big impact on comfort! Aspects such as insulation, energy efficiency and moisture control are important considerations when building and renovating a home.
STORY: Giannina Smith Bedford
PHOTOS: Sara Hanna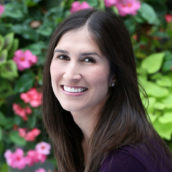 Giannina Bedford
Giannina S. Bedford is multi-faceted writer and editor. Her work covers design, travel, food and business. She's penned Simply Buckhead's home feature since inception and held a variety of editorial roles at the magazine. Her freelance work has appeared in Condé Nast Traveler, USA Today, Virtuoso Life, Hemispheres and TravelandLeisure.com. She also contributes regularly Atlanta Business Chronicle. Fluent in Spanish, Giannina was born in Miami and grew up in Brazil, Chile, Hawaii and Australia. She currently lives in Dunwoody with her two kids and husband.