The Maybourne Beverly Hills is one of a kind!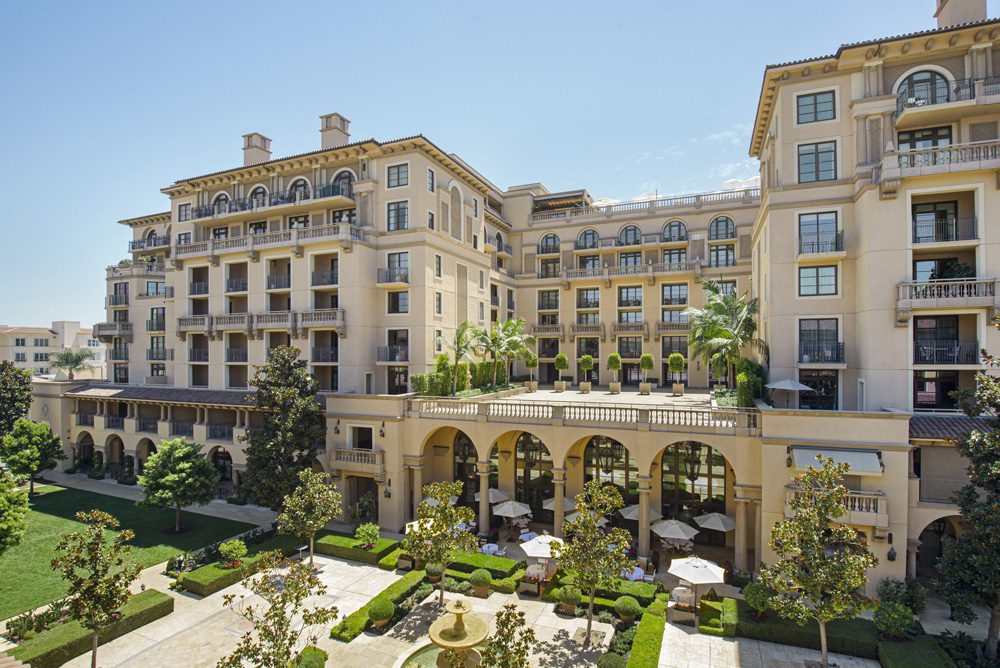 It's my birthday week, and I'm sneaking off for 48 hours in Beverly Hills. How delightfully self-indulgent. The 4.75-hour flight and 35-minute car ride deliver me to The Maybourne Beverly Hills, the first North American property from London-based Maybourne Hotel Group. The company artfully renovated the former Montage hotel space, now swathed in a soft Californian pastel palette sprinkled with distinctive artwork in virtually every nook. It's beyond stylish, just like the haute fashion retailers the area is known for.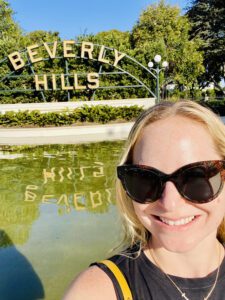 Inside my spacious, one-bedroom, 1.5-bath suite outfitted with curvaceous, bespoke furnishings by designer Bryan O'Sullivan, special touches abound. I note the fresh flowers; curated collections of books; adorable triangle jade table lamps; a colorful, custom glass mirror by Bryan O'Sullivan Studio; and an abstract landscape monoprint by artist Matt Jukes. Even the A/C vents boast creatively patterned covers.
On top of the hotel's nine floors is a pool haven, where I retreat to soak in the California sunshine and views of the Hollywood Hills. I order a delicious tuna poke bowl from the pool menu to my lounge chair.
Each of the three restaurants on property offers all-day dining. On the lobby level, I enjoyed the casual Maybourne Café for iced oat milk lattes and an egg-white frittata breakfast, and the charming Terrace restaurant for a romantic dinner with me, myself and I. Though the latter's horseshoe banquets and mural by Silverlake-based artist Jessalyn Brooks inside look inviting, it's no wonder why the al fresco dining wins the popularity contest: Twinkle lights, live acoustic music and the adjacent Beverly Cañon Gardens provide all the feels. Plus the housemade pastas, from spaghetti al pomodoro to corn agnolotti with black truffle, do not disappoint.
Pre- or post-dinner, The Maybourne Bar welcomes a spirited or spirit-free concoction with a heady list of creations based on the five elements. Try the Bali H'ai for a bright take on a lychee martini with Haku vodka, Ginjo sake and Sakura blossom.
The hotel is well-positioned to travel the neighborhood by foot. Beverly Gardens Park a few blocks away houses the Beverly Hills sign above a darling lily pond—a mustsnap. From there, I watch LA's notorious traffic build during morning rush hour on Santa Monica Boulevard, which slices the neighborhood in half with residential above and business district below. I first venture north for a self-tour of this prime real estate with homes that vary greatly in their architecture and modernity and trees featuring the tallest palms to the stateliest figs. After I've had my fill of houses, I point back toward Beverly Hills' shopping mecca to discover what looks the designer brands are serving up for fall/winter. Though my only purchase ends up being a $10 cat zipper cover for my kid, I have great fun poking through Dolce & Gabbana, Fendi, Prada and the like.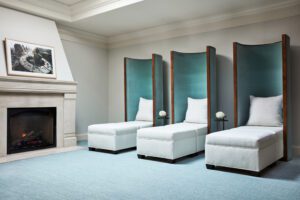 For a break from fashion, a few art galleries are in the area, such as Gagosian, which had abstract paintings by Cy Twombly on display, and Winn Slavin Fine Art that showcases Sir Daniel K. Winn's surreal works.
What better way to end (or spend) a day than at The Maybourne Spa? The expansive, 17-treatment-room facility provides a unisex mineral pool to soothe muscles, as well as relaxation lounges with saunas, steam rooms and a hot tub in the women's area. My superb 60-minute "I am balanced" restorative facial incorporates ila products to boost collagen and brighten skin tone and soothing face, head and hand massages.
A visit to this spot in Beverly Hills is a super-fabulous way to ring in a new year of living well, that's for sure.
THE MAYBOURNE BEVERLY HILLS
310.860.7800
maybournebeverlyhills.com
@themaybournebh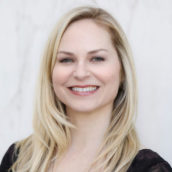 Karina Antenucci
Managing Editor and Wellness Columnist at Simply Buckhead. Blogger at Badass + Healthy.