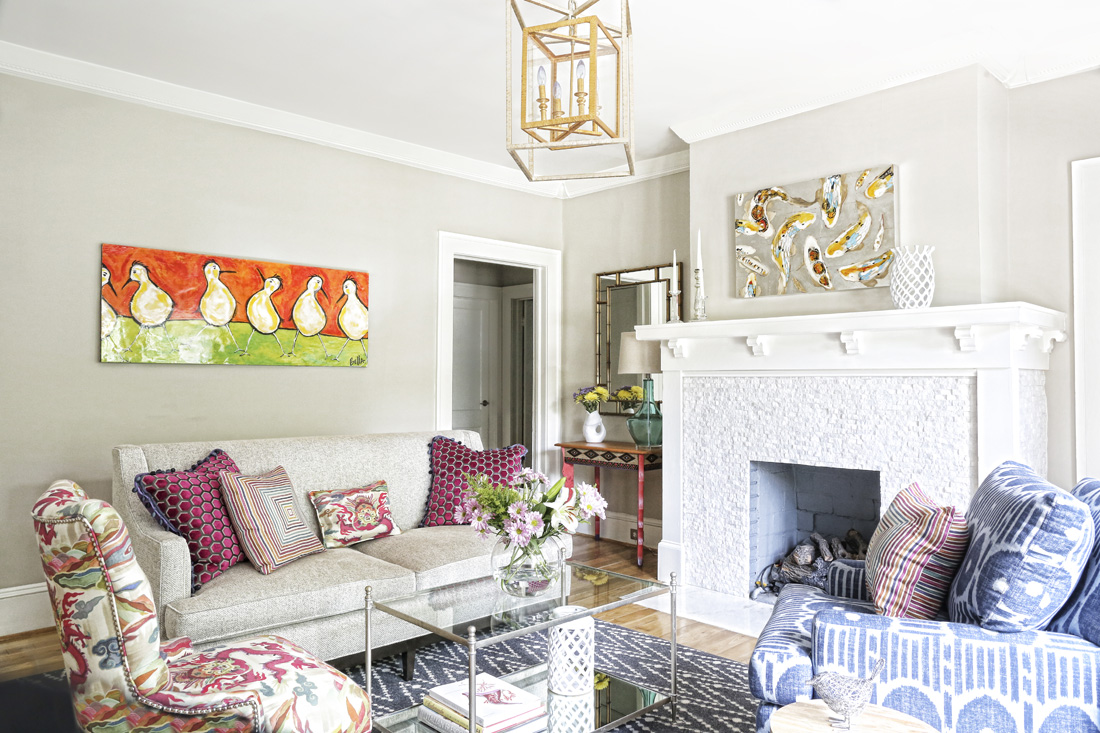 A Virginia transplant and her roommate revitalize a Peachtree Hills abode…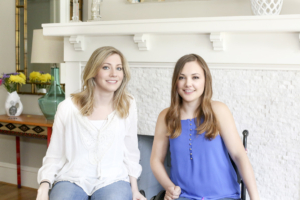 Virginia native Caroline Hazel didn't expect to move to Atlanta. But in 2007, after suffering a spinal cord injury in a fall when a balcony railing gave way just weeks after starting college, she ended up at the Shepherd Center for rehab and therapy, and decided to make the city her home. And so did her best friend, Jen Lindquist. whom she met at Shepherd while Lindquist, was also recovering from a similar injury sustained from a skiing accident. The two became inseparable and eventually moved into a two-bedroom apartment in Old Fourth Ward together. After two years, the roommates, who are both in wheelchairs, decided they needed more space, including a third bedroom for a caregiver and out-of-town visitors. But looking for the perfect rental home is hard—especially when it needs to be wheelchair accessible.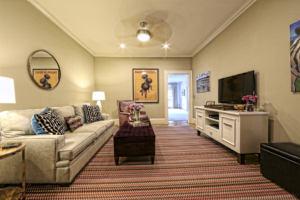 "We just weren't finding anything that was working for us, accessibility wise. A lot of places needed modifications in the bathrooms," Hazel says. "So then I switched gears and decided that I wanted to buy because I could see myself living here for at least five-plus years. Why not just buy a place instead of continuing to rent?"
In January 2015, Hazel found a Peachtree Hills residence that she could outfit with all the practical requirements she and Lindquist needed to live comfortably.
"From the moment we saw it, we knew it had great potential. It already had an elevator, [that goes down to the garage]… and it's all one level, so it's easy for us to get around. And we loved this neighborhood," says 27-year-old Hazel. "We really wanted to be close to Shepherd Center because that is still where we work out twice a week."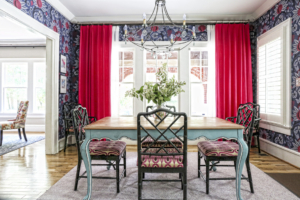 Hazel closed on the four-bedroom house in March 2015 and, after seeking out interior decorator Rachel Oliver from Rachel Oliver Design on Houzz.com, embarked on a 10-month renovation to give the 1920s home a clean, modern feel. With the help of a contractor, they remodeled the entire residence, except for the wood floors, which got new varnish. They added a powder room attached to the kitchen, replaced the elevator that goes up to Hazel's room, plantation shutters on all the windows, and then moved a wall in the master bedroom to create a cozy TV room where the roommates love hanging out and having friends over to watch The Bachelorette.
"I love this [television] room. It's a little retro in vibe. It all started with the rug, which is Missoni, and I love all the colors and the zigzags, so we wanted to have a lot of old prints to go with that," Hazel says of the décor that includes a Duralee Sydney ottoman in Clarke & Clarke Damson purple velvet, Target side tables and a media stand custom-made by Marietta-based woodworker Bob Wainscott.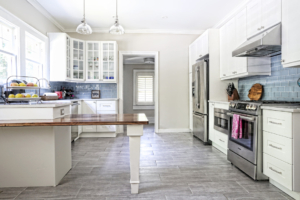 The home's biggest overhaul, however, occurred in the kitchen and bathrooms. The "dated" kitchen had yellow walls, fluorescent lighting, stippled ceilings and original cabinetry, but was gutted and brightened up with white Ikea cabinets embellished with Restoration Hardware handles, a blue-glass subway tile backsplash, Rejuvenation pendant light fixtures, a farmhouse sink and Bosch and Jenn-Air appliances, as well as LED strip lighting under the cabinets. Hazel and Lindquist's favorite feature of the kitchen and their daily breakfast spot is the wood-top peninsula table, custom-designed by Rachel Oliver and built by Mark Walker of Walker's Woodworks.
"I wanted a clean, white kitchen that felt nice and open, and you can really move around in here," Hazel says. "The kitchen is a great space for crowds to congregate as we cook and enjoy time together."
Like the peninsula table that Hazel and Lindquist can roll their wheelchairs under, both of the women's bathrooms are designed for wheelchair accessibility and feature bespoke terrazzo sinks by DEX Industries.
"Whenever you look to design something with accessibility in mind, a lot of times what they have out there isn't necessarily the most aesthetically pleasing," says 29-yearold Lindquist, a student at Georgia State. "It was fun to be creative with [the sinks] and have something that looks so nice that when you see it you wouldn't say, 'Oh, that is for someone in a wheelchair.'"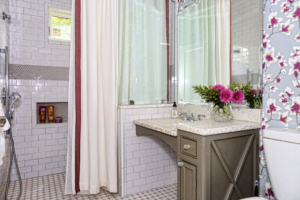 Along with bold-patterned wallpaper, each of the women's bathrooms features customized shower and bathing setups. Lindquist's bathroom has a roll-in shower, while Hazel's spacious master bathroom is equipped with a handicap-accessible soaking tub set below a sparkling Robert Abbey chandelier.
"Generally, I can't get in and out of a regular tub because it's so low, and transferring is borderline impossible," Hazel notes. "This one is so easy. Once you get in and then shut it, it fills then you enjoy your bath. It's a big deal to be able to enjoy a bath again."
And if Hazel's master bathroom is considered spacious, her bedroom is huge. Opening to a balcony that overlooks the street, the room is furnished in a queen bed dressed in Anthropologie linens and a CB2 daybed that is a favorite spot for Hazel to nap. While smaller, Lindquist's room is just as charming with a blue accent wall, silver sunburst mirror and headboard and comforter handmade by her crafty mom. When the roomies aren't enjoying their private spaces, they love hanging out together, reading or catching up over a glass of wine with friends in the bright and airy living room. Here, a hippie beads rug from Stark sets the tone for the eclectic décor, from a thrift store chair recovered in dragon fabric and split-face marble fireplace to the Troy Lighting pendant in a gold and silver leaf finish.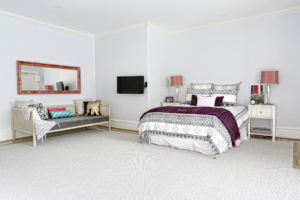 "I love all the colors; it's just so bright and happy," Hazel says. "You can see the street and everyone walking by. Being on the corner is fun. There is a lot of activity."
The living room is also a showcase for some of Hazel's growing art collection. Above the mantel is a koi painting that Hazel purchased in Charleston, South Carolina. It pays homage to the fish pond that once inhabited the home's front yard and has since been removed. The colorful painting of six bird chicks that pops out from the gray wall was given to Hazel by artist friend Dianne Bruce after her accident, and it reminds her of her siblings.
"There are six chicks, and I'm one of six kids. Dianne is one of six as well, so it was really special to me," Hazel says.
Adjacent to the living room, the dining room is dolled up with a daring Osborne and Lily pomegranate wallpaper from ADAC, hot pink curtains, a Currey & Company wrought-iron chandelier that Hazel says is "rustic yet dainty," a Buddha head statue from HomeGoods and a simple wood table that belonged to Hazel.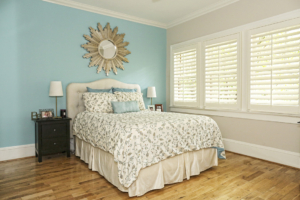 "We definitely weren't shy with patterns, and we really like color," Hazel says.
In fact, Oliver says "When the lady was making the drapery [for the living and dining room] she said, 'Oh my gosh, Rachel, I assume you know what you're doing because these are some crazy colors.'"
It's the vibrant palette and brave patterns used throughout the home that tie the décor together and showcase the upbeat attitudes of its inhabitants who are loving their decision to remain in the Big Peach, even if it was an unexpected one.
HAZEL'S TOP 5 TIPS LEARNED IN A FIRST-TIME RENOVATION
1. Contact references for your contractor, and meet in person. Ask to see the completed work; a happy owner equals work well done!
2. Set a budget. This keeps you honest and determines choices with finishes, decorating and more.
3. Know your contractor's hourly rate.
4. Receive estimates for each component of the job.
5. Confirm that all subcontractors are bonded and insured
STORY: Giannina Smith Bedford
PHOTOS: Sara Hanna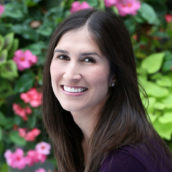 Giannina Bedford
Giannina S. Bedford is multi-faceted writer and editor. Her work covers design, travel, food and business. She's penned Simply Buckhead's home feature since inception and held a variety of editorial roles at the magazine. Her freelance work has appeared in Condé Nast Traveler, USA Today, Virtuoso Life, Hemispheres and TravelandLeisure.com. She also contributes regularly Atlanta Business Chronicle. Fluent in Spanish, Giannina was born in Miami and grew up in Brazil, Chile, Hawaii and Australia. She currently lives in Dunwoody with her two kids and husband.