Pam Kachmar celebrates 13 years steering The Frosty Caboose.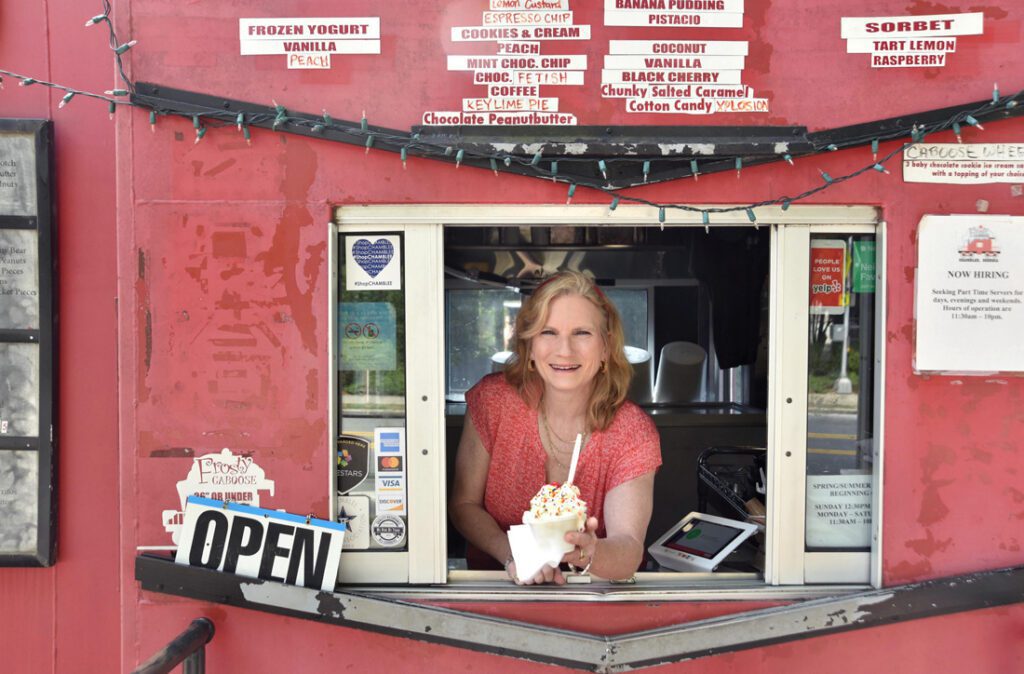 After more than 20 years in human resources and account management, Pam Kachmar lost her job and decided to work with her brother, Gary Gilmer, a builder in Chamblee. The pair wanted to do something cool for the town, whose motto is "A City on the Right Track." He had noticed people watching the trains that drove through the area.
"We thought getting a caboose would be fun and cute," Kachmar says.
That was 2008. The next year, the construction industry took a hit, and while Gilmer focused on his building business, Kachmar focused on opening The Frosty Caboose, an old-fashioned ice cream shop in a stationary train caboose overlooking the tracks.
Thirteen years later, the business is thriving. With Gilmer no longer involved, Kachmar focuses on all aspects of operation, including sales, sourcing, hiring, scheduling and, of course, scooping. "I still eat the ice cream a lot. My favorite is mint chip or anything with coffee. Also, black cherry," she says. Here, she gives us the scoop on what it's like to run an ice cream shop by the rails.
How did you learn about the ice cream business?
We went for a four-day, intensive seminar put on by the National Ice Cream Retailers Association to learn how to market ice cream, price it and make your own. My brother knew about Greenwood Ice Cream because they sell to restaurants. He knew people were familiar with it. We figured, "Why reinvent the wheel? Let's utilize theirs." We still use Greenwood [also based in Chamblee] today.
What do you like most about owning The Frosty Caboose?
I like that it is something fun for the community. Their feedback is what keeps us going. It's their happy place. I've seen people dance here and have ice cream before having their first baby the next day. A lot of people had their first date here and then came back for engagement pictures. We've had a lot of first birthdays. All these people have grown up with us. When they move away, we are a destination when they come back to visit.
What are the most popular flavors?
Cookies and cream, vanilla, chocolate and strawberry. We feature cotton candy explosion, key lime pie, lemon custard, peach and mango in the spring and summer. They sell quickly. We have more than 30 flavors between non-dairy, diabetic friendly, yogurt, sorbet, sherbet and traditional ice cream.
How has The Frosty Caboose changed over the years?
We tried grilled cheese sandwiches and soups for a couple of winters, but that never took off. We've added featured sundaes, shakes and hot dogs. We had to go up in price from $3.25 for one scoop to $3.75. Now that there's so much more traffic through the area with more people living there, the business has grown. Weekends during the spring and summer have lines down the ramp all day!
How do you stay relevant?
Traditional always outlasts fads. We plan spirit nights, participate in Good Neighbor Day at DeKalb Peachtree Airport, host 40th birthday parties and graduation events, cater business outings and more. During COVID, we became everyone's happy place because we're outside.
Given the current labor shortage, how do you attract ice cream scoopers?
At least 10 a year are first jobs. It's neat to give people the opportunity to learn. A lot start in high school and come back in college.
THE FROSTY CABOOSE
770.451.4556
frostycaboose.com
@frosty_caboose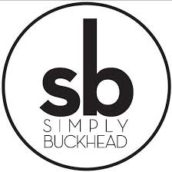 SimplyBuckhead
Simply Buckhead is an upscale lifestyle magazine focused on the best and brightest individuals, businesses and events in Buckhead, Brookhaven, Sandy Springs, Dunwoody and Chamblee. With a commitment to journalistic excellence, the magazine serves as the authority on who to know, what to do and where to go in the community, and its surroundings.