Midtown's Bellyard Hotel offers everything you need for a staycation, all without moving your car!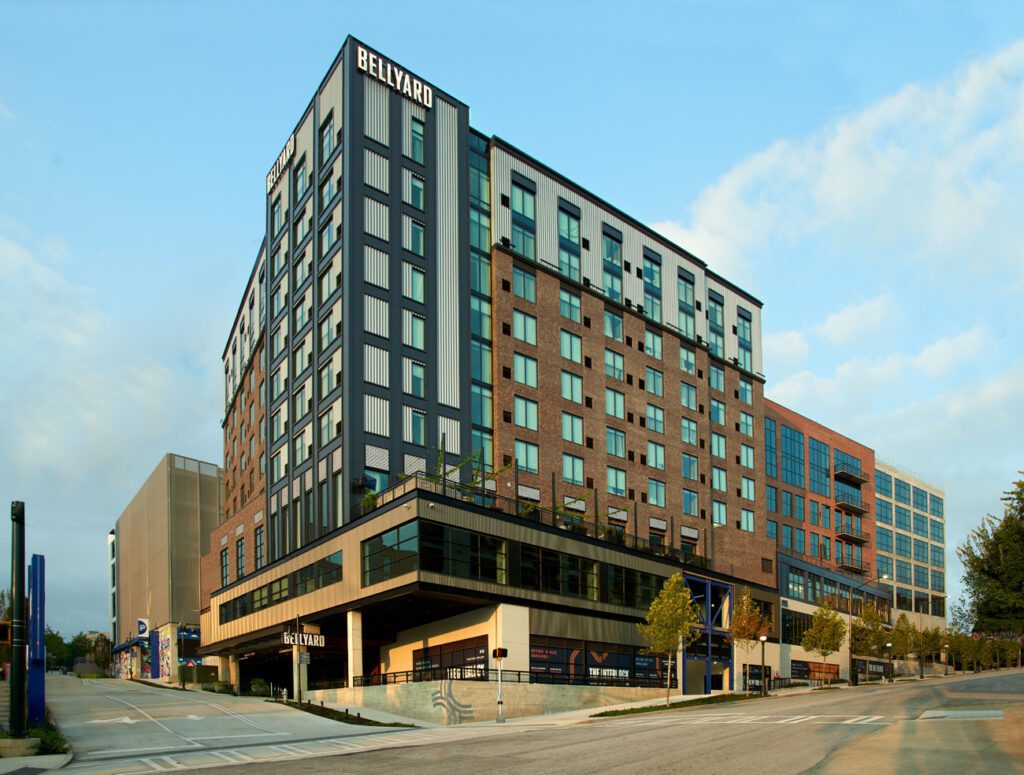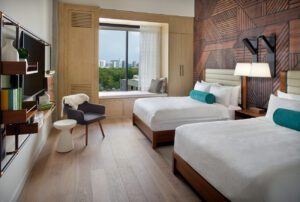 We need to plan a girls' night out," said the text from my newly acquired "bonus" sister (my mom got married last year) who lives north of town. Instead of a brief catch-up over dinner, I decided to plan a staycation at the stylish Bellyard Hotel. Opened this summer, the 161-room, Marriott managed hotel (as part of their Tribute Portfolio) is the centerpiece of The Interlock development at the corner of 14th Street and Howell Mill in Midtown.
Once we valet parked my car, everything we wanted to do was just a few steps away. We settled into our room overlooking the Atlanta skyline and had fun picking out familiar buildings, from Buckhead's towers to downtown's state capitol building and Mercedes-Benz Stadium. After a shower upon arrival using the super-fragrant Grown Alchemist bath amenities, I felt instantly refreshed.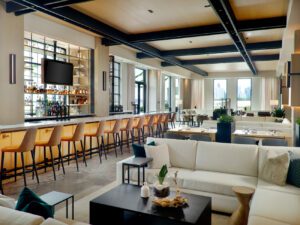 We struck out to explore, marveling at how the hotel's clever design manages to walk the line between industrial and cozy. Case in point: the main floor features white oak flooring, plush sofas, woven rugs and towering industrial-style ceilings. It's hard to miss the lobby's life-sized bull sculpture, a clever nod to the hotel's name and the area's history with nearby stockyards. We discovered a courtyard, complete with leafy trees, inviting seating areas and a colorful, two-story mural painted by local artist Lacey Longino.
With happy hour upon us, we migrated over to Drawbar, the centerpiece of the boutique hotel's lobby. The all-day eatery-turned-lounge was bustling with a mix of our fellow hotel guests, local revelers and a post workday office set. We snagged seats at the bar and ordered picture perfect cocktails and $4 frites with "fat boy" sauce, a heady mixture of ketchup, pickle relish, mayo and, the piece de resistance: bacon fat. Next time, I'll plan to enjoy the breeze on the outdoor terrace overlooking 14th Street, adorned with a host of verdant plants and comfy seating.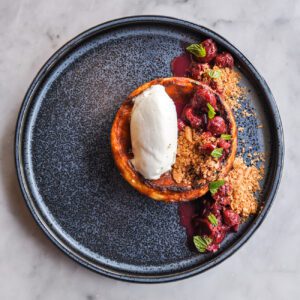 Next, we walked across the street for dinner at Cooks & Soldiers, where chef John Castellucci, who owns the restaurant along with his siblings, is newly back at the helm of the kitchen. He artfully navigates the cuisine of the Basque region of Spain and France with a menu of sharable small plates. Our meal included a crudo of translucent yellowtail, accented with mild Guindilla peppers, bright radish and crisp fennel, and sourdough toast smothered with black truffle goat cheese creme fraiche and local mushrooms.
After dinner, we made our way back to The Interlock for a reservation at Puttshack, the tech-infused indoor mini-golf experience. Instead of the manual scorekeeping of yesteryear, our putters and balls came with sensors, so the system kept track of each time we hit our ball. We played through one of the location's three courses, complete with moving hazards and flashing neon lights, to indulge in a little friendly competition for the highest score.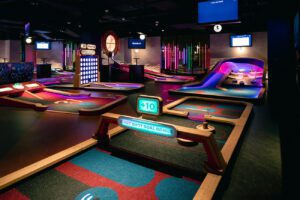 Instead of lingering over the drinks and snacks we saw other guests enjoying, we headed back to our seventh-floor room for a little latenight TV on the big screen before drifting off. My sister is a busy mom, so she was extra-grateful for the restful sleep, partially made possible by black-out shades to block the skyline's nighttime brightness.
The next morning, sustenance at the artisan St. Germain Bakery was just an elevator ride away. Fueled by strong lattes and flaky croissants, we hopped in the car to head back to our respective houses, marveling at how we'd felt right at home during our whole stay.
PLAN YOUR VISIT

The Bellyard at The Interlock
404.806.8333
bellyardhotel.com
@bellyardhotel
Cooks & Soldiers
404.996.2623
cooksandsoldiers.com
@cooksatl
Puttshack
404.738.7888
puttshack.com
@puttshack
St. Germain Bakery
404.825.3850
stgermainatl.com
@stgermainbakery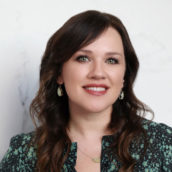 Jennifer Bradley Franklin
Senior Contributing Editor and Beauty Columnist at Simply Buckhead. Travel, Food and Design Writer and Author.