An antique dealer's secluded city dwelling is a haven of history and charm.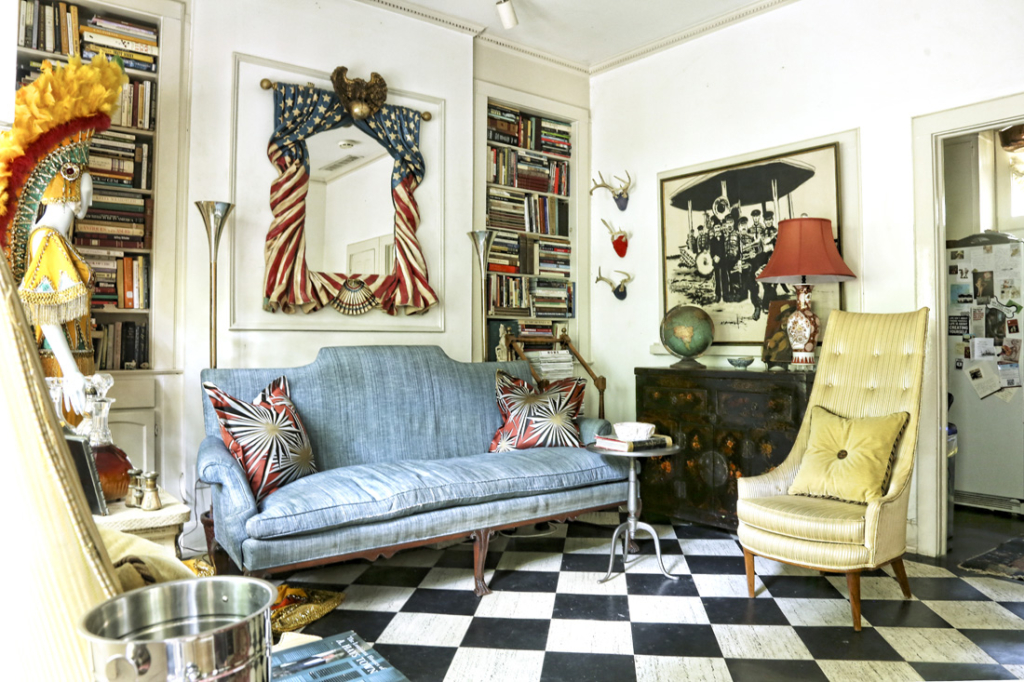 "I'm from Mississippi; we're taught not to be self-promotional," says Summer Loftin with a laugh. So don't fret if you're not already privy to her talents. The local designer, antiques dealer and jewelry collector in her early 30s has built a reputation as a traditionalist in an era when such styles have gone the way of chintz fabrics and checkerboard floors, Deco dog statues and diagonal stripes.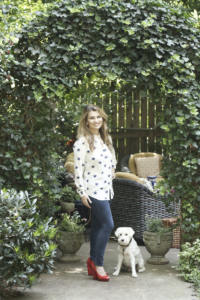 After managing Miami Circle's Franya Waide Antiques & Interiors, Loftin formed her own LLC in 2005, around the same time she moved into the cloistered 1920s Buckhead cottage she's called home for the better part of a decade. Renovated in the 1940s with a few extra architectural flourishes, the 1,000-square-foot brick residence is framed by magnolias and boxwood hedges and has been home to a colorful cast of characters over the years, including residential real estate tycoon Wes Vawter in the '70s. It was said he threw extravagant parties, and a few vestiges of red remain from when he painted the main living room a vibrant crimson. Loftin loves how the room's fireplace and flanking bookshelves accommodate her vast design library, one she's been building devotedly for as long as she's had the means.
"I didn't have access to design books, and definitely not the Internet, growing up," Loftin says of her semi-isolated childhood on a 50- acre farm in Columbia, Mississippi, where to this day seven of the family's barns brim with furniture and design objects. "We're basically generational hoarders," jokes Loftin, whose primary design education was her grandmother's diverse array of decorations: a mahogany upright piano, a stuffed bobcat and a velvet version of The Last Supper, to name a few.
Attracted to her unique mix of classicism and eclecticism, approximately half of her interior design clients reside in Buckhead, while the rest are distributed as far afield as Lookout Mountain, Memphis, New Orleans and Mississippi. Loftin also sells items she culls from trips to Europe and U.S. auctions at Peachtree Battle Antiques and online through 1stdibs.com.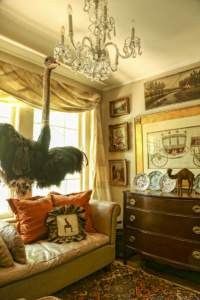 "I decorate for entire families: daughters, mothers, sisters. It's fun to get to know the whole brood," says Loftin, who is big on textiles and upholstery but remains especially sensitive to—and sentimental about—treasured family heirlooms. She champions quality but is never one to treat her acquisitions as so precious she needs to walk circles around them. Instead, she incorporates them into daily life.
It is precisely their patina, history and collective wear-and-tear that make them so prized. "If a piece has made it 170 years, it's going to make it that many more," Loftin points out. One favorite example: The oyster burl walnut chest that sits in the hallway is English, Georgian and circa-1820s at the latest.
Far Eastern elements play prominently as well, such as the authentic Chinese wedding cabinet she's retrofitted for the living room TV and a floral painted Mongolian chest that anchors a wall next to the kitchen. "I'll never be able to find pieces like this again for the price, so they're probably some of the only ones that will stay."
There are also numerous works of art with which Loftin will never part. Presiding over the bed of her miniature white schnauzer, Patton, is a portrait by folk artist Lois Curtis, who has also famously painted President Obama. You may also spy a painting by Atlanta icon "Cornbread" Anderson that was commissioned for the Bette Midler movie "Parental Guidance," filmed here in 2011. "They invite me in to buy sometimes after they break down the sets," Loftin explains.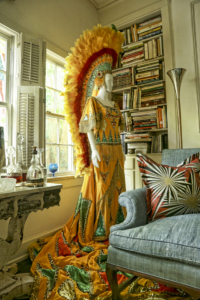 As a sign of the folk-art appreciation she's developed from her volunteer and board member work at Howard Finster's Paradise Garden, additional pieces by R.A Miller adorn her gallery hall, which also features a rare pastel drawing by New Orleans artist Ben Smith.
Also in the mix? An oversize portrait of Elton John in the guest room serves as the perfect complement to the bathroom's equally groovy (original) 1970s metallic silver wallpaper. A rendering of a drunken sailor by a still-active French artist contributes kitsch in the living room. And Old-World-inspired portraits add European élan throughout. "When I was traveling abroad in my early 20s, I started collecting early 20th-century Dutch Art because it's what I could afford," she recalls. Though these paintings are still some of her most beloved, Loftin insists on mixing highbrow with low. That could include a cardboard cutout of Elvis, a mannequin in full Mardi Gras regalia—from sequined frock to feather headdress—or a 5-foot-tall stuffed ostrich atop the sideboard.
Of her abiding appreciation for taxidermy, Loftin says: "In kindergarten, before I had ever gone to a real zoo, I saw long rows of taxidermy animals lining the atrium of someone's home"—a reference to the obscure surroundings of her youth. And considering her affection for such conversation pieces to this day—and lively conversation in general—it's likely no surprise Loftin is big on entertaining, too.
"Tablecloths, napkins, serving pieces… I have a whole warehouse full. I could be a party planner," she says of the linens, trays, plates and vessels she often hauls out for gracious gatherings with loved ones.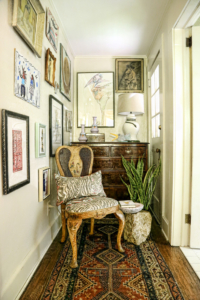 Since her house is usually packed with wares, the al fresco spaces are where everyone can stretch their legs on the outdoor furniture and enjoy snacks (her famous pimiento cheese, perhaps?), drinks (sweet tea with lemon, naturally) and jovial banter. Summertime in Buckhead is, after all, Summer's time.
Summer Loftin's Antiquing Pointers
~ When shopping for antiques, seek pieces that show consistent wear over the entire object. If a table's base is very worn while the edges of the tabletop are very crisp, it is probably a "married" piece, which means it consists of two parts with different histories that were eventually joined together.
~ If you purchase antiques that reflect your personal style, you will have a connection to them that goes beyond their monetary value. Even if you discover at a later date that the piece is not as old as the appraisal suggested, it will remain precious to you.
~ Don't be afraid to "abuse" your antique furniture. These items have already survived through generations of use—and other people's children, for that matter.
~ Celebrate textile designs you love by displaying them as works of art. Costumes, scarves, quilts, hats and embroidered linens, for example, all make colorful and whimsical conversation pieces.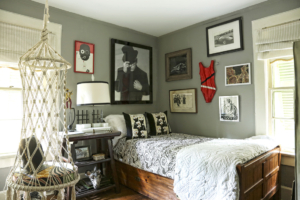 ~ If possible, I always try to salvage or restore vintage and antique wallpapers. They cost a fortune to replace, and most motifs seem to come back in fashion eventually anyway.
STORY: Kate Abney
PHOTOS: Sara Hanna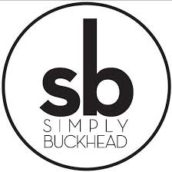 SimplyBuckhead
Simply Buckhead is an upscale lifestyle magazine focused on the best and brightest individuals, businesses and events in Buckhead, Brookhaven, Sandy Springs, Dunwoody and Chamblee. With a commitment to journalistic excellence, the magazine serves as the authority on who to know, what to do and where to go in the community, and its surroundings.