A seasoned Midtown Atlanta classic is here to serve.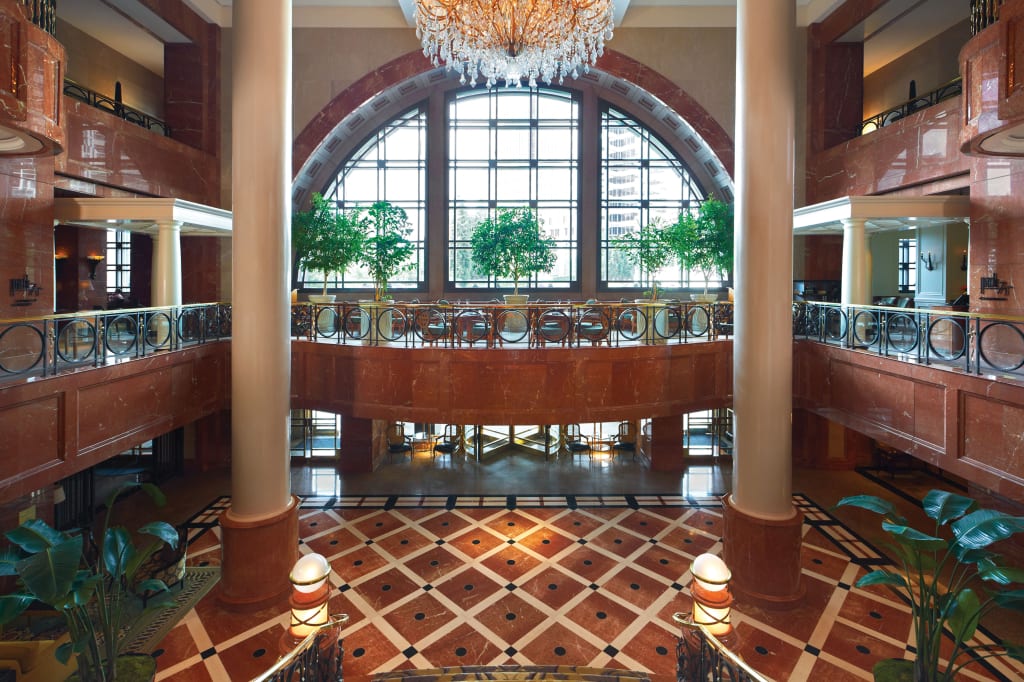 STORY: Karina Timmel Antenucci
With major luxury-hotel street cred, the Four Seasons in Midtown is often the go-to resting spot for rock stars touring in The A. So when I walked through its front doors on a late Friday afternoon for a one-night staycation with my husband, Josh, it came as no surprise that there was a cluster of 20-something guys in full boy-band regalia (hipster beanies included) and instrument cases in the grand lobby. Whether you're a rock star or not, the hotel's centralized location on 14th Street is in the hub of the city, just a hop and a skip to some of the best restaurants, major ITP music venues and nightclubs.
Our premier king room, one of 244 guest rooms and 18 suites in the 50-story hotel and residential tower, was a lovely corner spot with a great view of Midtown's cityscape. Having stayed in many an old luxury hotel, I know sometimes they can feel somewhat run-down—that is certainly not the case here. The classic décor—such as gold floral curtains, gilded lamps and mirror, dark wood tables and marbled bath—has been impeccably cared for. As the sunshine streamed in, highlighting the room's gilt accents and pristine white bedsheets, I noticed a personalized welcome message appear on the television screen. A nice touch.
After a quick freshen-up with the L'Occitane products in the bathroom (with a soaking tub), I meandered to the third floor to check out the happy hour crowd while waiting for my hubby to arrive from the office. The Park 75 Lounge, a stately space with a wood-paneled bar and clusters of wide chairs and plush couches, was bursting at the seams, primarily with businessmen winding down after the workweek. I nestled into a cozy couch in the corner to people-watch and ordered a Park Mule, a refreshing libation of Stoli Elit topped with ginger beer and fresh lime. It is comfortable here. The service is spot-on and I'd return again just for the bar snacks—bowls of spicy nuts and sesame sticks and olives.
When my date and I returned to the third floor a couple of hours later for dinner at Park 75, the bar crowd had died down significantly. The quiet restaurant, well suited for large groups or a private dinner for two, boasts an upscale American-fusion menu. We enjoyed the Tuscan kale salad with shaved vegetable ribbons and hearts of palm in a standout sweet soy ginger dressing, followed by beef tenderloin and whole branzino (a flaky white European sea bass) from the 800-degree pecan wood-fire grill. The seasonal sides—including sautéed forest mushrooms with sherry, handcut fries with truffle oil, and sautéed baby spinach with preserved Meyer lemon—were perfection. We thought we might have over-ordered, but the portions were quite reasonable (the whole fish appeared more like a half). For dessert, we chose a bright, palate-pleasing sorbet trio with coconut, lemon and berry flavors.
Our waiter, who provided impeccable service, mentioned that in the spring and summer, the chef's creations incorporate produce and herbs from the fifth-floor terrace garden. On this winter evening, we sampled melt-in-your-mouth caramel petit fours made with honey from the terrace apiary.
After an indulgent meal, the plan for the next morning was a workout in the 4,500-square-foot gym and laps in the indoor saline pool. But instead, delighting in my staycation status and the deliciously comfortable bed, I stayed in it until a glorious 11 a.m.!
Before checking out, I did peek into the fitness studio and pool areas, which are complimentary for hotel guests, and they did not disappoint. The 62-foot lap pool features an adjoining sun terrace in a serene setting perfect for lounging with a book.
Something for our summer staycation, perhaps.
FOUR SEASONS HOTEL ATLANTA
75 14th Street N.E., Atlanta 30309
404.881.9898
fourseasons.com/atlanta
Rates from $259