THE ART OF PAIRING CIGARS WITH SUITABLE LIBATIONS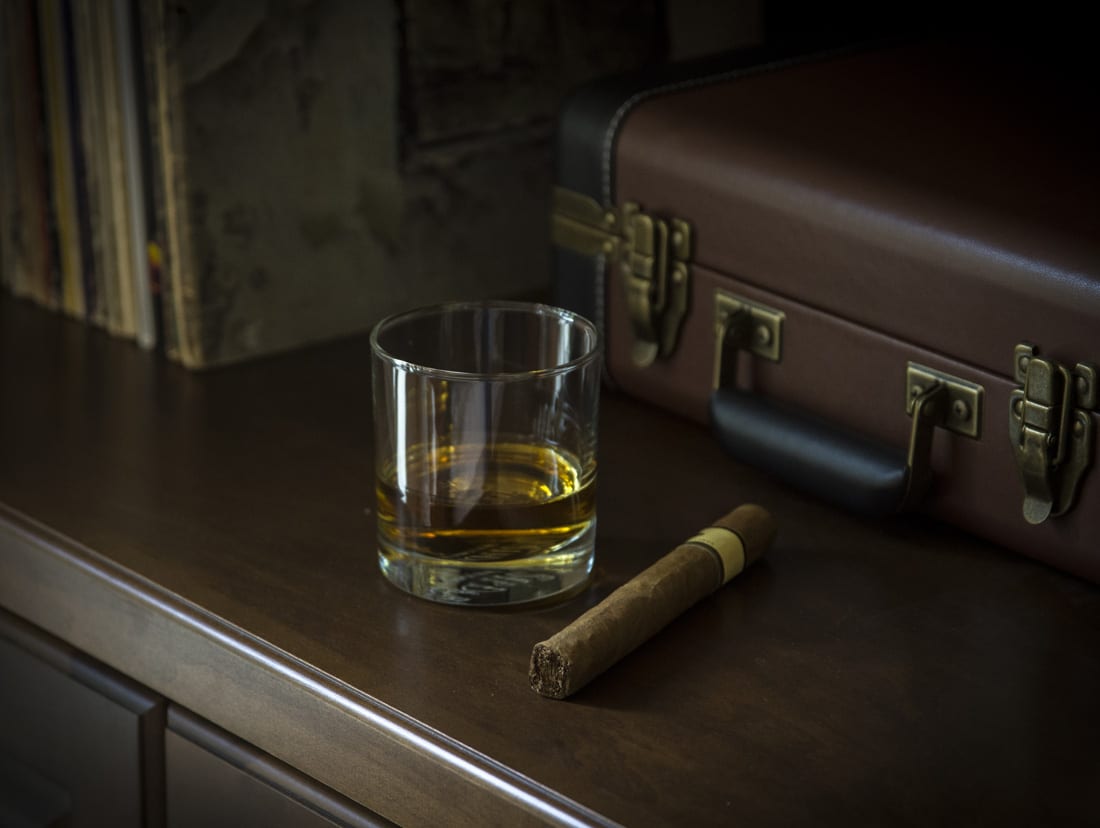 STORY: Angela Hansberger
PHOTO: Brett Ferencz
Peanut butter and jelly, avocado and toast—they just go together. Similarly, a fine cigar has a harmonious relationship with spirits. Think of classical pairings, such as a stogie with a glass of scotch or cognac. But today, the art of creating such a melodious experience has also moved into beer and wine.
Pairing beverages with cigars is not the tricky enterprise it may seem, but there are certain guidelines. The most common mistake is overpowering the taste of a drink with a cigar. When considering pairings, think first and foremost about your favorite flavor. Are you a sweet or a smoky person? Think of the prevalent notes in each. Focusing on balance is the best place to start.
Akbar Alam, manager of Scottish Tobacco and Sinan Lounge in Buckhead, says when it comes to the nuance of pairing alcohol and cigars, it's simple. Light-bodied cigars go with white wines, young reds and blended scotches; medium-bodied cigars are great with bourbon and rum; and full-bodied cigars pair well with peaty Islay scotch and Highland single malts. His favorite pairing? Coffee.
Davidoff of Geneva tobacconist Joe Lordi, who guides area patrons to great smokes the way a sommelier steers clients towards great wine, explains that spirits have key characteristics that point a cigar smoker in the right direction. Rum, for instance, has a close relationship with cigars, coming from traditionally similar geographic areas. "A fine rum, especially one from Cuba, goes great with an archetypal Cuban cigar such as the Partagas D4 or Cohiba Behike," he explains. The key is the balance, says Lordi. "Do you want the flavors to complement one another as in the aforementioned pairings, or do you like a little contrast?"
Eric Crane, advanced sommelier for Empire Distributors, Inc., which distributes spirits to bars and restaurants throughout Buckhead and beyond, likes a drink to take the positive attributes of a cigar and enhance them. "I focus on the non-smoky flavors of the cigar," he says. "Tobacco and a good wrap have a sweetness that combines marvelously with fruit. For this reason, I like powerful and young ports and tawnies. If you're inclined for a spirit, I love a VSOP or XO cognac. Any high-quality brandy will actually work. There are amazing Solera-aged brandies from Spain that are perfect with cigars. If you're looking for whiskey, then consider bourbon."
As for pairing smokes with beer, the experts suggest a brew with a thick mouthfeel (think Guinness) as a good complement. Sweet Water Brewery's head brewer Nick Nock thinks their Sinner's Son would go well with a cigar. It's decadent with rich chocolate and vanilla notes, a velvety mouthfeel and hints of oak from aging in bourbon barrels, and before bottling, it's blended with fresh coffee beans.
Wine is trickier to pair. Lordi suggests thinking about the hallmark flavors and body of the wine. A full and lush California cabernet sauvignon, for example, needs a full and lush cigar. "If it's something with more minerality like a Bordeaux, perhaps choose an earthy cigar such as a Padron 1926 to stand up to the tannins," says Lordi. Another consideration is whether the wine is new world or old world. For instance, a classic bottle from Oregon's Willamette Valley would pair well with a new world cigar such as a Caldwell Last Tsar.
It may take some trial and error to avoid a mismatch, and all palates are different. What is certain is that consulting with the experts at a local tobacco shop is as enlightening as the room is odiferous.
CIGARS: WHERE TO BUY
Davidoff of Geneva
3035 Peachtree Road N.E.
Atlanta 30305
404.554.0111
us.davidoffgeneva.com
Scottish Tobacco and Sinan Lounge
2625 Piedmont Road N.E.
Atlanta 30324
404.237.0525
scottishtobacco.com

Angela Hansberger
Drinks columnist at Simply Buckhead. Food, spirits, and culture writer.