Wholesome and heavenly: Buttermilk Kitchen mixes sweet and savory to delicious effect
Story: Wendell Brock | Photos: Sara Hanna

It's a positive sign when you drive up to a restaurant and see the words "Brunswick stew" stenciled on the plate-glass window. Even better when the place turns out to be a purveyor of luscious pimento cheese; chicken biscuits gussied up with sweet pepper jelly and pickles; and buttermilk pancakes dripping with maple syrup and butter.
Welcome to Buttermilk Kitchen.
Situated in an inviting, bright-blue building on Roswell Road, the culinary home of chef Suzanne Vizethann is a breakfast-and-lunch spot offering thoughtfully handcrafted food in a room as pure and simple as its namesake drink. In a city with no shortage of retro diners crowded with Formica and Fiesta Ware, a town of waffle joints, meats-and-threes and breakfast-all-day diners, Buttermilk Kitchen, which turns 2 in October, is a tasteful and refreshing alternative.

Based on my three visits—two late lunches and a Sunday brunch—it seems to possess two distinct personalities. (Let me add: This is not a pejorative statement, just an observation on the pace and the mood of the place.) From 8 a.m. to 2 p.m. weekdays, it's a nice option for a leisurely meal with a friend or a focused business meeting. (No alcohol is served, and the menu stays on point with just a few salads, sandwiches, breakfast dishes and that occasional quirky bowl of goodness like green-tea oatmeal.) This would be the perfect time to linger over a delicious glass of tea and admire the country-chic details—the milk-bottle water carafes; the sweet little bar with the rustic tin wall; the ceiling of recycled louvered shutters in the sunny front room.
On weekends, brunch is served from 8 a.m. to 3 p.m., and the place gets a jittery vibe, as if the building itself is jonesing on those pots of Batdorf & Bronson coffee. The parking lot fills up. A waiting list emerges. And hungry diners mill about outside, waiting for Vizethann's memorable confections and scrambles. (Trust me, it's worth the time.)
So back to that Brunswick stew: Arriving on a recent weekday, after a morning of yard work that felt like a CrossFit regimen, I was feeling really peckish. The stew, a specialty of my Mama's, was just the thing to restore me. A concoction of smoky pork with butterbeans, corn and little cheesy croutons, it was heavenly, the perfect setup for my cool entrée: a scoop of delicious, simply dressed chicken salad atop a bowl of lemony-tart salad greens, grape tomatoes and toast points. I washed it down with a glass of sweet (not sugary) iced tea, and all was right with the world. (The only downside to the experience: No dessert was offered, and I was practically scooted out the door by an eager-to-close staffer, presumably the manager. This after my server told me to take my time settling up. But hey, no problem! I did sneak in about quarter till quittin' time.)
On my second lunch stopover, I just had to try the pimento cheese appetizer, which came in a little jam jar twinned with a matching jar of the killer roasted red pepper jelly; a few tart, house-made pickles and some bread for spreadin'. The cheese spread and the jelly are both seriously addictive—this from an aficionado of both. A "half and half"—half a turkey sandwich and half a "roasted winter salad"—was a good healthy choice but not as flavorful as everything else I tried. The sandwich (turkey on focaccia with honey mustard and sunflower sprouts) was a tad bland, and the salad (roasted butternut squash, pepitas, goat cheese, cherries and greens) was a bit overwhelmed by the acidic honey-balsamic dressing. Once again, nothing sweet was offered at the end of the meal (not that I had a bit of room).

So by the time I stopped by for brunch, I was eager to see what Vizethann and company could do in the pastry and pancake department. As it turns out, I believe this is where the restaurant truly excels. While standards like French toast and a Mexican scramble are always on the menu, it's the weekly brunch specials that tantalize and captivate. Depending on the season, you might find sweet potato waffles with blackberry curd, red velvet pancakes, peach cobbler pancakes, grilled cornbread, chocolate croissants, and so on. Flipping through the old menus on Facebook, I can't believe all the good stuff I've been missing!
On the Sunday my friend and I visited, we started with the toasted blueberry coffeecake—an amazing slab of buttery decadence—and moved on to that signature chicken biscuit. What's not to love about a fat, fluffy biscuit stuffed with a crispy chicken breast slathered with pepper jelly? The way the bird's rich buttermilk batter melds with the sweet jelly and tart pickle is pure magic.
I've noticed that Vizethann likes to toy with Latin flavors at brunch (perhaps a chilaquiles scramble or a pork tamale bowl), and my dining companion was taken by the Spring Benedict, in which sunchoke mofongos (a play on the Puerto Rican dish made with plantains and pork) are flattened, fried and topped with spring onion-and-mint pesto, farm eggs and Hollandaise. It was tasty and intriguing. My poppy-seed pancakes—a stack of three ginormous layers slathered with rhubarb-strawberry compote and Meyer lemon curd—were just as pretty and delectable as they sound. No wonder the joint was jumpin' at 10:30 a.m.
So here's the scoop: I'm tickled to discover a snappy little restaurant where Southern classics and creative confections are handled with equal aplomb. In less than two years, Vizethann has built an impressive repertoire of original dishes and a clientele of loyal, happy customers. I think the sign on the front window sums up the versatility and charm of Buttermilk Kitchen: "Sandwiches, biscuits, ice cream floats, French pressed coffee, Brunswick stew." Hot dang! I'm there!

Buttermilk Kitchen
4225 Roswell Road N.E.
Atlanta 30342
678.732.3274
www.buttermilkkitchen.com
Salads and sandwiches: $8-$12
Breakfast dishes: $8-$13
Recommended dishes: Brunswick stew, pimento cheese plate, chicken salad, chicken biscuit, breakfast sweets.
Bottom line: Charming breakfast-and-lunch nook.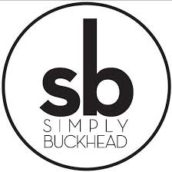 SimplyBuckhead
Simply Buckhead is an upscale lifestyle magazine focused on the best and brightest individuals, businesses and events in Buckhead, Brookhaven, Sandy Springs, Dunwoody and Chamblee. With a commitment to journalistic excellence, the magazine serves as the authority on who to know, what to do and where to go in the community, and its surroundings.