Mood indigo
Dyeing gives Buckhead artist new life
STORY: H.M. Cauley
From about the time she was 8 years old, Lynn Pollard has been working with her hands. Growing up near Augusta, she learned sewing at her mother's side and made macramé presents—handcrafts that led her into the world of weaving. "I was drawn to the colors and the creativity, the ability to make something from nothing," says the 60-year-old northwest Buckhead resident. "And I find looms so beautiful. The combination of the technique, the beauty of the tools and the colorful yarn is wonderful." Pollard took weaving lessons at the now-defunct Dreamweaver shop on Grandview Avenue. Her woven works became fabrics for costumes, uniforms, coats, a wall tapestry, even a stair runner for an historic home—items that she sold. But those things of beauty didn't always pay the bills. After going through a divorce in the 1980s, Pollard set out to prepare herself for the job market, though she didn't stray too far from her first love. In 1990, she graduated from Georgia Tech with a degree in textile engineering and went on to teach in the fiber program at Georgia State. She still teaches weaving at the Callanwolde Fine Arts Center. It was through her classes at the art center that she met her current passion: indigo.
"Two things happened," she explains. "First, after going through a rough patch with my health in 2007, I converted the studio in my house from man-made to less toxic, all-natural dyes that derive mostly from plants. That was how I first discovered indigo, and I loved it. Then I found that by manipulating paper through the indigo dye vat, lifting it out and letting it dry, I can create these amazing designs that look like landscapes or mountains. I don't have anything in mind when I'm working; I just keep at it until it looks like something I like."
The American Craft Council likes them, too; Pollard's paper creations were amongst the works by 240 master artisans during its show at the Cobb Galleria March 14-16, 2014. Her one-of-a-kind 22-by-30-inch unframed works, selling for about $800, and note cards, priced at $25, were also been part of Council shows in Baltimore and San Francisco.
"I never thought I'd be able to show at an American Craft Council show," Pollard says. "I never had the confidence to follow the art route with weaving, but dyeing has given me that and a whole new adventure."
The adventure comes from the art form's serendipity, she says. "It's always a surprise; I never know exactly what the dye is going to do. It's also great fun, and best of all, it's made me enthusiastic about art."
__________________________
Information about Lynn Pollard is online at www.broadwovens.com. Her work can also be purchased at UGallery, www.ugallery.com.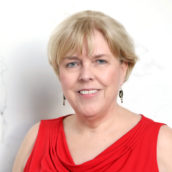 H.M Cauley
Atlanta-based writer and editor contributing to a number of local and state-wide publications. Instructor in Georgia State's Communication department and Emory's Continuing Education division.