LUCIAN BOOKS AND WINE ENGAGES ALL THE SENSES!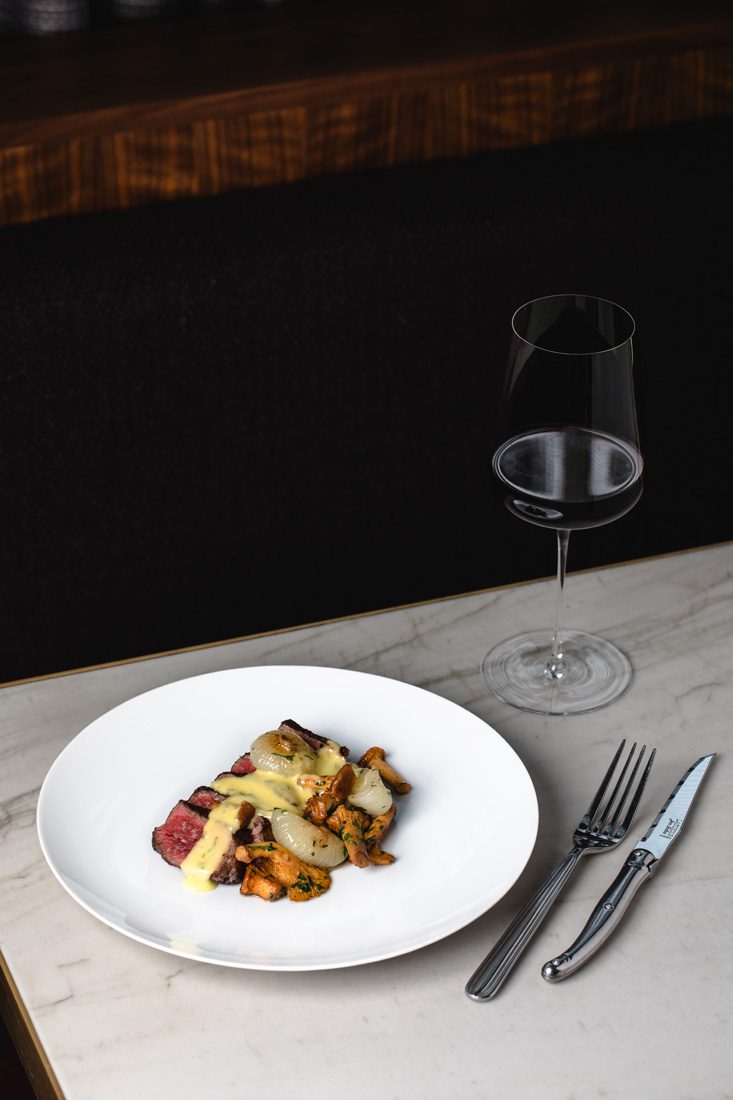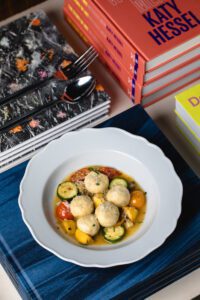 When you arrive at Lucian Books and Wine at the corner of Pharr and Peachtree roads near Buckhead Village, expect a multisensory welcome. Clatters of various tones ring out from the kitchen, accompanied by wafts of enticing aromas. Sunlight streams through windows, shimmering through bottles at the bar and stretching across the room to shelves loaded with colorful books. Friendly staff members escort you to a comfortable seat and present paper menus to thumb through. Whatever you order, bet on stunning presentations and delicious flavors.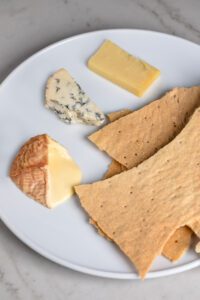 Named for British artist Lucian Freud, grandson of Sigmund, Lucian is owned by husband-and-wife team Katie Barringer and Jordan Smelt along with their friend and business partner, Mickey Mixson. Executive Chef Jason Paolini helms the kitchen. "The concept combines our shared interests and passions of art, books, wine and hospitality," Barringer says. The 40-seat fine dining restaurant opened in June 2021, a rare pandemic- era restaurant success story.
The 42-page drinks menu is easy to navigate. Wines by the glass, apéritifs and digestifs each fill a page, as do lists of suppliers. The remainder of the bound booklet, which is published every two months, showcases more than 400 wines by the bottle. Wines are organized by varietal and region, so if you already know that you prefer Australian over French pinot noir, finding available options is a snap. Don't rush to a decision, though, since hard-to-find Swiss bottles or unfamiliar grapes might pique your interest.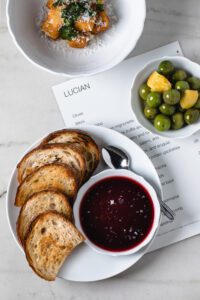 Overwhelmed? Staff members are ready to help: "We each specialize in different regions and styles," server Doug Hawkins says. I was intrigued by schioppettino, an unfamiliar grape. "It was considered extinct," Hawkins says, but isolated plantings were discovered, and propagation has been encouraged in Italy's Friuli- Venezia Giulia region since 1978. Ruby red with berry and mineral notes, the refreshing, food-friendly wine proved a delightful discovery.
Whether you want a nibble to accompany a glass of wine, assorted plates to share or a multi-course meal, the food menu satisfies. Organized by serving size from starters through desserts, the one-page menu evolves without a scheduled rate of change. "Produce may change heavily with the seasons, but on average we make a few small tweaks a month," Barringer says. "Adding or removing a dish altogether may occur bimonthly or quarterly." Some dishes are standards: "The omelet with caviar and crème fraîche has been on the menu since day one, and we have no intention of that leaving," she says. Fries are always available, though the aioli accompaniment varies.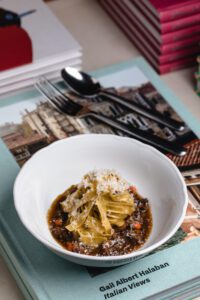 Harmonious flavors, contrasting textures, sophisticated preparations and artful plating are running themes. Crisp polenta with black truffle and parmesan skillfully opposes earthy/salty and crunchy/ soft distinctions. Ricotta gnudi with squash, eggplant and anchovy is a tender delight that manages to equally present its delicate and strong notes. Savory chicken liver pâté is topped with a sweet layer of cherry jelly and a sprinkle of large salt flakes; slather the smooth decadence on crunchy toast to treat your teeth and taste buds. Tagliatelle with lamb ragu and pecorino is impeccable; al dente pasta is smothered in tongue-tingling umami. Prime New York strip with chanterelles, cipollinis and béarnaise is exemplary; the meat is cooked to perfection, yet the mushrooms and onions deserve ardent praise for their stellar contributions. For simple enjoyment, try the cheese plate's chef-selected trio with simple crisps. Lavender panna cotta is light and ethereal with bright floral flavor that stops short of overwhelming; honeycomb candy shards lend crunch and toffee notes. Chocolate budino tops soft chocolate with crunchy hazelnuts, a heavenly match. All plates are easy to share, though you may envy every bite your dining companion takes.
The stylish room by Atlanta-based Seiber Design is dominated by a stunning bookcase that's simultaneously a design element and functional display piece. All of the books are for sale; all non-fiction, they're primarily about art, design, fashion, food and wine. "New books arrive weekly," Barringer says, "with larger drops of inventory in spring and fall."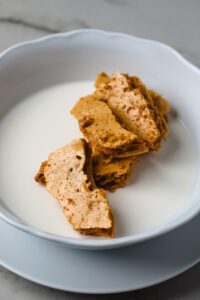 Because Lucian can seat a maximum of 40 guests, reservations are strongly encouraged. Whether you call the restaurant or book online via Resy, a credit card number is required. Show up or cancel more than 24 hours in advance and there's no charge; however, noshows and late cancellations trigger a fee of $50 per person. "In order for us to be successful as a small fine dining restaurant we need to be proactive," Barringer says. Resy sends a confirmation email when you book and a reminder text 30 minutes before your scheduled arrival. Note that lunch reservations are for a 90-minute seating, and dinner reservations are for two hours. These practices struck me as odd and off-putting, but Barringer says, "It's more standard practice in finer dining following 2020 as a way to protect small restaurants and the team that relies on turning tables over the course of an evening."
Experience brisk sophistication at Lucian.
Lucian Books and Wine
404.549.2655
lucianbooksandwine.com
@lucianbooksandwine
Prices: Small plates, $6-25; medium plates, $16-29; mains, $38-48; desserts, $12-18; wines, $16-34/glass and $50-990/bottle.
Recommended: Crisp polenta with black truffle and parmesan; ricotta gnudi with squash, eggplant and anchovy; tagliatelle with lamb ragu and pecorino; lavender panna cotta with honeycomb.
Bottom line: Sophisticated lounge with a busy bookstore vibe serves curated wines and spirits alongside high-quality fare.
STORY: Hope S. Philbrick
PHOTOS: Erik Meadows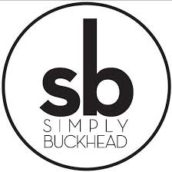 SimplyBuckhead
Simply Buckhead is an upscale lifestyle magazine focused on the best and brightest individuals, businesses and events in Buckhead, Brookhaven, Sandy Springs, Dunwoody and Chamblee. With a commitment to journalistic excellence, the magazine serves as the authority on who to know, what to do and where to go in the community, and its surroundings.