CHOPS LOBSTER BAR IS BACK AND BETTER THAN EVER!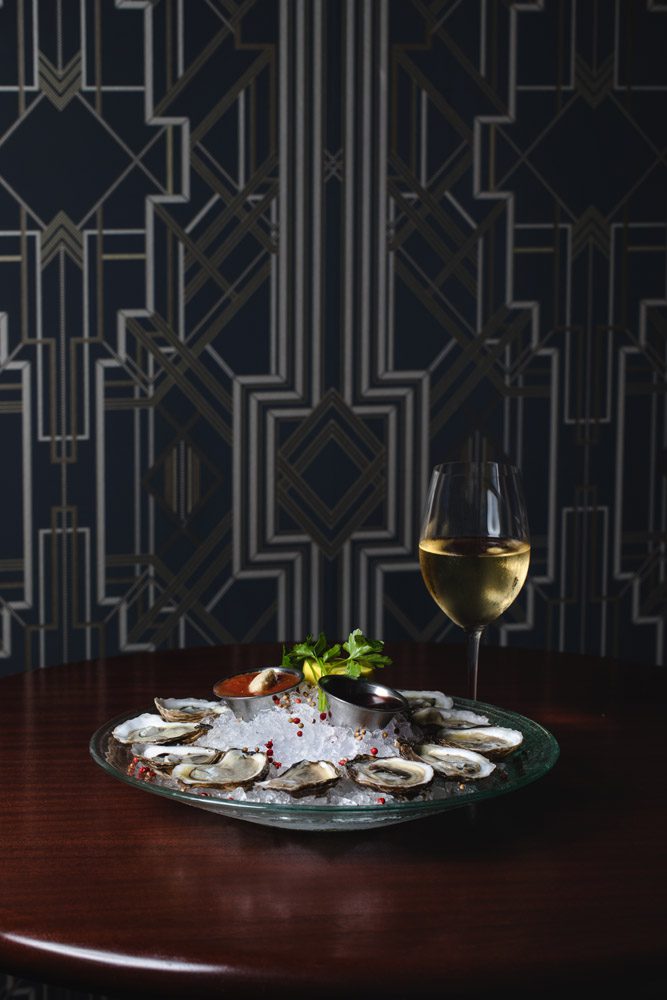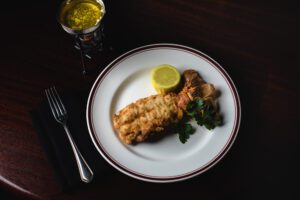 Chops Lobster Bar has been one of the undisputed top steakhouses in Atlanta since it opened in 1989, and it's been a personal favorite of mine since my now-husband and I enjoyed one of our first dates at the bar more than a dozen years ago. I, like many fans, watched in horror as live news stories on a January 2022 night showed flames and smoke billowing out of the restaurant. Though no one was hurt in the blaze, the damage was significant and provided a prime opportunity for a refresh.
I'm happy to report that this Buckhead go-to spot for flawless surf and turf reopened in fall of 2022, complete with smart renovations that both elevate the environs and preserve the stately feel of the dining rooms on both levels. Lobster Bar still feels subterranean, with its vaulted mosaic ceiling inspired by the Grand Central Oyster Bar in Manhattan, and sumptuous leather seating that feels fresh.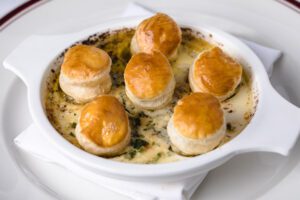 Chops regulars will immediately notice changes, namely a new upstairs dining room that opens onto a patio overlooking Buckhead Plaza and an expanded bar and dining area, adorned with modern art curated by Fay Gold, including a neon-accented piece by Srinjoy. The main dining room was meticulously recreated with identical materials, including the signature light fixtures, so it feels both new and familiar.
Over the course of two weeknight visits—one upstairs at Chops, the other downstairs at Lobster Bar—I discovered that perennial favorites are as good as they've ever been, while a few new additions add interest to an already well-rounded menu, available no matter where you sit. There's no wrong way to order, but there are a few things you shouldn't omit. Don't skip the fried lobster tail as a starter. Available whole or portioned into bite-size "nuggets" (my favorite), its succulent meat comes sheathed in a gossamer crust and served with drawn butter and tangy-sweet honey mustard aioli (word to the wise: ask for the sauce on the side for dipping).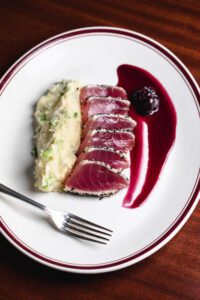 Similarly, don't sleep on the spinach salad. Prepared tableside, baby spinach is tossed with candied shiitakes, bacon lardons, toasted pine nuts and a tangy vinaigrette, then served warm. It's a sneakily delicious way to eat your veggies.
A couple of new menu offerings take inspiration from other Buckhead Life restaurants, and they're every bit as good at Chops as they are at their original locations. Wild Burgundy escargot, a Bistro Niko signature, comes in a specially designed crock. Each tender morsel is drenched in garlic and parsley butter, and topped with flaky puff pastry for the ideal single bite. Similarly, Kyma's version of red wine-marinated, wood-grilled octopus, adorned with pickled red onions and capers, is a welcome addition and perfect for sharing.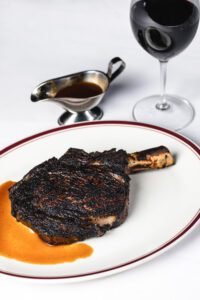 It's impossible to imagine a visit without a steak from the extensive list, ranging from a petite 4-ounce Wagyu filet mignon to a massive 40-ounce porterhouse. I'm a sucker for the bone-in ribeye from the "custom aged" offerings. My 20-ounce order came deliciously marbled with a charred, seasoned exterior and textbook medium-rare center. Though the steak is meltin- your-mouth delectable on its own, guests can dress it up with "enhancements" such as black truffle butter, sauteed foie gras or béarnaise sauce. I opted for creamy tart triple creme blue cheese for the ultimate decadent main.
While steak is the name of the game—literally—the seafood offerings never miss. In the case of the Hawaiian ahi tuna, served seared and flecked with sesame seeds over scallion-studded Yukon mashed potatoes and port wine glaze, the dish is hearty and, dare I say, meaty, enough to fit right in. For a more delicate entree, opt for Dover sole sauteed with lemon and capers or "Hong Kong"-style sea bass with spinach, fresh ginger and sesame-soy broth.
Regardless of your order, prepare to share a few decadent side dishes. The sweet corn mash is a reason to visit all on its own. Given the absence of cream, each time I indulge, it leaves me wondering what culinary alchemy was used to achieve the impossibly creamy texture.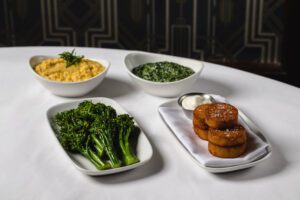 You can't go wrong with any of the potato iterations, from hashed potato "tots" with blue cheese truffle aioli to black truffle parmesan fries. I prefer to keep it classic with the baked potato dressed with butter, sour cream and chives. If you're determined to add more greens to the table, the toothsome broccolini, served simply with Maldon sea salt, olive oil, garlic and red pepper flakes, is a crowd-pleasing favorite.
If you've saved room for dessert— and you really should—order the white chocolate banana cream pie. Fans who mourned Buckhead Diner's closing will recognize it as a reincarnation of the version that won a James Beard Award, packed with fresh bananas, clouds of whipped cream and sweet white chocolate curls. It's a nostalgic finale to a dining experience that never gets old.
Bottom line: Chops Lobster Bar's ongoing menu excellence and expert service, coupled with the aesthetic upgrades, mean there's a lot of life left for this Buckhead stalwart.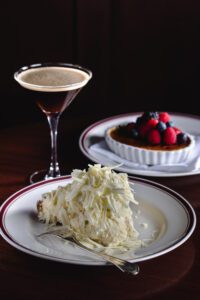 Chops Lobster Bar
404.262.2675
chopslobsterbar.com 
@chopslobsterbar
Prices: appetizers and salads: $14-$38; entrees: $36-$59; steaks: $56-$179; sides: $12-$38; desserts: $12.
Recommended: Bone-in ribeye, escargot "Au Pernod," fried lobster tail, warm spinach salad, Hawaiian ahi tuna, corn mash, white chocolate banana cream pie.
Bottom line: The combination of new environs and menu additions with the luxe, comfortable dining rooms on two levels and flawlessly prepared steak, seafood and sides make this a perennial favorite for good reason.
PHOTOS: Erik Meadows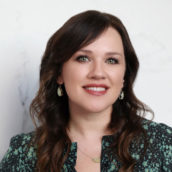 Jennifer Bradley Franklin
Senior Contributing Editor and Beauty Columnist at Simply Buckhead. Travel, Food and Design Writer and Author.