After helping revive Krog Street, iconic chef returns to Buckhead.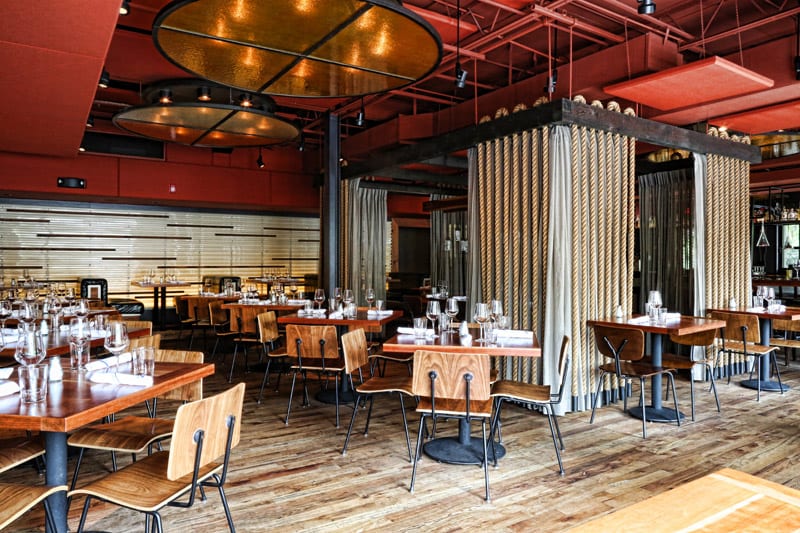 When Kevin Rathbun left Buckhead Life Restaurant Group to chart his own path in Inman Park, little did he realize he was dropping anchor at what would become one of the hottest pieces of real estate in the city.
That was 11 years ago. Today, three of the chef's four restaurants are on Krog Street— clustered around that point where the Atlanta BeltLine's über-populated Eastside Trail connects with the über-popular Krog Street Market. No bones about it: Rathbun— a Falstaffian barrel of a man who once defeated Bobby Flay in the "Iron Chef America" elk cookoff, of all things—is the unofficial but indisputable king of Krog.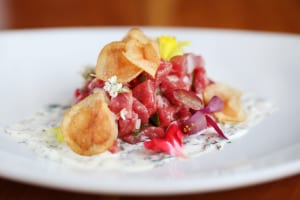 Two years ago, the chef who claims to have introduced Southwestern cuisine to Atlanta (at Buckhead Life's late Nava) returned to his old 'hood, Buckhead, apparently bringing with him some lessons learned on his adventures across town. KR SteakBar—which sits slightly below street level on Peachtree Hills Avenue just west of ADAC—couples the majestic meats of Kevin Rathbun Steak with the energy and flair of Krog Bar. In the sense that KR Steak- Bar is a darkly lit gathering spot for a certain well-dressed crowd on the make, it feels perfectly suited, almost custom-tailored for Buckhead. (More on The Johnson Studio's clever and inviting design in just a sec.)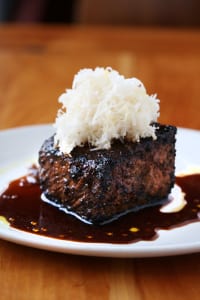 What's new here for Rathbun—a Kansas City, Missouri, native whose style is a global mishmash of Latin, Asian, Southern and other influences—is the Italian streak. Sure, there are rib-eyes and filets, but the menu— with antipasti, pasta, terra e mare (land and sea), and contorni (sides)—reads more like that of a traditional trattoria than an oldschool chop shop. And nearly everything that comes out of chef de cuisine Jessica Gamble's kitchen speaks with an Italian accent, zippy with garlic, rosemary, balsamic, pancetta and other staples of the bootshaped peninsula. If you are looking for a classic steak joint where the service is formal and the devotion to meat sacrosanct, get thee to Bones. KR SteakBar gives the genre an update; it's a contemporary nocturnal cubbyhole where small plates rule, wine flows and the air bristles with excitement.
I recently had two experiences here: a long, multi-course Thursday night dinner with a friend and a more streamlined solo meal at the bar on a bustling Saturday. Both were pleasant, but my dinner-for-one excursion felt more in tune with the spirit of the place. The bar staff, though perhaps not as knowledgeable about the food as the servers, were chatty, genuine, efficient, attentive. Plus, the food was more polished.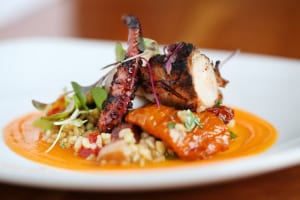 Of the first courses I sampled on two visits, a purée of cauliflower, dressed with basil oil and parsley, was the standout. Steak tartare, mixed with tarragon and ramps and served with potato chips, was solid, though not especially memorable. (Shouldn't this raw-beef classic be chopped a little finer? Ours was chunky enough for stew.) I liked the charry and flavorful grilled octopus, but the farro, tomato and pancetta accompaniment was a little lackluster, almost bland.
While you can get a traditional pappardelle with pork and beef ragù or spaghetti with white wine and clams, we went for the heavenly-sounding squid-ink tagliatelle with crab, green onion and chili. The dish tasted fine, but where we expected a heady marriage of flavors, we got noodles and crab that seemed shy about getting in bed together and letting their juices commingle. No sex appeal.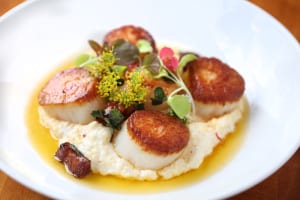 Moving on to the mains, bacon-wrapped scallops on a puddle of polenta were rich and unctuous. "Shell steak"—a signature 8-ounce New York Strip drizzled with espresso sauce and topped with shaved fresh horseradish—was a mixed blessing. The sauce was so intense that it overpowered a seriously good hunk of meat, which I didn't appreciate until later, when I revisited the leftovers I took home. On my second visit, I had good luck with the 6-ounce filet, which was paired with an inspired concoction of roasted carrots, orange and pistachios.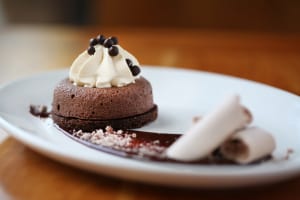 One smart thing about KR SteakBar is the extensive wine list. General manager and sommelier Clay Williams has assembled a terrific cellar of Italian, Old World and West Coast bottles that are ideally suited to this red-wine-friendly cuisine. (Just ask him to help you pick a glass, and he'll emerge with a brilliant grape.) I'm also smitten with pastry chef Kylie Akiyama's desserts. An olive oil cake, with almond brittle and a tangy citrus cream, was the highlight of my extended dinner; and her triple chocolate ricotta cheesecake was pure sin.
Back to the design: The Johnson Studio has created a space of understated glitz. Check out the gorgeously mottled brown-and-ivory marble bar, the curtains concealing a semiprivate space in the middle of the room, the speakeasy-like lair behind the kitchen (you almost have to know it's there and ask to be escorted back), and the outdoor elements. To wit: the patio that's like a sunken garden and virtually hidden from the street, and the fence that cannily separates the walkway-entrance from the harshness of the asphalt parking lot. (To avoid a bare-wall effect, window-box-style containers are hung from the fence to add a softening touch.) Well done, design team.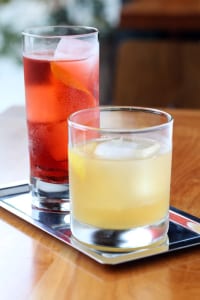 In the end, there's much to like about KR SteakBar—from cocktails to cheese course. More than just a showcase for an iconic chef's brand of slightly over-the-top indulgent food, it's a fashionable hideaway where people go to have fun, dress in their casual best, and drop a few coins. With a little swagger but not too much bling, it feels at once delightfully young and as if it's been hiding out here for years.
KR STEAKBAR
349 Peachtree Hills Avenue N.E.,
Atlanta 30305
404.841.8820
krsteakbar.com
Prices: Antipasti, $6-$19. Pasta, $12-$16. Entrees, $18-$68.
Recommended: In Bloom and D.O.C.G. cocktails. 6-ounce hangar steak, cauliflower soup, olive oil cake.
Bottom line: Rathbun delivers a contemporary update on the steakhouse.
STORY: Wendell Brock
PHOTOS: Sara Hanna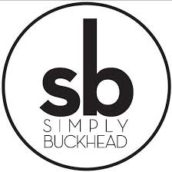 SimplyBuckhead
Simply Buckhead is an upscale lifestyle magazine focused on the best and brightest individuals, businesses and events in Buckhead, Brookhaven, Sandy Springs, Dunwoody and Chamblee. With a commitment to journalistic excellence, the magazine serves as the authority on who to know, what to do and where to go in the community, and its surroundings.