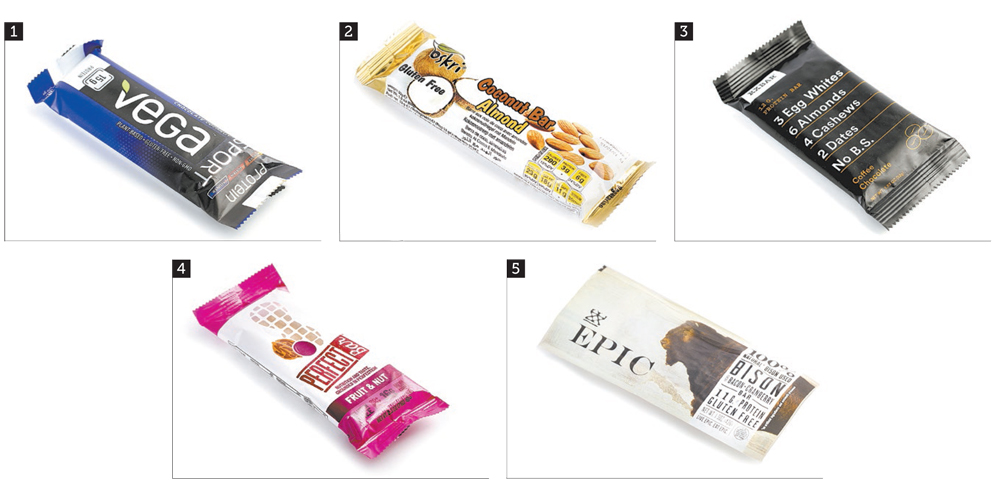 These days, it can be challenging to know which health bars are really healthy. Whether you're a nutritional nut or just striving to get the wellness thing down, these high-quality to-go bars serve a variety of nutritional needs.
1. Kale Me Crazy: Vega Sport Bar Chocolate Coconut ($3.29)
If you prefer eating a meat-free diet and are often bored with your options, a Vega bar is an easy meal replacement option. The chocolate and coconut blend delivers more than 14 grams of complete plant-based protein, branched chain amino acids (BCAAs) to keep muscles from breaking down, and Glutamine to support your immune system. It's an ideal postworkout snack for fast recovery.
4600 Roswell Road, Suite B140
Sandy Springs 30342
404.500.3712
kalemecrazy.net
2. Arden's Garden: Oskri Bar Coconut Almond ($2.50)
Coconut fans, this is the bar for you! With handfuls of coconut flakes held together with rice syrup, it looks like a coconut macaroon, just in bar form. The sweetness comes from rice syrup, which takes longer for the body to absorb, so you won't get the glucose spike that comes from products sweetened with sugar. The high fat content from the coconut (23 grams) helps to slow the absorption of the sugar, and coconut has been known to support digestive tract health. If that isn't enough, this bar is also gluten and lactose free, vegan, kosher and halal.
3757 Roswell Road N.E.
Atlanta 30342
404.844.4477
ardensgarden.com
3. Nuts 'N Berries: RX Bar Coffee Chocolate ($3.25)
Athletes and purists will flip over this new protein bar from RX Bar. It's hard to miss with its smart packaging that lists all of the recognizable, natural ingredients on front of the package. Unlike many protein bars that rely on whey protein, these are fueled by 12 grams of egg-white protein that are "bioavailable," meaning easily absorbed by the body. This type of protein is essential for bodybuilders or anyone interested in increasing muscle mass. Plus, the standout flavor is coffee chocolate—about as decadent as it gets for a high protein bar.
4274 Peachtree Road
Atlanta 30319
404.254.0330
nutsnberries.com
4. Fresh Market: Perfect Bar Fruit and Nut ($2.99)
This nutrition bar is so fresh it's in the refrigerated section of your local health market. The Perfect Bar consists of high-quality almond or peanut butter protein as its base, organic honey to sweeten and prevent spoiling, and raisins, crunchy walnuts and 20 organic superfoods, such as kale, spinach, alfalfa and celery hidden in the mix—a great way to add greens to your diet. These smooth, creamy bars are also free of chemical preservatives, artificial ingredients and refined sugars. They are kosher, gluten free and non-GMO.
2099 Peachtree Street N.W.
Atlanta 30309
404.350.3211
freshmarket.com
5. Whole Foods: Epic Bar Bison and Cranberry ($2.99)
Meat lovers who think a bar won't satisfy their cravings or nutritional needs will not be disappointed by Epic's meat-based protein bar. Similar to jerky, they are softer and easier to chew and include bacon, nuts, fruits and spices. It's like having a delicious meaty meal condensed into one bar, but you must like meat to appreciate the flavors. The top seller is the Bison and Cranberry; the bacon plays nicely with the tartness of the cranberry.
77 West Paces Ferry Road N.W.
Atlanta 30305
404.324.4100
wholefoodsmarket.com
STORY: Jessica Dauler
PHOTOS: Sara Hanna