A weekend respite at Asheville's Omni Grove Park Inn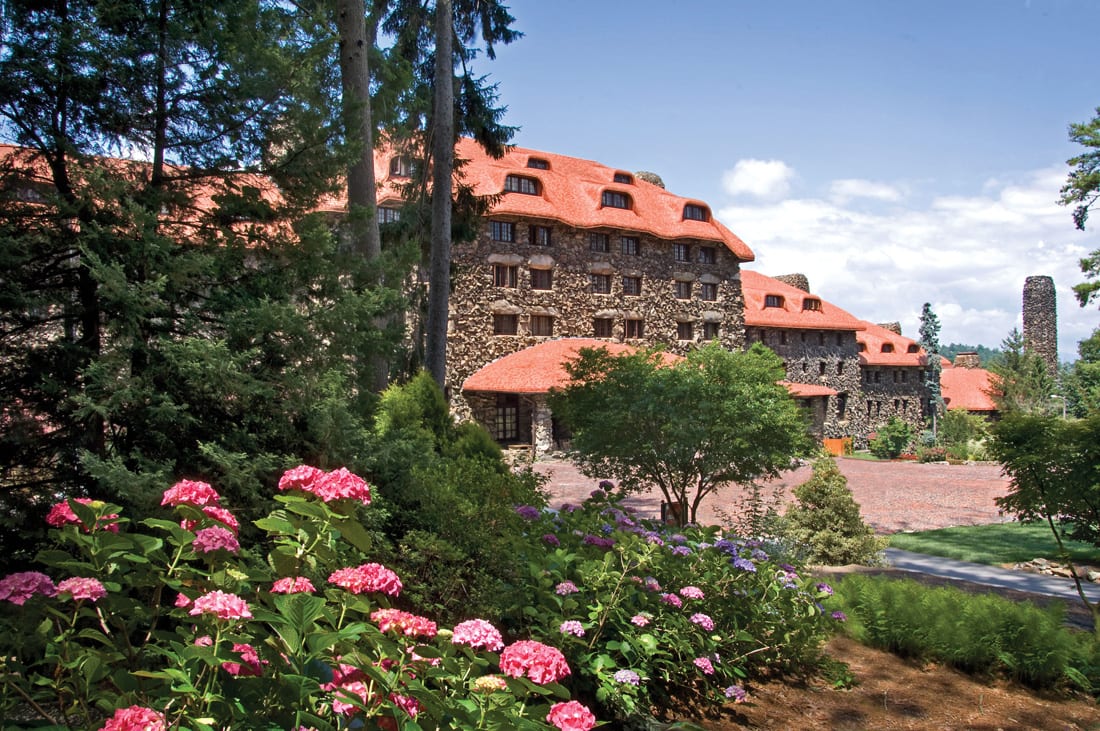 STORY: Giannina Smith Bedford
Asheville's Omni Grove Park Inn was originally established as a secluded mountain getaway. Today, more than a century after it was built, it continues to be sought-after for its picturesque locale in North Carolina's Blue Ridge Mountains. But as Asheville has grown in size and notoriety, the resort has by no means remained under the radar. Unlike the air of exclusivity it carried upon its opening in 1913, these days scores of conference-goers, tourists and locals can be found having a drink in the lobby, sitting in front of its two 36-foot-wide stone fireplaces or booking a day at the award-winning spa. We followed suit.
After surviving a whirlwind few months with a newborn, my husband and I decided to escape to the inn for an adults-only weekend. Despite the crowds, which means advanced reservations at on-site restaurants and the spa are a must, I'm happy to report the resort still manages to deliver on its mission of providing an experience focused on rejuvenation and relaxation. This is thanks in large part to the staff's well-informed service, the preservation of its history and the spectacular mountain vistas highlighted at every turn, especially enticing in the fall during leaf peeping season.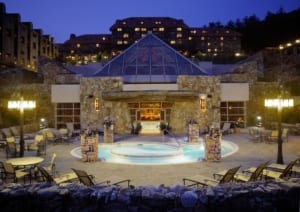 Opened originally as The Grove Park Inn, the hotel was the vision of pharmaceutical giant Edwin Wiley Grove, who wanted to create a destination of wellness in Asheville's fresh mountain air. Upon its opening, the 150-room property was touted by newspapers as "the finest resort hotel in the world." Its stunning façade is composed of massive, uncut granite boulders unearthed from the mountain it sits atop.
Over its long life, the hotel has undergone several owners, renovations and uses. During World War II, it was, among other things, an internment center for Axis diplomats and a rest and rehabilitation center for returning Navy sailors. Beginning in the 1950s, it was owned by the Sammons family, then by investor group KSL in 2012, before becoming part of Omni Hotels & Resorts in 2013. Various wing additions have resulted in a property that today boasts 513 guestrooms, 142 of which are still located in the original inn reached via elevators hidden in the chimneys of the lobby fireplaces.
Despite the changes, the hotel preserves its storied heritage through antique arts and crafts furnishings from Stickley and Roycroft, and memorabilia from its founding. Some of the most fascinating mementos are the photographs of the property's famous guests, from F. Scott Fitzgerald to Barack Obama.
I'd heard so much about this famous property over the years that it was nice to finally experience it for myself. And at just a three-and-a-half hour drive from Atlanta, it's a perfect escape from the city. We hit the road on a Friday morning, and by 2 p.m., we were enjoying our day passes at the 43,000-square-foot spa, which boasts therapeutic waterfall pools, steam rooms and an outdoor mineral pool.
Sufficiently relaxed, we spent the rest of the evening watching the sunset with glasses of wine and a charcuterie platter at the Sunset Cocktail Terrace. We then headed to downtown Asheville, only minutes away, for a late dinner at Wicked Weed Brewing, one of the many brewpubs the city has become famous for.
The rest of our weekend combined visits to downtown eateries with lounging, fireside chatting and catching our breath amid the Inn's majestic natural surroundings. Although 105 years have passed since Edwin Wiley Grove built The Grove Park Inn, the newest iteration retains its magical mountain touch capable of restoring even the weariest soul.
THE OMNI GROVE PARK INN
800.843.6664
omnihotels.com/hotels/asheville-grove-park
Rates range between $169 to $319 a night, depending on the season.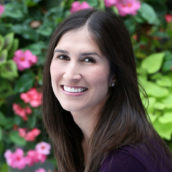 Giannina Bedford
Contributing home editor and design columnist at Simply Buckhead. Travel & Business Writer. Mother of Two.