Hit the water with your dog using these guidelines!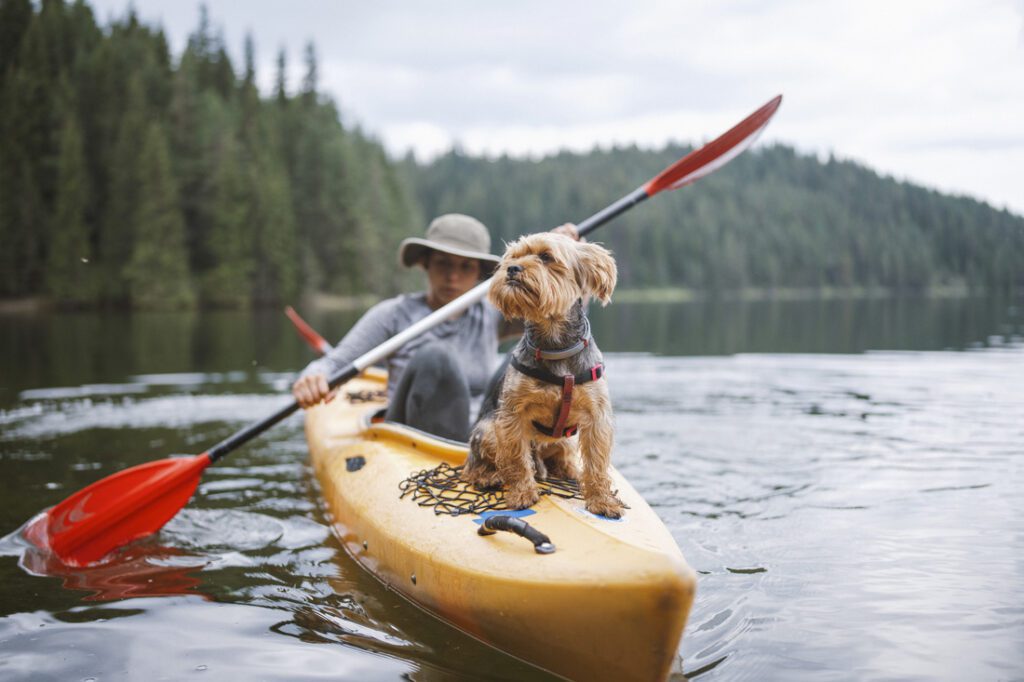 Planning to get your kayak into the water this summer? Your dog might want to join the fun. With a little training, your pet can hop on board and enjoy the summer breeze right alongside you. Here are the training and safety tips you need to know.
PRE-PREP
Not every dog will be a good fit for kayaking. According to Alex Sessa, owner and head trainer at Peach on a Leash Dog Training & Behavior Services, who works with pets across Buckhead, Brookhaven, Sandy Springs, Dunwoody, Chamblee and more, your dog needs to be comfortable around water and should not have a timid personality. "Although kayaking can be an incredibly peaceful and low-stress activity for many dogs, for others that are highly sensitive, it can be overwhelming," she says.
Before diving into an activity like kayaking, it's important to have a strong bond with your dog. He or she should be able to follow basic commands such as "sit," "down," "leave it," "stay" and "come." You want to ensure your animal will listen and stay on the kayak instead of chasing distractions. Your buddy should also be willing to wear a life jacket. And it's helpful if he or she can swim.
"Most importantly," Sessa says, "you should always check with your veterinarian to ensure that your dog is medically cleared for kayaking."
KAYAK TRAINING
"Your first step should be getting your dog fully comfortable in the kayak on land before adding the motion and unpredictability of the water," Sessa says.
To get a pet used to the idea, get the kayak out and let Fido sniff around at his own pace. Leaving treats inside can help.
"Once you do begin to incorporate the water, make sure you start in a safe, shallow quiet area," Sessa says. "Ideally, go in from the land and not a dock." You may want to teach specific commands to get in and out of the kayak. If wobbling is a struggle, try building up your pet's confidence on land using a stability disc.
It might take some time for your animal to feel comfortable. Don't force it.
SAFETY FIRST
"Your dog must always wear a life jacket when out on the water, regardless of their size, strength or swimming ability," Sessa says. Even strong swimmers can get tired or fall into the water when they aren't prepared. She recommends purchasing a reflective dog life jacket that has a handle on top for safety, allowing you to grab a hold if needed.
If your dog does fall out, don't panic! "Any sort of yelling or panicked behavior from you might frighten your dog and cause them to swim away," Sessa says. Using a soothing tone of voice, get him as close to the side of the kayak as possible. Then use the strap on the life jacket to get him back on board.
PACKING LIST
In addition to a life jacket, Sessa recommends packing "extra food, water and treats in a water-tight container, and a leash, but don't ever have your dog on leash in the kayak." This could trap your dog underneath the kayak if it capsizes. It's also helpful to have something comfortable for your dog to sit on, such as a towel or cushion, as well as dog sunscreen or a hat to protect from sunburn. While dogs with thin and/or light-colored fur are more at risk for sunburn, all dogs need to wear sunscreen while on the water.
Look for an extra-wide kayak to make it more dog-friendly. A kayak with tandem seating or a large cockpit will also work. Some people customize their kayaks and add "puppy platforms" or sunshades to make the experience safer and more comfortable.
PEACH ON A LEASH DOG TRAINING & BEHAVIOR SERVICES
404.913.3234
peachonaleash.com
@peachonaleash
STORY: Hailey Hudson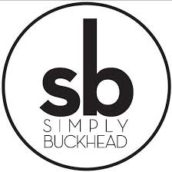 SimplyBuckhead
Simply Buckhead is an upscale lifestyle magazine focused on the best and brightest individuals, businesses and events in Buckhead, Brookhaven, Sandy Springs, Dunwoody and Chamblee. With a commitment to journalistic excellence, the magazine serves as the authority on who to know, what to do and where to go in the community, and its surroundings.