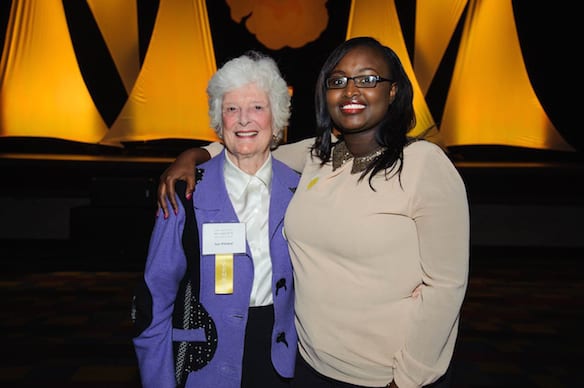 STORY: Mickey Goodman
Providing the tools for self sufficiency
The Atlanta Women's Foundation (AWF) was created in 1986 to help move girls out of generational poverty into economic self-sufficiency. "To date, we've invested $13 million and helped thousands of women with mentoring, child care and retraining," says Kelly Dolan, executive director.
This year a pair of noteworthy Buckhead residents are taking the reins of the Foundation's annual fundraiser. Katie Bayne, president of North American Brands, Coca-Cola North America group and AWF board member, and Laurie Ann Goldman, former CEO of Buckhead-based Spanx, are chair- persons for the 2014 luncheon, "Numbers Too Big to Ignore." Open to the public, the event takes place Nov. 6 at the Georgia World Congress Center. Networking begins at 11:30 a.m. with 1,500 top professionals in attendance.
"I love organizations that are clear about their mission and effective at what they do," Goldman says. "In the way an avalanche is made up of individual snowflakes, women united with focus can change anything."
Goldman and Byne chaired the fundraiser to show case the possibilities for women in Atlanta and infuse them with a sense of direction. Patricia Sellers, Fortune magazine's senior editor-at-large, is the keynote speaker.
AWF's luncheon includes the presentation of the Sue Wieland Embracing Possibility Award. Last year's winner was Mireille Kibibi, who survived the 1994 genocide in Rwanda and came to the United States in 2005. "With help from programs funded by AWF, she graduated from Berry College with a degree in accounting," says Kate Balzer, AWF development and communications manager. Kibibi has since become a mentor, helping other refugee women realize their dreams.
To obtain luncheon tickets visit www.atlantawomen.org or call 404.577.5000.
Mickey Goodman
Award-winning Ghostwriter, Journalist, Content Creator.