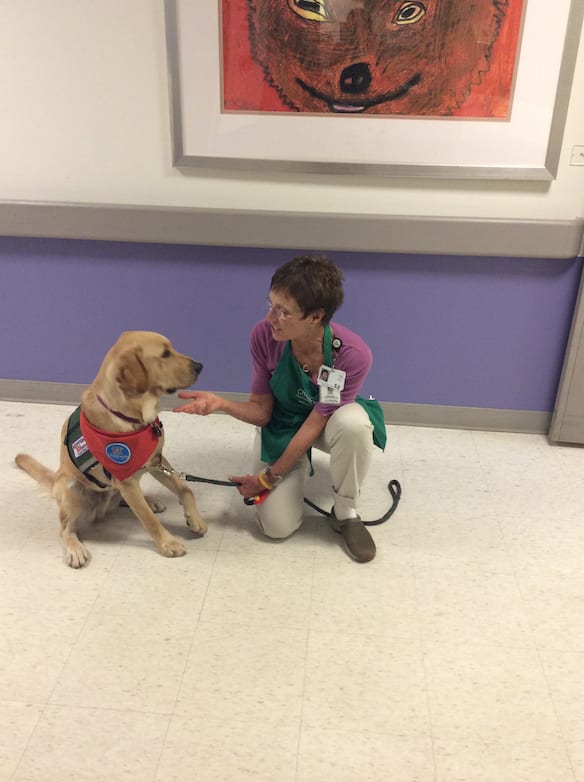 STORY: Mickey Goodman
Facility dogs ease the pain of treatment for young patients
In 1991, Jennifer Arnold founded Canine Assistants to train dogs to aid people with disabilities. Since then, the organization has had far-reaching effects—including touching the lives of critically ill kids at Children's Healthcare of Atlanta's three campuses.
Connecting the two organizations was the inspiration of Sandy Springs resident Betty Haake and Kathy Walker, both volunteer trainers for Canine As- sistants and CHOA. The women, along with a loving golden retriever named Carey, gave a presentation at CHOA in 2004 to demonstrate the ways dogs could help young patients. Officials at the hospital agreed to give it a try.
"Kathy's son was a frequent patient, and she knew how the dogs she trained for Canine Assistants have helped him," Haake says. "He didn't need pre-op medication to calm him down if a dog was at his side."
Today, the popular program has seven full-time facility dogs on staff that rotate among the three CHOA
locations, along with 30 volunteers. Haake also brings her own therapy dog on regular visits. The pooches help calm kids prior to getting injections, work with physical therapists or simply snuggle in bed as long as comfort is needed. This "distraction motivation" helps ease the pain of treatments.
"The best part is seeing the smile on a child's face when our dogs enter the room," Haake says. "It even gives them something to look forward to if they are 'frequent flyers' at the hospitals."
To learn more, visit www.choa.org or www.canineassistants.org.
Mickey Goodman
Award-winning Ghostwriter, Journalist, Content Creator.