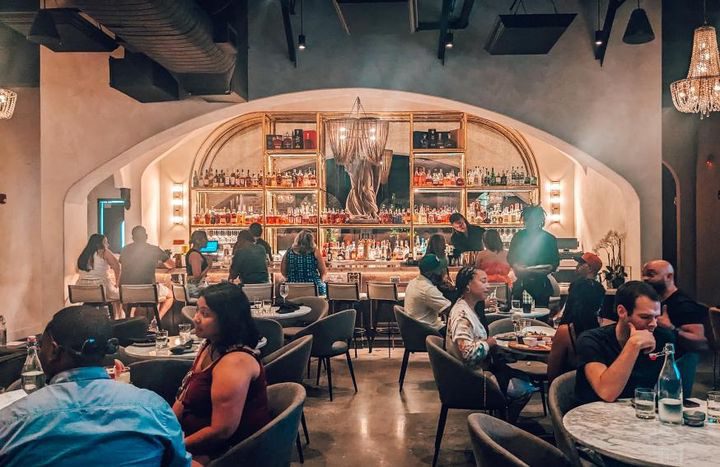 DINNER & DRINKS
For sweet sips and savory bites in a sexy setting, make a date at Forum Cocktail Co., open daily at The Works in Upper Westside. A nod to Roman forums and the classical Greek architecture that influenced these gathering spaces, the 3,000-squarefoot venue pairs opulent decor with epicurean delights for an elegant evening out. RSVP for exclusive access to the hidden speakeasy that accommodates up to 30 guests. Among the unique mix of handcrafted cocktails: Uisgea Beatha made with Glenlivet 12, China-China, lemon, Banana Oleo and Aztec Chocolate Bitters. Perfectly paired small plates range from street fries to lobster frites, with vegetarian and dairy-free options available. "We are a cocktail-forward environment that happens to have incredible food," says Drew Fancher, who opened the brick-and-mortar with his wife, Brittany, following the success of their Aero Bar mobile bar.
theforumcocktailco.com
@forumcocktailco
BROTHERS IN ARMS
Dunwoody is unveiling an epic monument at Brook Run Park this winter. The Vietnam War Memorial will honor both American infantry and South Vietnamese soldiers who fought for freedom with two life-sized bronze-cast statues representing each nationality. The statues will stand side by side in a beautifully landscaped central plaza with marble benches, located about 100 feet from the newly renovated DeKalb Veterans Memorial, with a connecting sidewalk. Only the seventh such tribute in the country, according to the City of Dunwoody, the $440,300 project is funded entirely by donations from the Vietnamese American Community of Georgia and the Atlanta Vietnam Veterans Business Association.
dunwoodyga.gov
@cityofdunwoodyga
PATRIOT PROUD
Brookhaven residents have a new space to stretch their legs. Langford Park opened earlier this year in the Brookhaven Heights neighborhood on Pine Grove Avenue. Paying tribute to soldiers who died in action, the 1-acre pocket park is named for local fallen war hero Robert C. "Bob" Langford who lost his life in Vietnam. The city of Brookhaven and DeKalb County jointly purchased the property from the Langford family for the $1.1 million project. The park features a playground, bocce ball court, sheltered pavilion, water fountains for people and pets, and walking trails.
brookhavenga.gov
@brookhavengagov