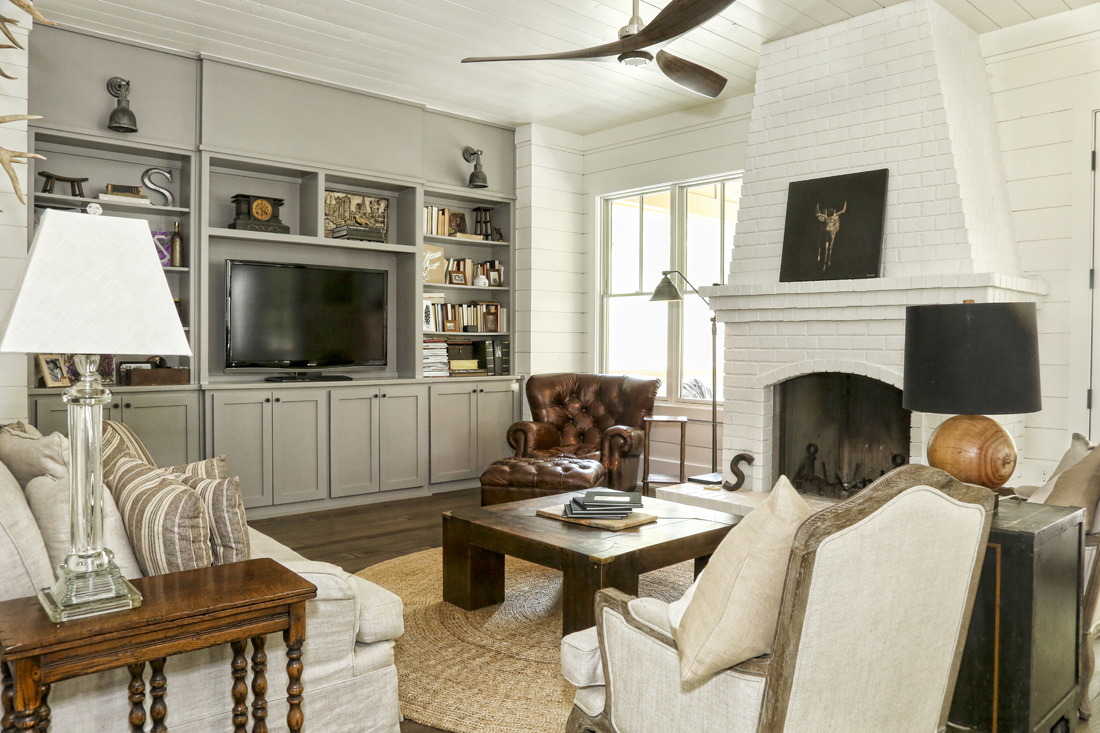 Ashley and Shane Schoenith's Brookhaven home is a haven for her company's sweet Southern aesthetic
I f you've lived in the South and been paying attention to interior décor for the past 10 years, chances are you've seen one of Heirloomed owner Ashley Schoenith's agrestic artisan products. You may have even used one of the watercolor botanical prints that float about Pinterest or a sashed linen apron like those beloved by editors of Better Homes and Gardens, O and Real Simple.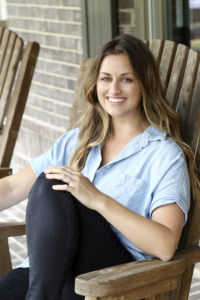 Following a childhood surrounded by her grandmother's well-loved wares, the Tallahassee native grabbed a degree from UGA then moved to Atlanta to kick off a career in the advertising industry before founding a manufacturing company and blog that's become a household name with Southerners. Business has boomed since she officially changed the moniker from IceMilk Aprons to Heirloomed in early 2015 and added additional product lines—all handmade goods based on the concepts of scratch, simplicity, storytelling ability and inheritability. You can find anything from a live-edge wooden chopping board to a ceramic oyster dish on Schoenith's website, Heirloomedcollection.com.
After several years in Brookhaven, she and husband Shane have added three kiddos to their brood (Wyatt, 4, Sawyer, 2, and Waylan, 1). So the pair set out to create their dream home, working with architect Donald Cole, of Creative Concepts Studio, and builder Sean Doughtie, of Schilling & Company, to create a floor plan perfectly suited to their lives together.
After selecting a lush Brookhaven lot where they razed the existing ranch, the Schoeniths built a two-story residence with wide hallways and a basement for Schoenith's Heirloomed business needs as well as incorporating classic Southern hallmarks, from the 12-foot-deep front porch—complete with rocking chairs—to the long gravel walkway surrounded by herbs, fig trees, blueberry bushes and white hydrangeas. "What we loved most about the lot were the woods in the back," Schoenith says. "We love being in the middle of the city, but still having room for the kids to run around."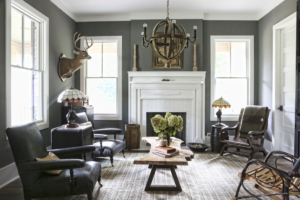 Over the past year, Schoenith has cultivated the home's interiors with a quintessential Heirloomed aesthetic: ultra-neutral and decorated with loads of antique and vintage objects culled from favorite flea markets and roadside pit stops. Shiplap walls (a woodpaneled treatment), old-fashioned six-panel doors, industrial sinks, local reclaimed-wood beams and a chicken wire-inspired stairwell railing all pop against grounding gray-washed oak floors, laid in varying widths to impart a visual rhythm. "[The floor] stays crazy trampled on, so we wanted something that would stand up to that," Schoenith says.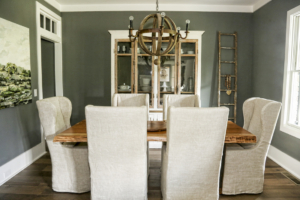 The Schoeniths like to mix masculine moments into the design. The broad entryway is punctuated by one of Shane's handsome hunting mounts and is flanked by two mirroring spaces: the sitting room and dining room, both painted in a moody shade of gray that adds gravitas to the home's formal spaces. In the sitting room, low-slung chairs are paired with an antique safe bearing the word Monticello—the same Georgia town where Shane's family's farm is located. A tall steel cabinet accommodates cocktail-making accoutrements, while the antique-reproduction fireplace features a bowl of old-fashioned brass doorknobs collected from the home that previously existed on this property. A BoBo Intriguing Objects reclaimed wine barrel-stave chandelier illuminates everything.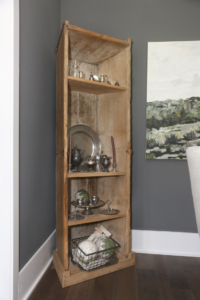 In one corner of the dining room, a cabinet made from an old horse trough is stacked with antique sterling and Match pewter pieces (most recently procured from Steve McKenzie's) that the Schoeniths give each other in honor of anniversaries. The room also features a peaceful painting by Schoenith's mother, Tallahassee artist Judy Leckey, and a 3-foot-wide dining table made from a felled pecan tree by Shane's Brookhaven woodworking company, WoodKith.
"'People don't believe us when we say it's pecan, but it really is," Schoenith says. "The slabs were huge." This exceptional wood specimen is surrounded by six linen-slip covered wingback chairs from Restoration Hardware and accented by ceramic design objects the kids are actually allowed to touch. Nothing is overly precious here. "I do a lot of coffee meetings and larger work meetings in this room, probably more so than actual dining, but we love it for dinner parties," Schoenith says.
Meals with the kids are more often enjoyed on the sturdy picnic table, also designed and crafted by WoodKith, that separates the kitchen from an open family room marked by built-in bookshelves, a white-brick fireplace and a roomy sofa.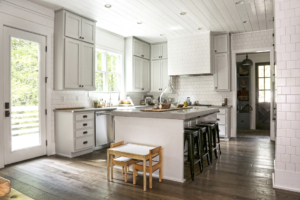 The cooking space is spacious enough for all of Schoenith's culinary activities, whether she's making a pot of warm leek risotto or throwing flour on the island to make cinnamon buns for a big weekend breakfast. "We had no counter space in our previous kitchen, so in this one, I didn't want a thing on the island—not even a sink," Schoenith explains. (Find her whimsical recipes on her blog.)
Caesarstone countertops in a color called pebble achieve the look of honed concrete and are virtually impervious to damage. The Schoeniths paired them with square white tiles and angular cup hardware in a textured iron finish, which contributes another masculine moment.
And since they were creating the kitchen of their wildest dreams, Schoenith made sure to include both open and closed storage on the integrated refrigerator wall, allowing her to showcase all the pretty white dishes in her ever-growing collection.
Around the corner, a mudroom boasts convenient built-in cubbies and herringbone brick floors, plus a spacious pantry built to spec, accommodating everything from cookbooks to super-tall vases.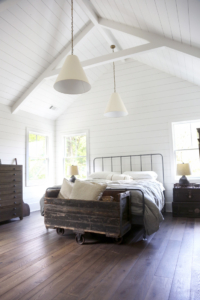 Upstairs, the home's square-shaped layout wraps around a central stair hall. This floor accommodates a roomy laundry space and four sizable bedrooms, including a lofty master with exposed rafters. The room's rustic decor features a metal-frame king bed, card catalogue-inspired tall chest and handsome writing desk, with elements like primitive farm tools imparting whimsy.
Adjoining the master bedroom is both the master bath, with its glass shower stall and bold black and white tiles, and Waylan's nursery. The baby's room contains a Hollywood Regency chest, weathered Asian console, giant stuffed giraffes and an Heirloomed felt pennant flag bearing his moniker.
The other kids' rooms are equally cute. Eldest son Wyatt's boasts a bunk bed, glossy forest green Marais chairs and a woodcut of woodland scenery picked up in Nashville.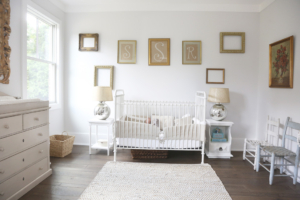 Sawyer's room revolves around a rose painting by Schoenith's greatgreat aunt. It's femme, but in the floral sense; there's not a wealth of pink, but there are touches of gold and old-fashioned glamour. "With Sawyer being the only girl, I wanted her room to be really light and pretty," Schoenith says. "This was my one shot at being as girly as we could be."
Besides Sawyer's forthcoming transition to a "big girl bed," the Schoenith house will see many more fun changes in the coming months. "We will soon renovate our basement into a family space and studio for our business, as well as finish our back yard [landscaping]." Just another day in paradise!
STORY: Kate Abney
Photos: Sara Hanna Photography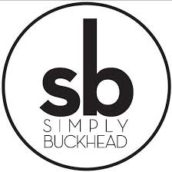 SimplyBuckhead
Simply Buckhead is an upscale lifestyle magazine focused on the best and brightest individuals, businesses and events in Buckhead, Brookhaven, Sandy Springs, Dunwoody and Chamblee. With a commitment to journalistic excellence, the magazine serves as the authority on who to know, what to do and where to go in the community, and its surroundings.