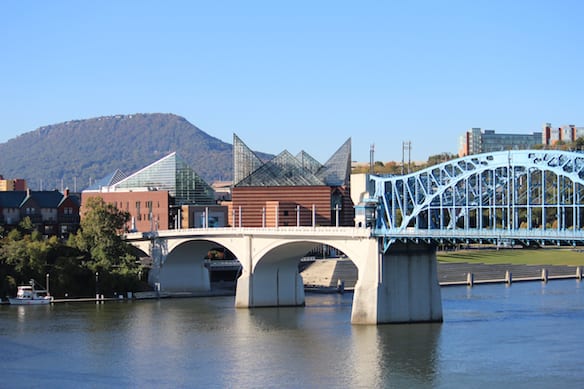 Nashville's great … but so is this Tennessee town
By mid October, I had just finished the first month at a new office job, my husband, Jason, was coming off of a major project at work and the two of us were craving a break. We didn't have many requirements; we just wanted to visit a place close by where we could have fun and enjoy being together. Chattanooga had been on our radar for a while, thanks in large part to those "Am I Dreaming" tourism commercials. Just two and a half hours northeast, this Tennessee town was a no brainer.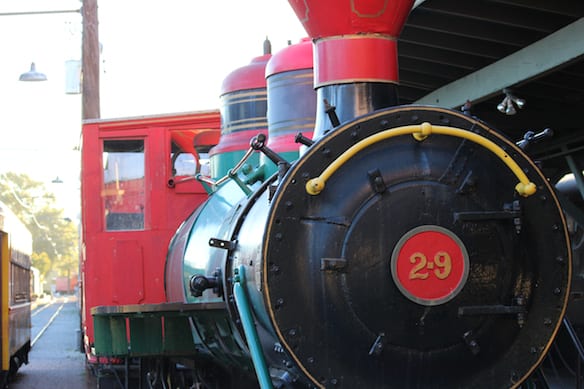 The wow factor was immediate. Routinely ranked as a top town for the active set by the likes of Outside magazine, its picturesque mountain ranges, rock faces, lakes, rivers and verdant green spaces make it a popular locale for stand up paddle boarders, runners, bikers, climbers, hikers, kayakers and more. Looking around at the litter free sidewalks, the healthy locals and the vibrant natural surroundings, it's difficult to believe that in 1967 Chattanooga was named the most polluted city in America by the Environmental Protection Agency. These days, it's a far cry from its former condition. It even touts its own city funded environmental ambassador of sorts, Outdoor Chattanooga, which serves to protect the nature scene and encourage people to get outdoors.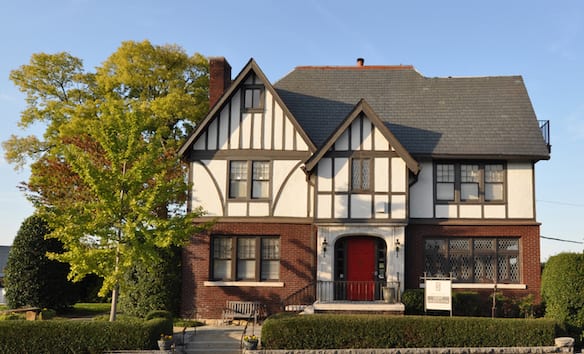 We relied on this eco minded group for advice on a good bike route and ended up cruising the 8 mile Tennessee Riverpark, then breaking off to explore the downtown area. It was a unique way to get a feel for the lay of the land and to experience the stunning waterside views and changing fall foliage. In Chattanooga, you can swipe a credit card at one of the several bike stands around town and go on your way you're charged $6 for a day.
We chased our cycling adventure with a less athletic venture and snagged seats on one of Pints and Pedals Chattanooga's 15 seat bicycles for a pedaling beer tour. Hitting bars around Southside and Downtown Chattanooga, you pedal your way from bar to bar as your designated driver steers you safely ahead. During our two-hour pub crawl, we expe- rienced happy hour in a whole new light (and slowed down traffic), as we maneuvered the cumbersome ride from block to block. Chattanooga Brewing Company's spacious tasting room and flavorful beers were a favorite, but so too were the sites along the way.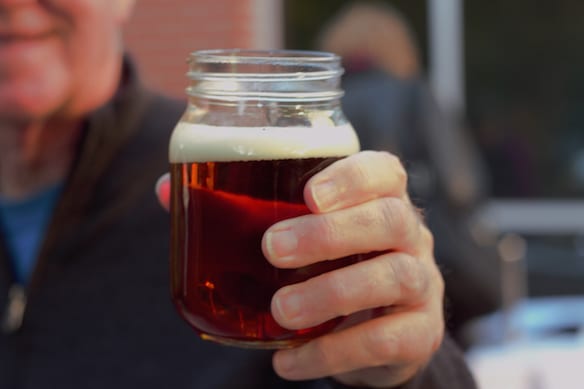 The majority of our four day visit was spent in and around the walkable downtown area, which gave us easy access to many of the city's most popular attractions. Favorite spots included the Hunter Museum of Art, the Tennessee Aquarium (the active sea otters and penguins stole the show), and the shops at Warehouse Row, a mixed-use development. Tupelo Honey Café, Brash Coffee, yoga and Pilates studios and a range of boutiques, such as Kayce Hughes, Anthropologie and Embellish shoes, all make an address here.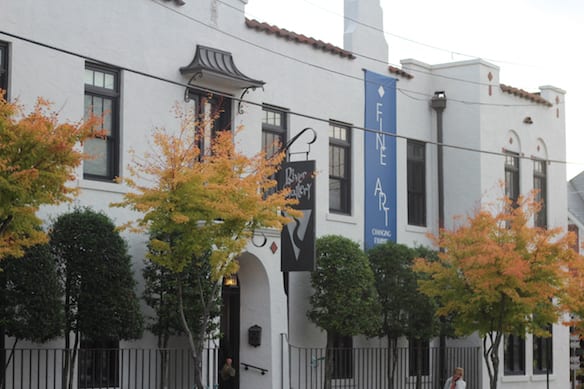 We felt the modest exertion of riding bicycles and walking gave us license to gorge. First up was lunch at the famed Sugar's Downtown. Reveling in its old school roadside stand atmosphere, we tried a little bit of everything pulled pork and beef brisket sandwiches, smoky grilled okra, wood-fired flatbreads and pork-smothered nachos. This "eat like there's no tomorrow" philosophy carried over to other spots, such as the organic minded 212 Market, the modern styled Easy Bistro & Bar (where unexpectedly elegant small plates were exquisitely envisioned), and the European-inclined Back Inn Café at Bluff View Inn. Easy Bistro & Bar was my favorite by a small margin I was partial to the delicate squash and pear soup. Jason rediscovered a long lost love for bread pudding and managed to down four renditions within four days (no judgment). He claims you can get the best at 212 Market.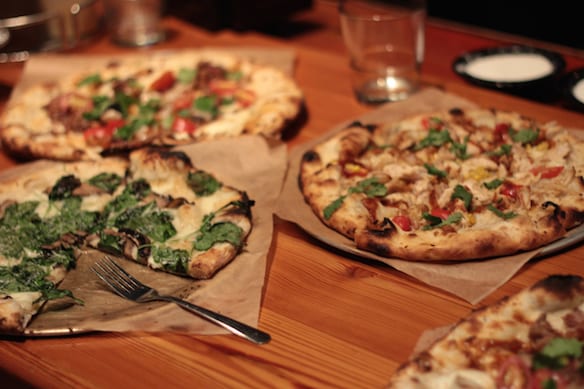 We stayed in retro Victorian digs at the Chattanooga Choo Choo Hotel, in a repurposed train car that once chugged along the tracks of the Southern Railway. We were instantly charmed and found our hotel inter- esting for the novelty, the location (central to downtown) and the hotel's designation on the Historic Hotels of America list. Though these rooms may appeal to couples with kids or to train buffs, know that the walls are thin and bathrooms and lodgings could use an update. The hotel is actually undergoing a major renovation in 2015 that will include new restaurants and various hotel upgrades, so we'd be tempted to stay again, especially if we have kids in tow.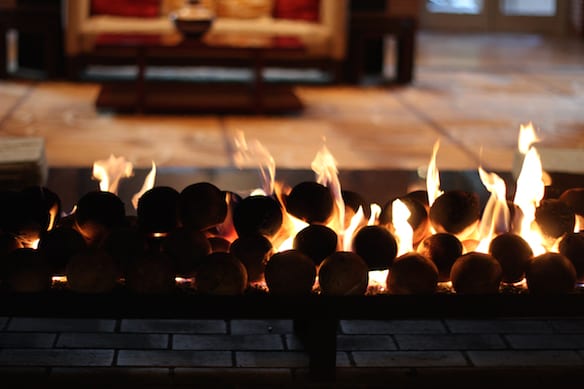 While in town, we also stopped by the modern, upscale The Chat- tanoogan hotel and enjoyed moonshine cocktails beside an early evening fire. Next time we come through, I'll be booking a stay at the cozy Bluff View Inn (rates from $105-$240) at Bluff View Art District, which boasts its own coffee shop, bakery, sculpture yard, art gallery and restaurant all top notch.
Like all fun getaways, the trip ended too soon. Despite our four day visit, we didn't have time to go hang gliding, to hike Ruby Falls or to see Rock City. What we did have time for, was each other. And that was the whole point.
Eat:
212 Market
212 Market Street Chattanooga 37402
423.265.1212 www.212market.com
Back Inn Café
411 E. Second Street Chattanooga 37403
423.265.5033 www.bluffviewartdistrict.com
Easy Bistro & Bar
203 Broad Street Chattanooga 37402
423.266.1121 www.easybistro.com
Sugar's Downtown
507 Broad Street Chattanooga 37402
423.508.8956 www.sugarschattanooga.com
Do:
Chattanooga Pints and Pedals
423.380.8359 www.pintsandpedalstn.com
Outdoor Chattanooga Center
200 River Street Chattanooga 37405
423.643.6888 www.outdoorchattanooga.com
Tennessee Aquarium
One Broad Street Chattanooga 37402
800.262.0695 www.tnaqua.org
The Hunter Museum
of American Art
10 Bluff View Chattanooga 37403 423.267.0968 www.huntermuseum.org
Warehouse Row
1110 Market Street Chattanooga 37402
www.warehouserow.net
Stay.
Bluff View Inn
411 E. Second Street Chattanooga 37403
423.265.5033 ext. 2 www.bluffviewartdistrict.com
Chattanooga Choo Choo Hotel
1400 Market Street Chattanooga 37402
800.872.2529 www.choochoo.com
The Chattanoogan
1201 South Broad Street Chattanooga 37402
800.619.0018 www.chattanooganhotel.com