MEET THE LOW-PROOF COCKTAIL.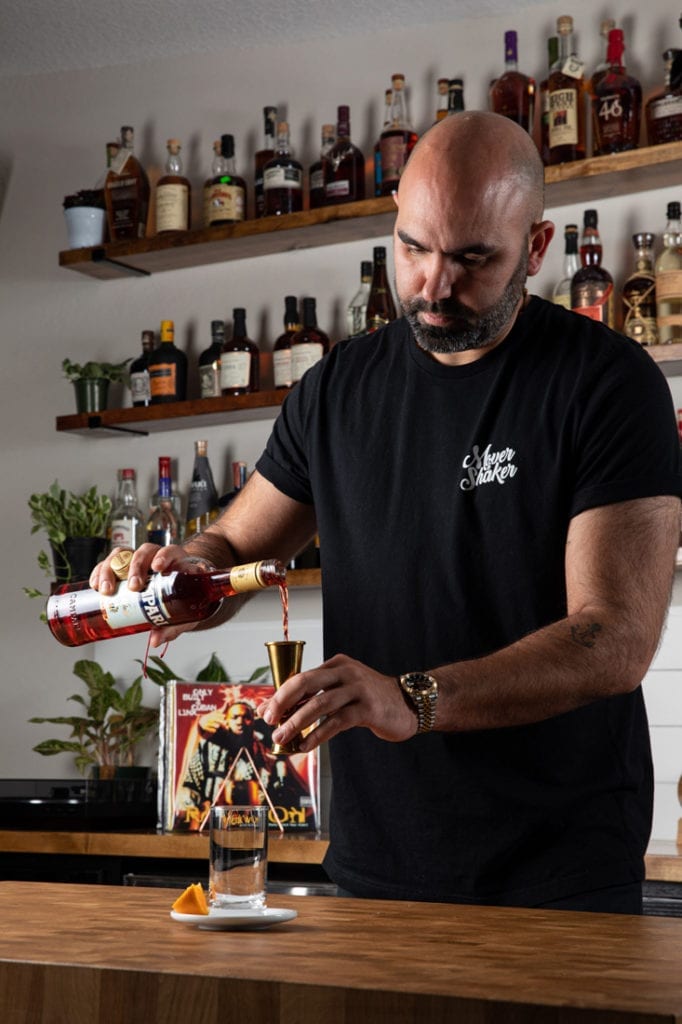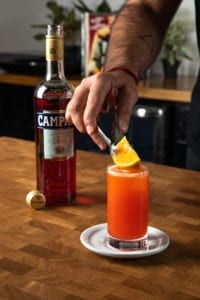 Light in alcohol but substantial in flavor, low ABV (alcohol by volume) cocktails are having a moment. These days it's easy to find or craft a cocktail that engages ingredients with multi-dimensional flavors that belie their lowered booziness. Drink low proof to be able to order a few or beat a hangover, or simply because they're delicious.
Just about every cocktail follows a basic structure: spirit base, body or modifier and flavoring agent all in perfect balance. There are easy ways to reduce ABV and maintain that balance to have all the flavor and ceremony of a cocktail without the punch of hard liquor. The Italians, French and Spanish have long extolled the pleasures of Amaro, sherry and vermouth to refresh and intrigue the palate. It's easy to make up the difference in a glass with subtler additions. The tradition of aperitifs (served before dinner) and digestifs (after dinner) are often light in alcohol and bitter in taste.
Storico Vino bartender Jose Pereiro employs the bitter and bracing Italian liqueur Campari for his Garibaldi. Named for Giuseppe Garibaldi, a main figure in the unification of Italy, Pereiro says it is the perfect cocktail to start a meal. He gives fluffy texture to freshly squeezed orange juice using a centrifugal juicer. Citrus balances the liqueur's underlying bittersweet notes of cherry, clove, rhubarb, cascarilla bark and cinnamon.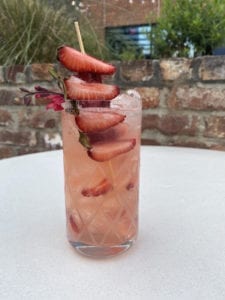 To lighten up a favorite cocktail, flip the formula. Invert the portions of vermouth and whiskey in a Manhattan, making the lower-proof spirit the base. Stir your ice cold martini with two parts vermouth and one part gin. Try a Blood Mary with Manzanilla sherry instead of vodka. The fortified wine made from coastal grapes has a saline quality that actually adds a bit of salty tang.
There are classics in the low ABV class of cocktails, too. Like Negronis? Swap fizzy club soda for gin, and you have a classic, low-proof Americano. For an Adonis, mix equal measures fino sherry and sweet vermouth. For a less sweet and more herbaceous take called a Bamboo, mix equal measures dry vermouth and dry sherry and a couple of dashes of bitters.
The low-alcohol package of a spritz is a category in itself. The standard combination of sparkling wine, bitter liqueur, soda and ice is a template with thousands of variations that keep alcohol in check and effervescence at a celebratory level.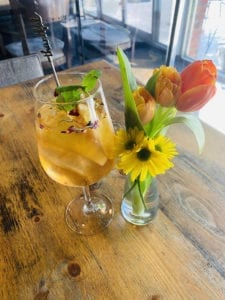 At Nick's Westside, Beverage Manager Matt Gibbons makes a summertime sparkler he calls Strubarb Spritz. It begins with fresh strawberry and rhubarb stewed in simple syrup and muddled. Add to that Ramazzotti Rosato, an Italian digestive that is fresh and fruity with the flavors of hibiscus and orange blossom. A half ounce of Dimmi Liquore di Milano adds herbal essence and aromatics of peach blossom. He then tops it with sparkling water and a skewer packed with strawberries and rhubarb. It's a little bit cocktail, a little bit appetizer and a whole lot of the magic of summertime packed into a glass.
Twisted Soul Cookhouse and Pours Beverage Manager Kursten Berry captures the fleeting enchantment of summer in her Love Light in Flight, her take on a classic Bianco spritz. The brightness of dry Italian bianco vermouth gives structure to this golden hued refresher. She imbues sultry flavors of jasmine, citrus and rose syrup that are further aromatized with the bubbles used to top off the drink.
Whether you call them low ABV, session cocktails, suppressors or shims, low-proof drinks have a lightweight build but all the intrigue and complexity of a full-proof cocktail.
DETAILS:
Storico Vino
3065 Peachtree Road N.E.
Atlanta 30305
404.806.0050
storico.com
Nick's Westside
956 Brady Ave. N.W.
Atlanta 30318
770.838.3501
nickswestsideatl.com
Twisted Soul Cookhouse & Pours
1133 Huff Road N.W.
Atlanta 30318
404.350.5500
twistedsoulcookhouseandpours.com
Angela Hansberger
Drinks columnist at Simply Buckhead. Food, spirits, and culture writer.