The Xerogeanes clan remodels its Brookhaven home to keep up with the times and the family's busy lifestyle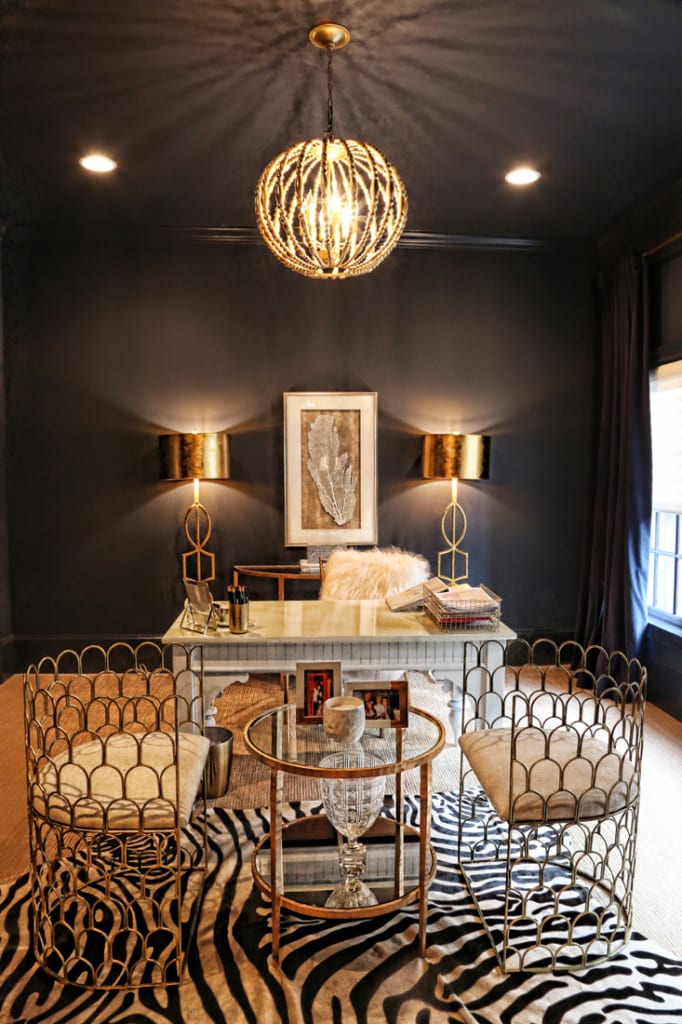 STORY: Giannina Smith Bedford
PHOTOS: Sara Hanna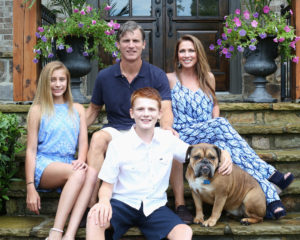 Teri and John Xerogeanes moved into their home in 2004 to prepare for starting a family. Fourteen years later, the five bedroom abode in a gated Brookhaven community continues to be the warm and inviting place they hoped for their brood, which today includes 13-year-old daughter Thea, 11-yearold son Rocco, English bulldog Charlie and cat Currey. The 7,200-square-foot residence, custom built by John Willis Custom Homes, isn't the same place they purchased, however. Through the years, they've made renovations and additions, morphing the dwelling to fit their changing family dynamics and keep the stylings up-to-date. "I really don't like when houses start to look dated, so we just did little things, a little at a time," says Teri, who launched her e-commerce candle business, Wax Candle Bar, in September 2017. "The house is a project in motion; it never stops."
With Teri's new business, John's demanding schedule as chief of sports medicine and professor of orthopaedic surgery at Emory University School of Medicine, and the kids' busy athletic commitments, the Xerogeaneses needed a headquarters that would keep everyone organized. So in 2013 they converted the garage into a mudroom and built cubbies for each member of the family to store shoes, bags and gear. They enclosed the space with a barn-inspired Dutch door, which makes it easy to corral Charlie when needed. "I like things to be clean and neat and orderly and simple. I don't like a lot of clutter," says Teri.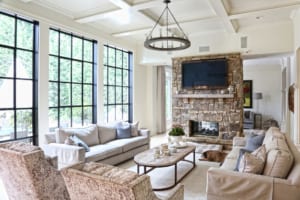 Their home also needed to be a place where, during their leisure time, the Xerogeanes clan could relax and enjoy extracurricular activities. This includes cooking in the kitchen, which was completely gutted in 2016. They replaced the dark ebony cabinets with white ones and the St. Cecilia granite countertops with honed Palissandro marble from Greece, which they also used as a backsplash behind the Viking stove top. "I love my kitchen," says Teri. "I spend so much time there. It's soft and peaceful and calming. It's the heart of the whole house."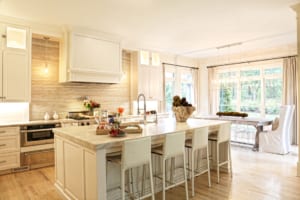 Adjacent to the light and airy kitchen is an eat-in dining area furnished with a table from Scott Antique Markets that Teri whitewashed, ghost chairs and two seats with tall backs at the head of the table. During the kitchen's renovation, which took approximately five months, the Xerogeaneses also redid the home's ebony floors, replacing them with yellow pine finished with a custom combination of white paint and clear varnish to make them as light as possible.
They also replaced the living room's French doors with striking floor-to-ceiling iron windows that look out towards the pool, which was added in 2015. "With the pool, the kids would run in all these doors, and I'd have wet floors. [The new windows force] them to go through the mudroom instead," says Teri.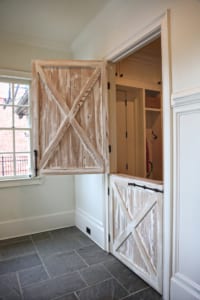 Another feature in the sunlit living room is a two-sided stone fireplace shared with an adjacent sitting area, where a Fernando Botero bullfighting print presides over furnishings from South of Market. The home's main level also includes an elegant dining room with a temperature-controlled wine room and a study near the front door showcasing a mounted deer head gifted from Teri's avid-hunter brother. The cozy space is furnished with two Pottery Barn brown leather chairs nestled in front of a fireplace, inviting guests to sit with a glass of wine and admire the black-and-white photographs of the Xerogeaneses' ancestors. "When we got married, I was 33 and John was 38, and we didn't need anything, so we told our family what we wanted [in lieu of wedding gifts] was for them to give us photographs of our family going back generations," says Teri. "We had them professionally framed."
The basement, which Teri and John transformed into a playroom in 2006 after Thea was born, was redone for a second time in 2017. Today, it houses Teri's chic, feminine office decorated with a zebra-print rug from Scott Antique Markets, Mitchell Gold + Bob Williams gold chairs and lamps from Wayfair to match.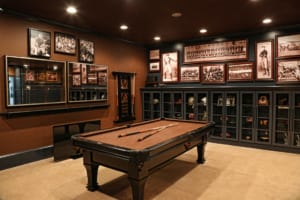 "When I want to get away, I like going down to my office and shutting the doors," says Teri.
When she isn't working in her office, Teri can be found creating and packaging candles in her "candle cave," a converted storage room where all the magic happens for Wax Candle Bar. The basement isn't all work and no play, however. It also boasts a full bar, theater and pool table. Painted in Benjamin Moore's Hale Navy, it boasts a decor inspired by the pubs the Xerogeaneses visited on a recent trip to Ireland. Teri covered the walls with vintage-style sports images and filled a wall-length built-in with sports memorabilia, including John's father's football helmet, Rocco's game footballs and other items gifted to John from his athletic patients.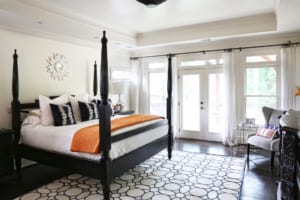 The framed prints of English bulldogs throughout the basement pay homage to the family's beloved Charlie. The sports theme extends into the basement guestroom, which gets used often by out-of-town guests. "Our house is like Grand Central Station. People are always coming and going," says Teri. "We have a lot of family and friends who live out of town, so when we built the house, we built it with the intention of being able to house our friends when they come. It's definitely served its purpose."
The family bedrooms are all located upstairs. Thea's room is über-girly, with teal and gold accents and a chandelier, while Rocco's is a navy-colored ode to football. Teri and John's master bedroom is done in navy, white and orange, and offers a spacious balcony overlooking the pool.
Their galley master bathroom, reconfigured and renovated with the help of architect Nathaniel Seay, has marble countertops and his-and-her walk-in closets. The room also features rustic ceiling beams, a freestanding tub from now-shuttered Pirch and gold and glass light fixtures from Arteriors.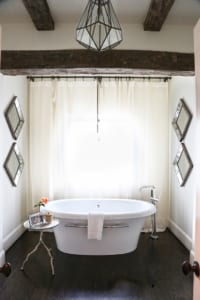 For all their home renovations, the Xerogeaneses used Derazi Homes, but the interior design genius is all Teri. "Most people find interior design overwhelming and complicated, but it comes naturally to me since it's one of my passions," she says. "I love seeing the end result and knowing the history and planning behind each room design. I love design trends, but if you really take your time and select timeless pieces, your home will always look fresh and inviting."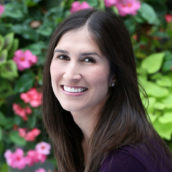 Giannina Bedford
Giannina S. Bedford is multi-faceted writer and editor. Her work covers design, travel, food and business. She's penned Simply Buckhead's home feature since inception and held a variety of editorial roles at the magazine. Her freelance work has appeared in Condé Nast Traveler, USA Today, Virtuoso Life, Hemispheres and TravelandLeisure.com. She also contributes regularly Atlanta Business Chronicle. Fluent in Spanish, Giannina was born in Miami and grew up in Brazil, Chile, Hawaii and Australia. She currently lives in Dunwoody with her two kids and husband.