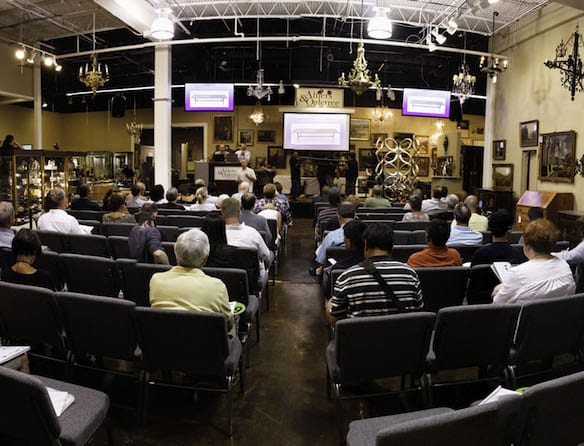 STORY: H.M. Cauley
Antiques dealer Christy Ogletree recalls being overwhelmed by one particular emotion the first time she attended an auction. "I was scared to death!" she says. The idea of beating out another buyer with a raised paddle or discreet nod can be frightening, Ogletree says. But once the fear of bidding is overcome, most people who attend auctions are hooked on the high of being in a room filled with an array of antiques and jockeying for the right to take one home.
Energetic and enthusiastic bidding is part of the attraction at the bimonthly auctions staged by Ogletree and her husband, Robert Ahlers at Ahlers and Ogletree Auction Gallery, their Miami Circle showroom. The couple, who also owns 14th Street Antiques & Interiors, Peachtree Battle Antiques & Interiors, Black Bear Antiques, Buckhead Lamp & Shade and Peachtree Battle Estate Sales & Liquidations, started an auction house last year with a few specific goals in mind.
The first, says Ahlers, was fulfilling a longtime dream. Another was a desire to keep Atlanta's extraordinary collection of paintings, sculptures and period furniture from leaving town.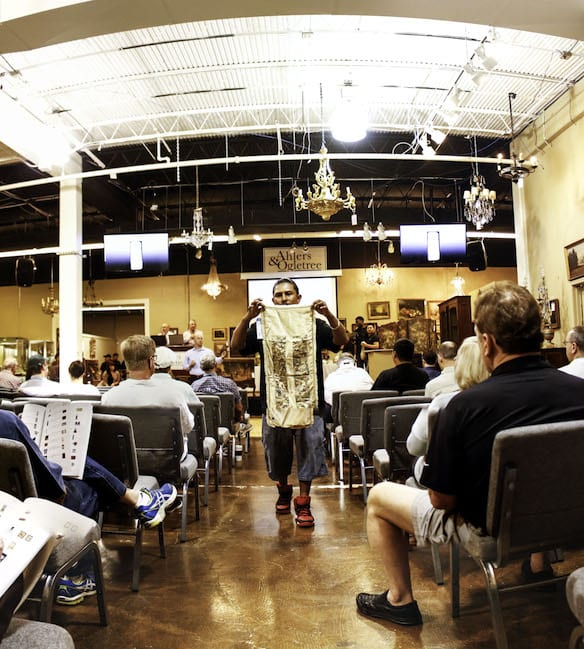 "I've always wanted to have an auction space to keep Atlanta's antiques in Atlanta," Ahlers says. "There was a void here, and people were taking items out of town to auction. My goal is to be an honest and reputable business that Atlantans can count on to handle their prized possessions."
A combination of the economic downturn and aging baby boomers moving to smaller homes has produced a bumper crop of those once-prized possessions that need new homes. "Those factors are driving a lot of our business right now," Ahlers says. "We are an outlet providing a service to help them sell the items they can't take with them."
The auctions have been so popular since they began that the owners have expanded the showroom from 6,500 to 10,000 square feet to handle the crowds and the array of items heading to the block. At a late-August event, that array included sterling silver pieces, full sets of china, French and American furniture pieces and paintings. More than 100 designers, retailers, dealers and collec- tors vied to be the final buyers, and having that many in the crowd only adds to the excitement, Ahlers says.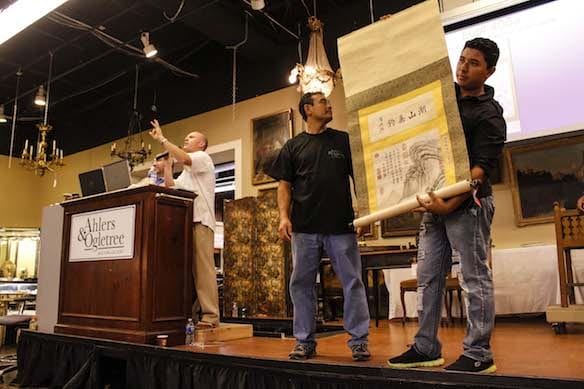 But it's not just the in-person bidders who get in on the action. Thanks to the Internet, potential buyers can preview items online and bid in real time from cyberspace.
"At our August auction, we had 881 approved bidders, not just from Atlanta but from around the world—52 countries, to be exact," Ahlers says. "There were bidders from China and Russia on the phone. So we can also offer Atlantans a worldwide market for their antiques."
The auction house can also offer unexpect- ed deals, ones buyers are unlikely to find in the traditional markets. And there may be times when an item surprises everyone. At the August event, where most items sold from $100 to $20,000, an antique scroll with an opening bid of $400 brought a spectacular $50,000.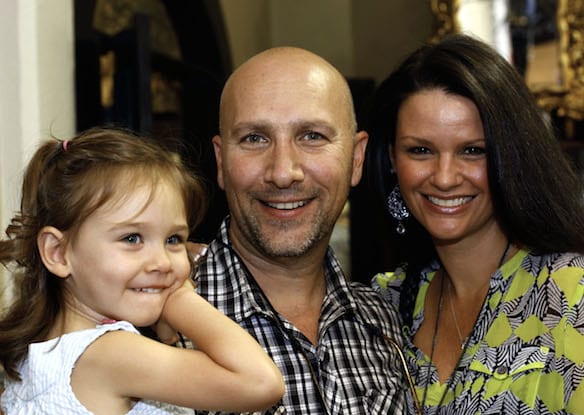 "When you offer 1,100 lots in a weekend, there are sure to be bargains that slip through the cracks," Ahlers says. "And then there are some that really exceed expectations."
AHLERS & OGLETREE AUCTION GALLERY
715 Miami Circle, Suite 210 Atlanta 30324
404.869.2478 | www.aandoauctions.com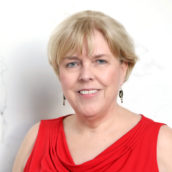 H.M Cauley
Atlanta-based writer and editor contributing to a number of local and state-wide publications. Instructor in Georgia State's Communication department and Emory's Continuing Education division.