Homegrown talent
Buckhead native stays true to her art
By H.M. Cauley
From a young age, Hutton Snellings sensed there was more paint than blood in her veins. The Buckhead native doesn't recall a time when she didn't ache to have a brush in her hand and a paper to draw on. At 25, she's still focusing on the one thing she loves best.

"I remember being about 12 and seeing a painting in a magazine that I copied to a T," Snellings recalls. "I couldn't sleep that night; I was so excited to finish it. I knew even then this was what I was meant to do."
At 15, while still a student at the Lovett School, Snellings showcased her somewhat abstract oil paintings at a friend's house where she sold $1,000 worth of work. "It was a big deal!" Snellings says with a laugh. The debut also got people talking about her art, and she was contacted by the Make-A-Wish Foundation about donating a piece for a fundraising event.
"People got into a bidding war over it, and I don't know where it ended up, but I did get seven commissions from that evening," she says. "Since then, I've donated to charities I care about—the Epilepsy Foundation of Georgia, GCAPP, Art for Heart, Holy Innocents, Children's Cancer Foundation and Lovett."
At the University of Mississippi, Snellings lasted only a short time as an art major before switching to business. "I had learned a very particular style, and people were telling me it wasn't right," she says. "And as an art major, I was required to take classes like wood shop. It was degrading to what I was passionate about. The whole idea of art is to come up with something new and yours, and I wanted to stay true to myself and what I wanted to do."
After graduating three years ago, Snellings headed home to Buckhead with her easel. Her work, priced from $1,000 and up, has quickly filled most of her Buckhead apartment that doubles as showroom and studio for her abstract style, filled with clean-cut lines and loads of layers in acrylics and oils. Her inspiration is whatever she enjoys, from the Atlanta skyline to portraits.
"I picture something I would want in my house and do it," she says. "I'm also very good at going into a room and creating a piece just for that space. I love how art changes a room. It's not about making a piece match but creating something that enhances the look and feel of the space."
And she's stayed constant to the concept she created as a teenager. "If you look at paintings I did when I was 15," she says, "they still look like what I did yesterday."
Art by Hutton Snellings
Information about the artist's works is online at www.huttonsnellings.com.
A selection of her work is on display at Rumson Gifts, 458 E. Paces Ferry Road, www.rumsongifts.com.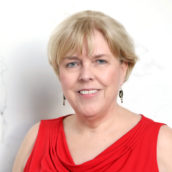 H.M Cauley
Atlanta-based writer and editor contributing to a number of local and state-wide publications. Instructor in Georgia State's Communication department and Emory's Continuing Education division.