Shop 'til you drop at Covenant Presbyterian Church's annual holiday bazaar.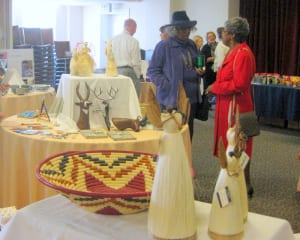 To make holiday shopping enjoyable and rewarding, swap stressful Lenox Square crowds for the Global Gift Market at Covenant Presbyterian Church on Sunday, Dec. 13. From 12:30 to 5 p.m., shoppers can select from an array of handcrafted gifts, including jewelry, home decor, accessories and food products, including chocolate, coffee and cocoa from the Presbyterian Coffee Project, an initiative of the Presbyterian Church USA.
The sales support the efforts of Ten Thousand Villages, one of the largest fair-trade organizations in the world, representing artisans from 38 countries, spanning Asia, Africa, the Middle East and Latin America. It specializes in promoting the works of village artisans who craft one-of-akind items, ranging from festive trays and platters that can grace a holiday table to scarves and bags that make unique stocking stuffers.
The gift market will also support Covenant Presbyterian's work with the La Gonâve Haiti Partnership that furthers education, healthcare, agriculture and economic growth in the island country.
Prior to the bazaar, the church will hold its lesson and carols service at 11 a.m., which is open to all. The Global Gift Market elevates the season of giving from one of hectic traffic and long lines to one of global impact and philanthropy. – Jamie Hausman
Global Gift Market
Dec. 13
Covenant Presbyterian Church
2461 Peachtree Road N.W.
Atlanta 30305
404.237.0363
covenantpresbyterian.us