A young couple transforms a 1940s Springlake residence into a chic first nest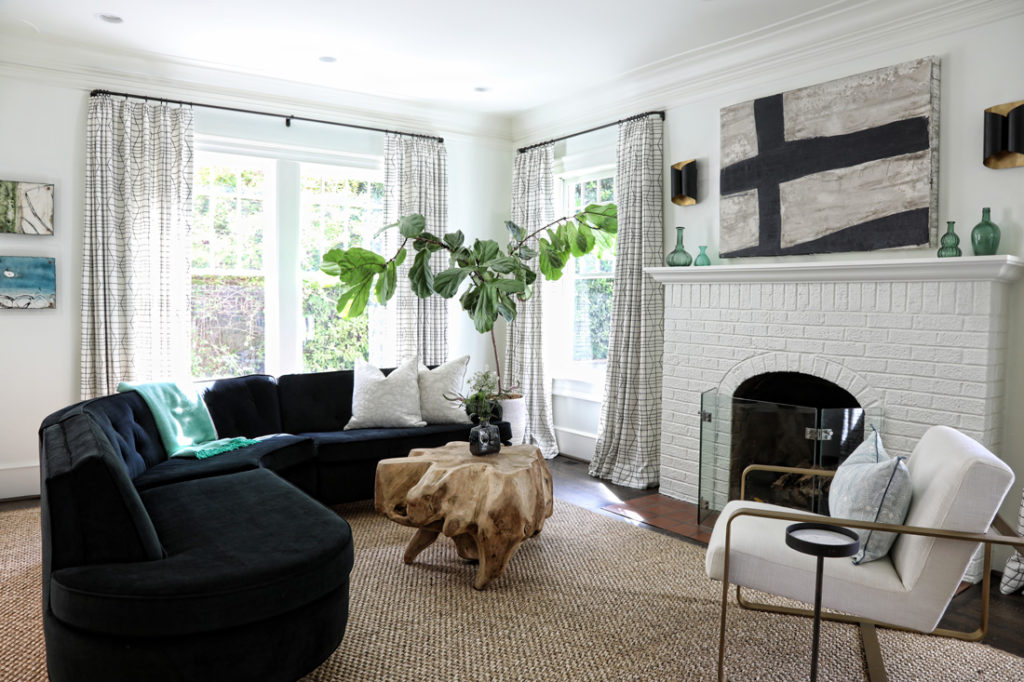 Seven months after Catherine and Ben Palmer got engaged, they decided to trade their Peachtree Hills rental for their first real home, a renovated 1940s bungalow in the Springlake neighborhood.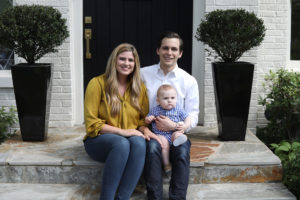 "We wanted a neighborhood that had a community, and Springlake has a lot of young families," Catherine says. "The house doesn't look huge. It was very charming, and that was our style."
Upon closing in April 2017, the couple immediately began prepping the 3,783-squarefoot residence for their new life together. In addition to painting every square inch of the interior and exterior, they replaced fixtures and refinished the original hardwood floors.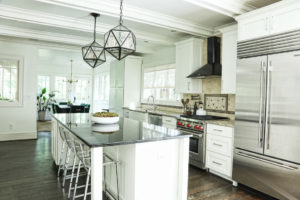 "[The interior] was outdated with warm and orange tones," Catherine recalls. "The goal was to make it look modern but timeless with unique pieces of furniture inspired by midcentury pieces from our family." Incorporating heirlooms into the decor became an important component of the design, particularly since Ben's grandfather died in 2016 and passed down a collection of vintage furnishings. Although many of the pieces needed to be refurbished, the trove included items by well-known names such as modern furniture and industrial designer Paul McCobb. To help pick the best options for their home, the couple enlisted family friend and interior designer Andrea Henzlik.
"We brought Andrea over to my grandparents' house to tell us if we could use any of the furniture, and she was like, 'Oh yeah'," Ben says. The Palmers re-stuffed and recovered a curved sofa in black fabric, transforming it into a statement-making piece for the formal living room where it shares the spotlight with a wood root coffee table from South of Market. Paul McCobb side tables became nightstands in the master bedroom, resting beside the Restoration Hardware bed.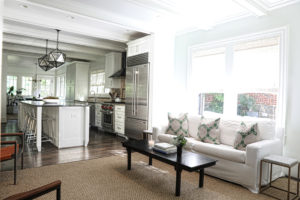 The main level guestroom, one of two in the home, also features Ben's grandfather's vintage furnishings: a dresser with its original hardware and a wood bed, now topped with Serena & Lily linens.
Among the sentimental decor, Henzlik and the homeowners filled in with new designer pieces from showrooms at the Atlanta Decorative Arts Center, rugs from Scott Antique Markets and custom artwork by Morgan Henzlik, Andrea's daughter, as well as pieces selected from Pryor Fine Art.
"The goal was to create a fresh and young feel to juxtapose the classic, midcentury pieces that were inherited," says Henzlik, whose firm is based in Buckhead. "The clients really wanted a clean, monochromatic look, and they knew they wanted to incorporate black, white and green into the color scheme."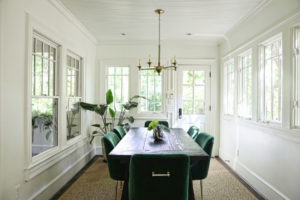 The mix of old and new is apparent from the entryway where an arched front doorway original to the house is flanked by custom gas lanterns from Carolina Lanterns & Lighting. Inside, the light-filled foyer sets a welcoming and refined tone with a custom chaise lounge covered in botanical Mokum fabric. The home's open floor plan, a result of the 2008 renovation that took the residence from one bedroom to five, includes a spacious kitchen with a large island. Nearby, the dining space is furnished with a Restoration Hardware table and green velvet chairs with gold hardware from Anthropologie. Off the dining space, a porch with painted wicker furniture and a big screen TV creates the ideal place to watch a fall football game.
"We love to host neighborhood get-togethers, friends for UGA football games or family for Thanksgiving," Catherine says.
The Palmers made sure to plan their home's design around their life as a married couple, knowing they wanted to start a family. When they got pregnant with their son, Tripp, who will turn 1 in September, they decided to renovate the upstairs nursery and adjoining bathroom for the soon-to-arrive bundle of joy. The aquatic-themed space is mostly white with light touches of color.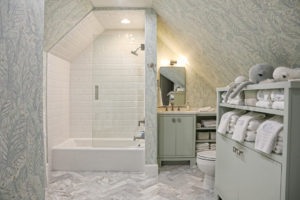 It features a daybed designed by Andrea Henzlik from Westside Custom Upholstery, curtains in Galbraith & Paul fabric and stuffed marine animals from Etsy mounted above the Restoration Hardware crib. The angled and arched ceiling—remnants from the room's previous life as an attic—accentuate the coziness. "The goals for the nursery were to create a calm and peaceful space but still keep it whimsical and playful," Henzlik says. "We also wanted to create a space that would grow with him."
Next door, Tripp's bathroom is more contours and cuteness. Tiled marble floors, cabinetry painted in Benjamin Moore Hollingsworth Green with hardware by Addison Weeks and Christopher Farr Cloth wallpaper create a calming respite for bath time.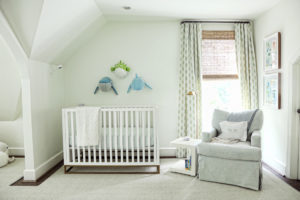 "Our home is where we built our family. We bought it the year we got married, and now we have our son," Catherine says. "We bought it knowing we wanted to start a family and kept that in mind every step of the way while we designed it."
THE PALMERS' TOP 5 RENOVATION LESSONS
1. Do research. Making selections on tile, wallpaper and paint color can be difficult. It makes the process easier when you have done research for inspiration on Pinterest to share with your designer or the consultant at the store.
2. Develop a clear budget. It's important to make a budget and stick to it. Decide what's most important to spend money on and find ways to cut back in other areas.
3. Make a plan. Plan when different contractors will come because sometimes you have people who specialize in different trades, and they must go in a specific order. For example, you have to lay tile after the large fixtures are in, but you shouldn't paint until the end.
4. Start the process early. Many materials can take six weeks or more to get in, and contractors are difficult to schedule. If you start the process early, you may finish on time, but it's easy for material or labor delays to get in the way.
5. Consider working with a designer. Oftentimes, a designer can pass along special discounts on materials that can offset the price of a designer or even save money.
PHOTOS: Sara Hanna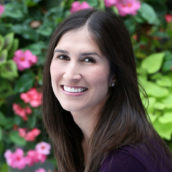 Giannina Bedford
Giannina S. Bedford is multi-faceted writer and editor. Her work covers design, travel, food and business. She's penned Simply Buckhead's home feature since inception and held a variety of editorial roles at the magazine. Her freelance work has appeared in Condé Nast Traveler, USA Today, Virtuoso Life, Hemispheres and TravelandLeisure.com. She also contributes regularly Atlanta Business Chronicle. Fluent in Spanish, Giannina was born in Miami and grew up in Brazil, Chile, Hawaii and Australia. She currently lives in Dunwoody with her two kids and husband.