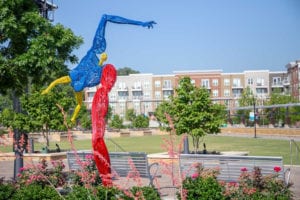 Four American artists have made a lasting impression on Sandy Springs. Their fantastic feats of steel will become a permanent part of the city's landscape, thanks to the public art initiative, ArtSS in the Open.
Featured in the inaugural sculpture garden competition unveiled last year at City Springs, the winning works include Optimistical by Nathan Pierce of Cape Giradeau, Missouri; Doppelganger by Carl Billingsley of Greensboro, North Carolina; Delilah by Joni Younkins-Herzog of Athens, Georgia; and Hand Plant by Jack Howard-Potter of New York City.
Each piece is designed around an "inspired by nature" theme, and the finalists were chosen through a juried process, including museum and gallery curators and well-regarded artists working in the realm of public art. With community input informing the decision process, the city purchased the pieces for $72,000 and is working with Art Sandy Springs and Designing Local to identify installation locations.
Meanwhile, the public can enjoy a new gallery of sculptures on display at City Green, the outdoor green space at City Springs.
CITY SPRINGS ART WALK
1 Galambos Way
Sandy Springs 30328
770.730.5600
citysprings.com/art