PLAN AN OUTDOOR AREA BOTH YOU AND YOUR PET WILL LOVE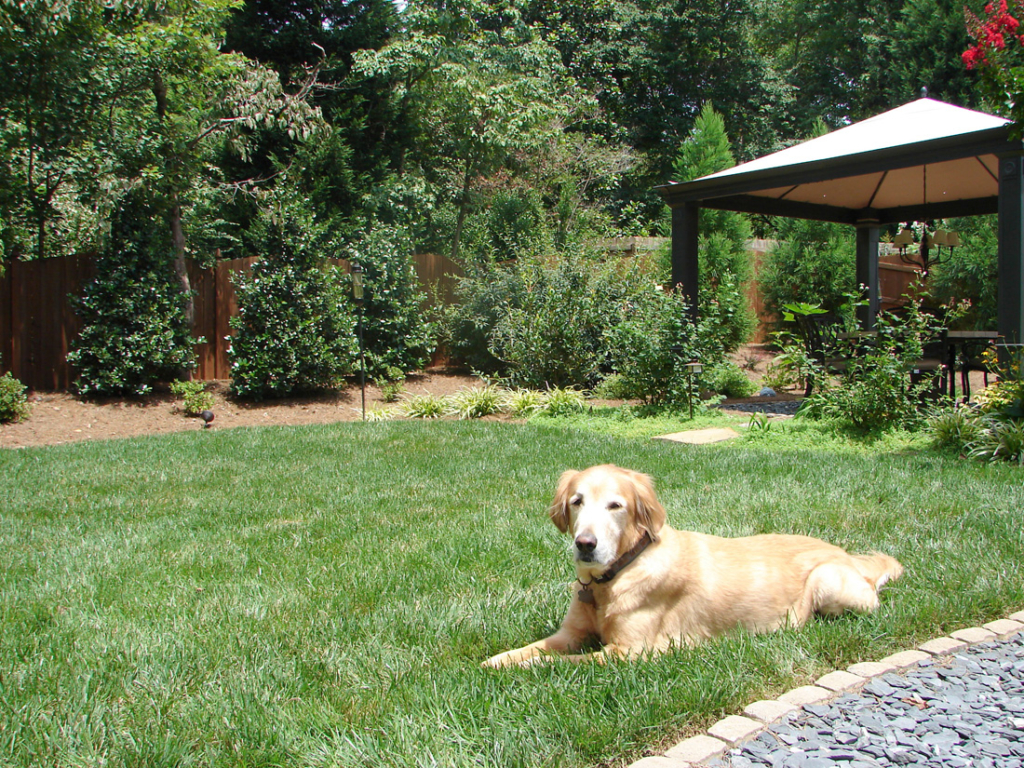 Duchess the Doberman may be a digger, or perhaps Hank the Labrador likes to sprint through the grass day after day. Dogs will be dogs, but that doesn't mean you can't have a beautiful backyard that can both survive and celebrate their habits. We caught up with Buckhead dogscaping (definition: landscaping for dogs) experts for their tips on keeping both family and four-legged friends happy out back.
TIP ONE: CUSTOMIZE YOUR DESIGN FOR YOUR FURRY COMPANION
Most dogs want places to play, rest and relax, but what's your buddy into? Melodie McDanal, a horticulturist at Pike Nurseries, which has a Buckhead location, says that the first thing to do when designing a backyard for your pet is identify the things your dog likes. For example, if a pet wants to see what's happening outside the backyard, install paths, remove plant barriers and provide a see-through fence.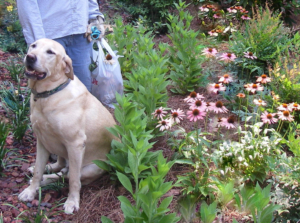 TIP TWO: BEWARE OF DANGEROUS PLANTS
Some plants can make dogs sick if ingested. The reaction can be as mild as an upset stomach or more serious, depending on what was consumed and how much. "Some toxic plants include foxglove, yews, oleander, lantana and azalea," McDanal says. She adds that, just like people, blooming plants can trigger seasonal allergies in animals. If you have questions about what to plant and your pet's health, consult your veterinarian, and ask questions about toxicity when selecting plants at your local garden center.
TIP THREE: PICK RESILIENT PLANTS
When selecting plants for the landscape, consider the size of your dog. Danna Cain, landscape architect, garden designer and contractor with Home & Garden Design who often works on Buckhead properties, says owners with big dogs might select large shrubs of the 30-gallon size or larger, such as camellias or Japanese cedar, that won't be trampled by large paws. For medium-sized dogs, choose plants that will regenerate quickly if foliage is broken, such as forsythia or miscanthus ornamental grass. For sun and shade gardens for small and medium dogs, Cain uses autumn fern that allows dogs to run through the plant without damaging it. For smaller breeds, Cain prefers hostas for the shape and color they bring. Last but not least, ground cover plants, such as dwarf mondo grass and creeping Jenny, are a great solution for small and medium dogs. For grass, McDanal suggests using Bermuda or zoysia that will survive better than fescue.
TIP 4: ADD FUN FOR FIDO
So many options can add fun and give your dogs their own domain. McDanal suggests adding a dog run along a narrow area of the backyard by creating a border with shrubs or fencing. Fountains are a great source of fresh drinking water for dogs. If you have a pet who loves to dig, add a digging pit that's hidden behind shrubs or a fence. Have big ideas but not sure what the process is? A professionally designed dogscape can take six months for the design process. If you want to tackle it yourself, don't get overwhelmed. McDanal suggests starting with one project at a time, such as a dog run or a section of the yard, and upon completion, moving on to the next.
STORY: Maggie Haynes
Photo: Bob Zumwalt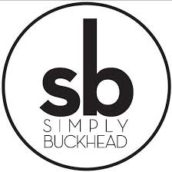 SimplyBuckhead
Simply Buckhead is an upscale lifestyle magazine focused on the best and brightest individuals, businesses and events in Buckhead, Brookhaven, Sandy Springs, Dunwoody and Chamblee. With a commitment to journalistic excellence, the magazine serves as the authority on who to know, what to do and where to go in the community, and its surroundings.